Championship Manager 2008
Promotion contender?
Football Manager or Championship Manager? If we were to judge these two on merit and quality alone, then the choice would be simple. Football Manager 2008 remains superior to Championship Manager 2008 in virtually every department, possessing a level of detail and realism that the CM series simply can't compete with, hardly surprising when you consider that Sports Interactive has had an almost fifteen year head start over Beautiful Game Studios.
But how about we approach this from a slightly different angle? No, CM2008 can't go toe to toe with its greatest rival in a straight scrap - most notably when it comes to realism - but what it can do is offer you something a little different, a little easier, something a little more instantly gratifying.
If you're looking for a hardcore management experience then you may as well stop reading right now, because you won't find it here. While CM2008 is rooted in reality (its extensive collection of leagues and accurate player stats are testament to that), its team building and strategic depth are relatively shallow compared to FM. Take control of one of the world's larger clubs and chances are, you'll be amassing trophies in no time. While success may be slightly harder to come by when managing smaller teams, at no point will you feel like your tactical talents are being tested to the max, meaning that if you're looking for an easier, less detailed and more accessible version of Football Manager, you could well have found your match here.
After choosing your team (if you like you can simultaneously manage a national team), you're given the option of boosting your transfer funds with a Club Benefactor feature. The extra cash that this generates perfectly complements a transfer system that actually gives you a fighting chance of buying the players you want (unlike in FM). Granted, it's not the most realistic of approaches, but if you've always wanted to fill your team with superstars, you can. Transfer negotiations have been improved since last year, allowing for more flexibility and haggling, ensuring that wheeling and dealing is now more gratifying than ever before.
Navigation has also been improved, with a wealth of information at your fingertips and most screens just one or two mouse clicks away. There's also a brand new overlay that appears during match highlights. This great new feature helps you keep track of the morale and fitness levels of your players, along with any tactical changes that your opponents make.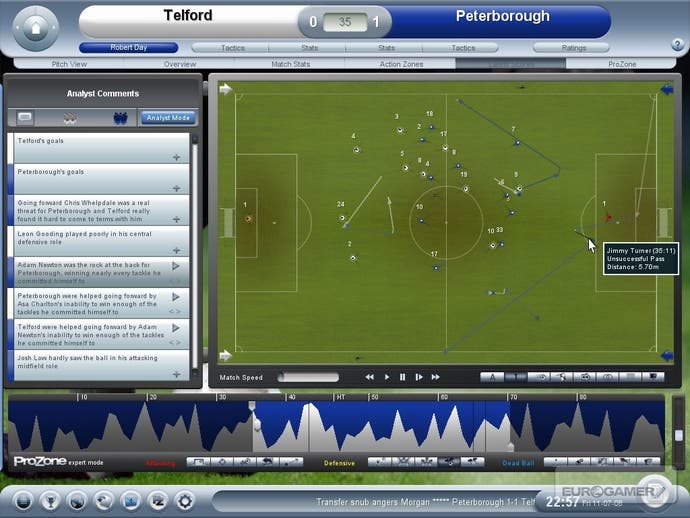 Perhaps the most radical match day overhaul is the way players move. The rigid mini bowling pin-shaped players from last year now possess far more character, leaning forward when sprinting and skidding along the turf when tackling. You'll also see them jump, jostle and dive.
Watching match highlights is pretty entertaining, with excerpts providing some thrilling passages of play, if a few too many goals from set pieces and one-on-ones. However, the same can't be said for the real-time engine, which still feels quite artificial and rarely evocative of world-class football. Players tend to stick to predefined zones a little too much, while it's not uncommon for your strikers to score unrealistic numbers of goals throughout a season.
Your tactical changes appear to have a far greater bearing this year than they did in CM2007 and you'll find yourself leaping out of your seat with unbridled joy as an inspired substitution sways a match in your favour. However, it's rare that you'll need to change things around too much once you've found a winning formula, and it's not unusual to be able to play through an entire season with only minimal strategic tweaking along the way.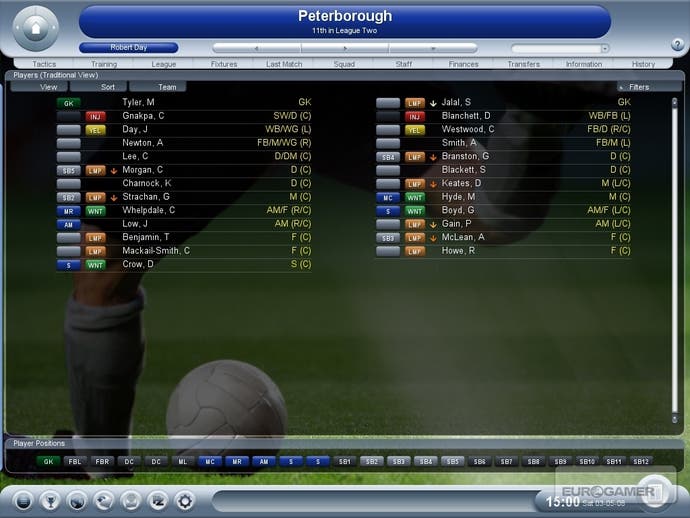 This is a game that can have you feeling exceedingly good about yourself in a very short amount of time, especially once your trophy cabinet starts filling up at a rate that'd have even Mourinho feeling inadequate. However, it's also hard to shake the nagging feeling that it's all a bit too easy. After your second or third all-conquering season, you start to wish there was more of a challenge, and it's here that Championship Manager 2008 really begins to show its cracks.
Once you've bought all the best players, won all the trophies, raced through a few of seasons and basked in the glory of it all, there's very little else left to achieve or experience. Training has been simplified and you can now train your squad members to play in a variety of positions, which is a welcome addition, but team talks are so limited and repetitive you wonder why the developer even bothered putting them in, player interaction is also threadbare and media involvement is minimal.
Then there's ProZone, the game's top notch match analysis tool that dissects each game and allows you to spend hours studying every player's contribution in minute detail. In a game like Football Manager, this would be an invaluable tool. But here, where victory is fairly easily achieved and tactical changes are often minimal, ProZone proves about as useful as a snow machine in the Antarctic.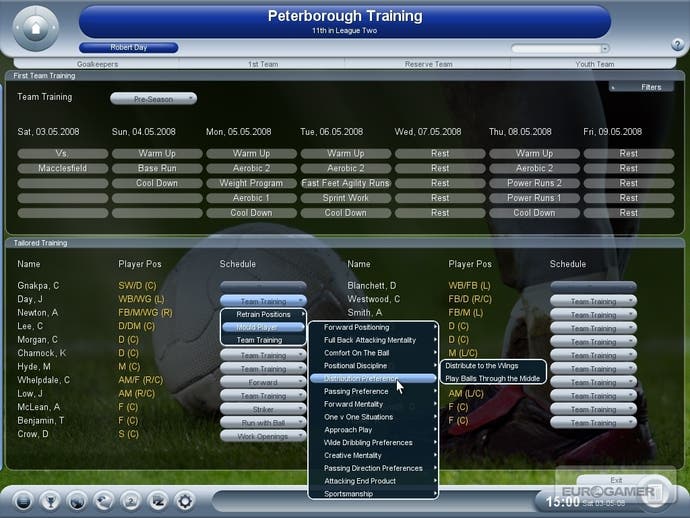 Which brings us back to our original point. Championship Manager or Football Manager? The choice here is a simple one. While they may look very similar, contain many of the same options, players and leagues, they play very differently. If you're looking for an all-consuming management game, where every player's instructions are paramount to winning a game, where transfers are the long-winded and often frustrating affairs that they are in reality and matches look and feel just like the real thing, then Football Manager is your best bet.
If however, you're after a management game that's highly accessible, requires only a modicum of tactical tinkering, allows you to buy the players that you really want and enables you to enjoy instant success and thrilling match highlights, then you should certainly consider opting for CM2008. And while the entertainment levels are likely to drop off fairly quickly, your two of three seasons of success will fill you with the kind of warm glow that few other management games can provide without the investment of endless hours of your life.