Bird of Passage is a relaxing, yet melancholy, taxi ride
Making my way downtown.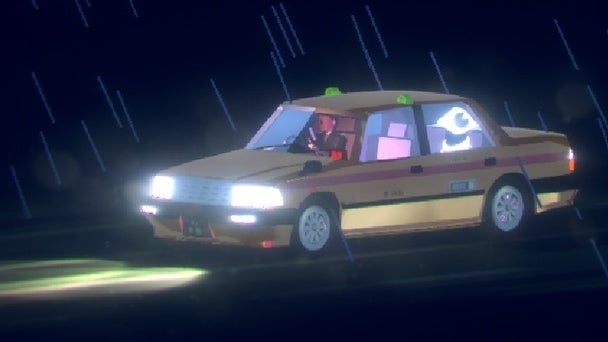 It's EGX 2019 weekend! Over the next few days we'll be bringing you quickfire impressions of some of the highlights from the show floor here at London's ExCel centre. You'll find them all here - and if there's anything out there you want to bring to our attention let us know!
Driving through the night has always felt rather dreamlike to me. Reality seems to condense to just the inside of the car, as the rest of the world is silently consumed by the darkness. Bird of Passage perfectly captures this feeling; the world outside is a mystery, lost in the night, and I wouldn't know the game was set in Tokyo if it wasn't brought up in conversations. The simplistic soundtrack helps too, using the inclusion of rainfall, to create a meditative atmosphere.
As you move from taxi to taxi, you'll engage in conversations with the drivers. Some drivers are happy to talk to you, while others prefer to sit in silence. These talks are navigated by choosing from a selection of dialogue options, which can lead to you discussing anything from plants to the history of Tokyo. Oddly none of the taxi drivers wants to talk about how their passenger has a giant eye for a head.
There are multiple outcomes for each conversation. Talking in a silent taxi may lead to the driver asking you to leave and I once accidentally caused an argument, leading to the journey in that cab ending early. As the dialogue flows, you'll also learn more about the mysterious passenger and the past that even he can't seem to make sense of.
It's within the jumbled memories of the passenger where the narrative puzzle of Bird of Passage can be found. Each taxi ride offers you the chance to learn about his past and why he's compelled to wander the city at night. Small visual cues, such as leaves floating across the road, will offer hints about which topic to focus on. Yet, it's paying close attention to the game's dialogue that allow you to bring the passenger to his true destination.
Bird of Passage is the kind of game that is best played in the dark, at three o'clock in the morning, so you can drift away in the relaxing, often sorrowful, tone. The demo is currently available for free or 'Name your own price' on itch and the full game will be released in 2020.