BioShock 1 announced for iPhone and iPad
Splice to see you? Read our hands-on impressions.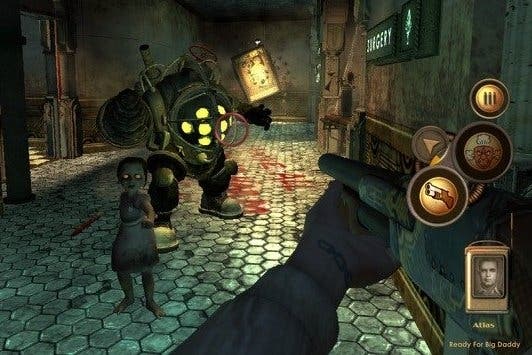 The original BioShock will soon be released for iPhone and iPad, publisher 2K Games has announced.
The port will be compatible with iPad 4, iPad Mini 2 and iPad Air, plus iPhone 5, 5S and 5C. There's no word yet on a firm release date or price.
But like 2K's Grand Theft Auto re-makes, you can expect BioShock iOS (BiOShock?) to be a "premium priced" release with no added micro-transactions.
Touch-optimised controls and iPhone game controller support are included, but apart from that 2K is keen to stress that it is the same game you know and love.
One of the highest-rated games of the last console generation, there's no doubting the original game's enduring quality - but how does the iOS port play?
During an hour's hands-on we found BioShock iOS to be a remarkably faithful version of the game, albeit shrunken down for smaller screens. The original game is all there, although with some compromises on how it looks.
This is especially evident during the game's fiery opening, when water and flame effects are of noticeably lower quality. Once within Rapture, however, the location's enclosed nature and general gloom soon look largely familiar, and you're able to rediscover the city in much of its original glory.
Doors leaking fountains of water, dying fish flapping on the ground - Rapture's details have survived into the port, although some textures will still catch the eye as looking tuned down.
The game's touchscreen controls are easy to master and there's a handy button to perform contextual actions - such as the ability to loot when standing over a corpse or crate.
But it's not perfect - finding yourself swamped by multiple enemies can be disorientating, and the need to stretch up to the health/EVE bars to tap and use a health kit or EVE hypo is fiddly.
Without a price it's difficult to weigh in on recommending the port - but fans who do feel like a return visit to Rapture can rest easy knowing the title reproduces the original as close as possible.
Today's confirmation follows a recent tease from 2K's UK team via Twitter. The company posted a slice of in-game artwork for BioShock 1 location Eve's Garden, emblazoned with the words "Come bite the Apple!" - a hint at the new version for Apple devices.