Assassin's Creed Odyssey calls time on players building Story Creator levels to farm XP
"Jeopardising...quality, integrity, and purpose".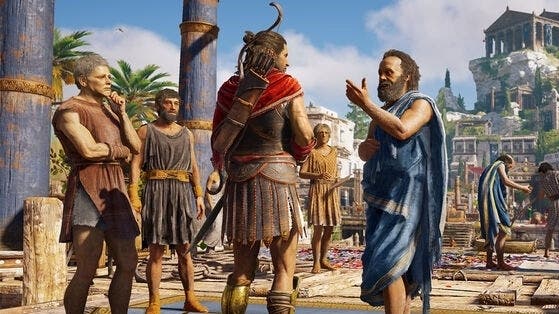 Ubisoft has done a big frowny face at Assassin's Creed Odyssey players who've been cheekily - if cunningly - building levels in the recently added Story Creator mode to rapidly farm XP.
Story Creator mode, which launched in June, is a remarkably robust web-based tool enabling Odyssey owners to create new quests - including branching dialogue sequences, missions, and win conditions - that can be browsed and experienced by players on all platforms.
However, while some players have been using to the tool as Ubisoft intended, to create exotic, swashbuckling new adventures for Casandra and Alexios, others have been gaming the system to create quick-fire, challenge-free missions that positively shower players in XP, as a means to rapidly farm experience and level up as quickly as possible. The increasing prevalence of these mission has, reasonably, caused something of a kerfuffle among the fanbase.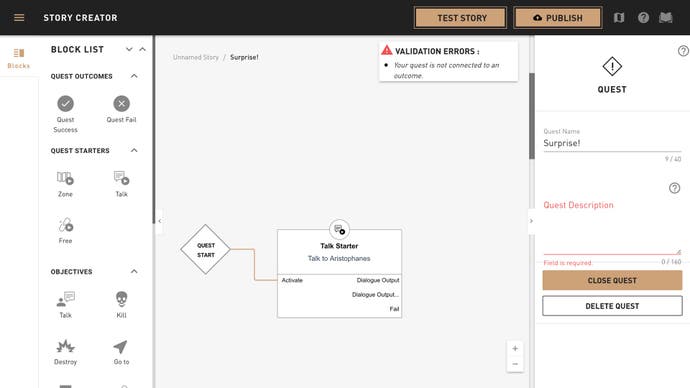 Now, however, Ubisoft has addressed the matter in a new statement, clarifying that it's not a fan of the controversial XP farming stages.
"Story Creator Mode was designed to be a tool for players to let their creativity and imagination run free as they build their very own Stories to share with others," it wrote. "[XP] exploits risk jeopardising the overall quality, integrity, and purpose of Story Creator Mode," Ubisoft continued, "and results in less visibility for the creative, interesting and frankly fantastic community stories that have been published."
Ubisoft says that work is already underway on fixes and adjustments "to reduce the impact of such farming quests on the player experience".
It will also be "actively combating exploits moving forward", taking steps to ensure that XP farming quests don't appear in Odyssey's automatic recommendation system, and hiding all farming quests that are reported for exploitation or cheating. Additionally, players that continue to "willingly and intentionally misuse the tool" will be 'sanctioned'.
In response, some players have suggested the real reason behind Ubisoft's zero-tolerance stance toward XP-farming stages might be that the company is keen to ensure there's still a market for its in-game XP boosters, which are sold for real-world money.
Others, though (including Eurogamer's Assassin's Creed uber-fan Tom Phillips) have pointed out that XP rapidly becomes fairly meaningless in-game, given the auto-mission scaling system Odyssey employs, and have questioned how much of a money earner such boosters could really possibly be. So perhaps this one can go back in the conspiracy box for another day.
Ubisoft says it has further plans to ensure that nefarious players don't abuse its Story Creator system, which will be implemented in future updates. More information will be shared closer to the time that changes are ready to go.