Apple announces iPhone 4S
Plus, iOS 5 detailed in full.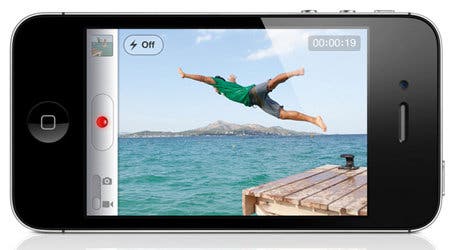 Apple has taken the wraps off the iPhone 4S - the next iteration of its hugely successful smartphone lineage.
The new handset will sport the iPad 2's A5 chip, a dual core graphics processor, an improved 8 megapixel camera that shoots 1080p video, extended battery life and better call quality.
The iPhone 4S's CPU is twice as fast as the iPhone 4, while that graphics chip is seven times more powerful.
It looks virtually identical to the iPhone 4 for the outside but Apple insisted that its insides are all new.
The new phone also comes with a new voice-controlled virtual assistant system called Siri.
You'll be able to give Siri commands such as "tell me the weather forecast for tomorrow", "find me a restaurant in xxxx" or "set my alarm for 7.00am" and it'll duly do your bidding. It'll also apparently take dictation, which improves as it learns your voice. Clever stuff.
It'll only work in English, German and French to start with, with more languages to be added in due course.
The iPhone 4S launches in black or white on 14th October, in US, Canada, Australia, UK, France, Germany and Japan, with pre-orders starting this Friday. 70 more countries get it by the end of the year.
It will set you back $199 (16GB), $299 (32GB) or $399, (64GB) with a two year contract. We'll update with UK prices, and pictures, when they come in.
The iPhone 4 will live on at a lower price - $99 for the 8GB model. You'll also be able to pick up a 3GS for free with a contract
Elsewhere during the conference, Apple also detailed what to expect from iOS 5 when it launches on 12th October.
The new operating system brings with it a refined Notifications system, a new messaging app called iMessage, a personal organiser called Reminders, enhanced Twitter integration, a magazine shop front called Newsstand, a few tweaks to camera functionality and tabbed Safari browsing on the iPad.
Game Center - which now apparently has 67 million accounts - also gets an update. You'll be able to add photos of friends, recommend games to them and see their achievement point totals.