Amazon has been busy making... an episodic Grand Tour racing game for console
James May Cry.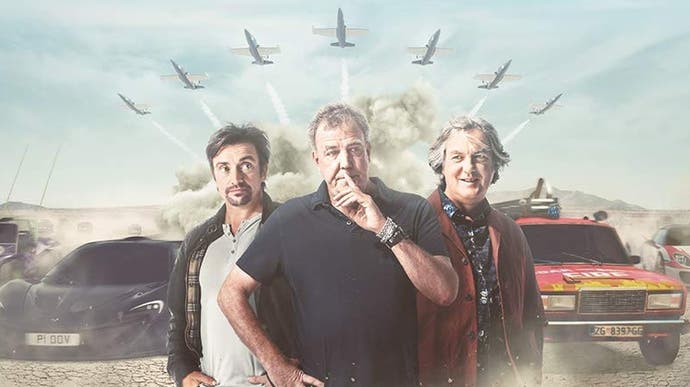 Amazon is making a PlayStation 4 and Xbox One racing game based on Top Gear-by-another-name car show The Grand Tour.
The Grand Tour Game, made by Amazon Game Studios in Seattle, will be episodic and receive new episodes weekly during Season 3 of the Prime TV show. It's not clear how much content an episode constitutes, nor whether they'll cost anything. Season 3 of the TV show has no release date, incidentally, but is expected around December.
The Grand Tour Game lets you follow in the footsteps and tire tracks of Grand Tour hosts Jeremy Clarkson, James May and Richard Hammond (I can't wait to see what they look like in-game). There's four-player split-screen and there are side-splittingly funny power-ups like High Tea and More Horsepowers.
Here are some unbearable press release quotes ostensibly by the show hosts.
"It's a video game featuring me, the crashy one, and the slow one," said Jeremy Clarkson, supposedly. "That's all you need to know. If you've always wanted to come on the road with us, this is as close as you'll ever get. Unless you kidnap James and steal his face."
James May supposedly said: "If you've ever wanted to do my job, now you can. Obviously not literally, it's just a game, so please don't go through the drawers of my desk."
God.
And here's Richard Hamster: "I live in the deep countryside, so frankly I'm impressed by anything that runs on electricity. But I have to admit this game is particularly brilliant, especially the four-player splitscreen."