Adds Baby Yoda to Minecraft, Star Wars DLC does
Jawa dropping.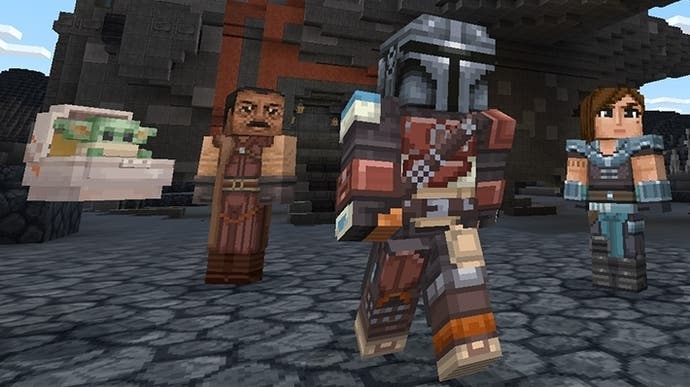 Alright, we've already had one story about a blocky in-game Yoda this week, and I'm pleased to announce we can keep the ball rolling with another - as Microsoft has announced a new Star Wars DLC for Minecraft.
The new DLC introduces content from the original Star Wars trilogy and The Mandalorian, in the form of a new map, skin pack, bespoke texture set, mobs and item reskins, UI treatment and a licensed soundtrack. As you can see in the video, the map boasts 12 lovely dioramas for players to explore. Although some of the new face textures are a little less lovely, and will probably haunt my dreams for some time to come. At least Baby Yoda now has an official Minecraft model.
If all this sounds familiar, that's because Microsoft has released a Star Wars-themed Minecraft pack before: back in 2014 an Xbox-exclusive DLC added skin packs for both Xbox 360 and Xbox One.
Anyway, the new DLC costs 1340 Minecoins if you want to try it out, which comes out at £6.68 if you buy the two smallest Minecoin Packs currently available. Here's the Marketplace link for those wanting to splash their imperial credits.