The Old Firm Flies South
Article - Sports Interactive simulates The Old Firm's passage through the English Premiership
As footy fans will already know, the Scottish Premier League is in a spot of bother at the moment. The Old Firm of Celtic and Rangers has objected to a subscription-based SPL TV channel, and although BBC Scotland still plans to carry highlights of the games, the friction between the Old Firm and their ten Premier League competitors is now at its peak. The other clubs have threatened to resign from the league in two years time, and Celtic and Rangers could very well move to the English leagues to seek balanced competition.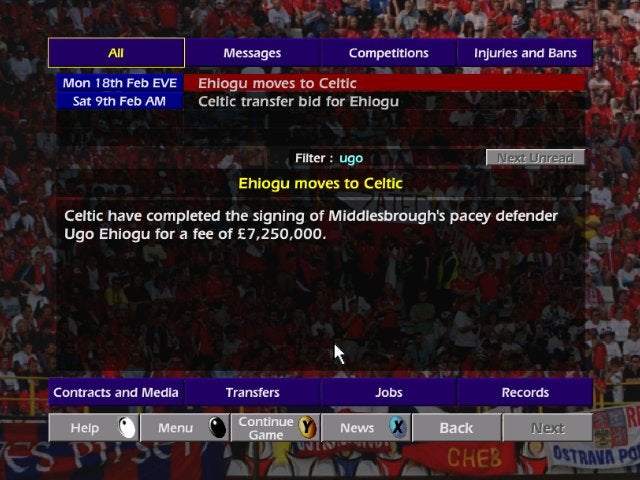 The Gaming Connection
Seizing on the opportunity to promote its latest release, the Xbox version of Championship Manager, developer Sports Interactive has transplanted the Old Firm into the English Premiership, swapping them for English relegation candidates Leicester City and Derby County, in order to simulate how changes to the leagues might effect the teams' fortunes. "Originally, we just decided to do it for fun because it was interesting", Managing Director and football nut Miles Jacobson told us on Saturday. "Then the Scottish Sun decided to run a piece on it, so we did it as a full blown experiment! It seems to have worked, as Radio 5 have talked about it this afternoon, and lots of other people have been calling today wanting to cover the story." Footballing fortunes are obviously of huge interest to SI, whose game relies on an accurate database of statistics to keep fans happy. On the business side of things, Miles is confident that Championship Manager will remain as profitable as ever. "I think football is changing dramatically", he says, "not just in Scotland, but all over the world, mainly because of monetary matters. But seeing as for the price of a couple of tickets for a game you can have hundreds of hours of fun playing Championship Manager, I don't think it will effect us at all." Aside from his own company's bottom line though, Miles is a tad worried. "As a football fan, I just hope that the club that I've supported for more than 20 years survives."
The Test
Rangers and Celtic enjoy outright dominance in their current division, with the latter triumphing for the umpteenth time recently, and its early progress through the embellished English Premiership proved somewhat promising. Indeed, it took until October of the fictional season for the club to register a loss, albeit a heavy 3-0 defeat at Newcastle. In the meantime they had drawn with Arsenal and dispatched Chelsea 4-1 thanks to a Larsson hat trick, also registering away victories against Everton and Aston Villa. Their winter form proved equally inspiring, despite narrow losses at Fulham and Tottenham, and also included a home victory over rival migrants Rangers. However, the upper echelons of the league proved less scaleable, with a 2-2 draw the best to be had at Elland Road from trendsetters Leeds United, and a 2-0 loss to Manchester United at home, prior to a fourth round exit from the FA Cup at the hands of Liverpool. The team's cup fortunes fared better elsewhere, as they reached the League Cup final only to lose to Manchester United, who also beat them 3-0 at Old Trafford just over a month prior. Celtic actually finished sixth, beating Leeds at home on the last day of the season and qualifying narrowly for Europe. Not a bad result. Rangers had more trouble. After selling Caniggia to Atletico Madrid for £950,000 in August, they watched rivals Celtic top the league after three games whilst drawing with Arsenal 2-2 and losing to Leeds at home, before curiously purchasing Mark Kerr from Falkirk for a million pounds. A couple of victories put them in sixth place, still behind Celtic at the end of September, and unfortunately their hopes (and standing in the league) plummeted shortly after. Losing all their games in October, they ended up 14th, firing their manager in early December to replace him with Frank Rijkaard.
Further Humiliation
Rangers followed Celtic's lead by exiting the FA Cup at Aston Villa, with Rijkaard selling Kanchelskis to Bolton and goalie Christiansen to Blackburn. A high scoring game with Liverpool at home ground Ibrox only sees the team salvage a 4-4 draw, and despite beating Charlton 3-2 and Blackburn 2-1 they flounder in mid-table on the back of a 4-2 defeat at Middlesborough. March and early April prove equally painful, with a meaningful loss at Ibrox to Celtic, and despite an upturn in late April Rangers finish in eleventh place, losing to Manchester United and Southampton in the tail end of the season. Other interesting facts relate to transfers and attendance. Although Rangers managed a sterling fourth highest average attendance of 48,383, Celtic manage the second highest average attendance in the league with 56,801. The real news though is management decisions. Celtic manager Martin O'Neill somehow negotiates the transfer of Ole Gunnar Solskjaer from Manchester United to the tune of £4.1m, although not until the end of the season, but Rangers boss Rijkaard discards De Boer, Konterman, Nerlinger, Pentilla and Arveladze, replacing them with Mark Kinsella, David May, Larus Sigurdsson and Manchester United fullback Michael Clegg. "I was spot on with Celtic", Miles tells us of the SI office predictions, "although I thought that Rangers would have finished lower (good ole Frank getting them out of trouble!). I thought Leicester and Derby would do well, but was surprised that Hearts didn't finish higher." The two English clubs actually finished second and third in the SPL respectively, losing out to Aberdeen. "We are very pleased with the results", Miles continued, "as we've had a lot of feedback from people in Scotland agreeing with the findings, so it proves that our Scottish researchers are great, and that the Xbox game is just as accurate as the PC version."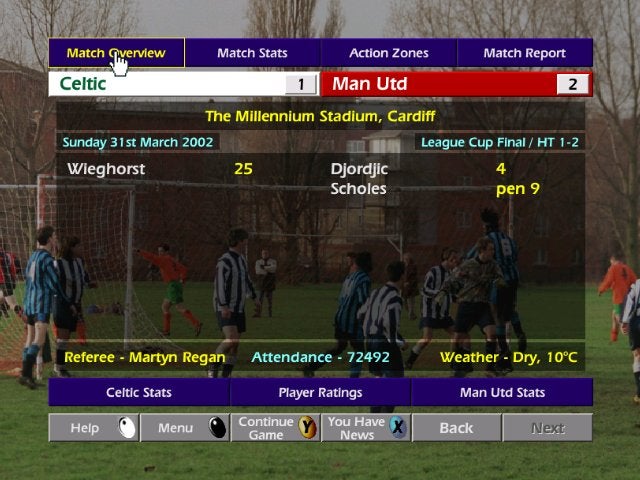 The Moral
Championship Manager on the Xbox tells a good story, whether or not it accurately reflects what might happen if Celtic and Rangers appeared in the Premiership. But is it a game for newcomers, or a game for veterans? "Either - it's Championship Manager, on a console. We haven't stripped it down." Although Miles expressed pleasure at the reviews of the game, he's less impressed - as a football fan - with ruminations about the Old Firm moving to the English Premiership for real. "Being a supporter of a division one club in England, I do not think it would be fair for Celtic or Rangers to come straight into Division One or the Premier League. They should start in the Unibond 3rd division and work their way up, just like any other club would have to. Or even lower! Although, saying that," he added quickly, ducking to avoid a slew of arrows from enraged Scotsman on the pavement outside his window, "I would love the trip to Glasgow twice a season - it's a great place." On a more serious note, Championship Manager's impending release this Friday has caused some to speculate that Sports Interactive were aware of the Microsoft Xbox price reduction and manoeuvred their software slowly so as to meet it head on. "There are lots of rumours flying around behind the reasons why", we were told, "but having spoken to many people about it this week, I think Microsoft are just laying their cards on the table and have admitted it's not going as well as planned, but rather than shirking away, it proves their determination to succeed with Xbox. I think it's great for consumers as well as us, because there are some great games out for the machine. As for whether it influenced our release date, the answer is no. I found out about the Xbox price reduction on Thursday morning. No one at Eidos knew about it before that, and most Xbox staff only found out on Wednesday night." Whatever next? "Look out for our world cup prediction, as soon as the squads for all nations are announced", he said, winking.
-