80 Days dev reveals King-Arthur-inspired "strategic narrative" adventure Pendragon
Coming to Steam this summer.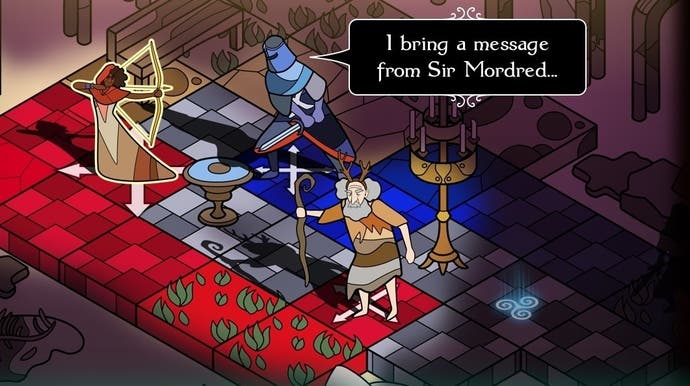 Inkle Studios, the developer behind the wonderful 80 Days and Heaven's Vault, has, after some early teasing back in February, finally unveiled its next project. It's called Pendragon, and is described as a "strategic narrative" adventure inspired by Arthurian legend.
Pendragon unfolds in the year AD 673, with Camelot on the verge of destruction. The fellowship of the Round Table is in disarray, thanks to Sir Modred's deceit, and it's up to you to assemble a ragtag band of knights, heroes, and peasants, traverse the treacherous Britain of the Dark Ages and, hopefully, lend your assistance to King Arthur on the other side.
"Will Sir Lancelot be reunited with Queen Guinevere? Will she spurn him, or embrace him?," teases Inkle, "Will Sir Kay ever forgive Sir Gawaine for siding with Sir Mordred? Can Morgana le Fay be trusted? Where is Merlyn? Who lies buried in Mordred's graveyard? Who is the archer in the woods? What has become of Excalibur?".
If you're familiar with Inkle's illustrious back catalogue, it won't come as much of a surprise to learn that Pendragon promises a story-rich adventure, full of "love, suspicion, revenge, sacrifice and murder", that aims to deliver something new with every play-through.
But it sounds like quite a departure for the studio in many ways too, incorporating "deeply strategic" turn-based combat at its core, with players facing the likes of bandits, brutish knights, and deadly creatures as they traverse the "randomised game board".
You've a choice of leads every play-through, each offering their own story impacting personalities - Morgana le Fay is said to be treacherous, for instance, while Queen Guinevere is haunted by her mistakes - and Pendragon's narrative, which plays out directly on the battlefield, is shaped by your decisions, as well as those of your opponents. "Will you advance and show your mettle, or cautiously retreat?," asks Inkle, "Will you slip round enemies, or encounter them head-on? And when sacrifices are required, who will you put in harm's way?".
Inkle's previous outings have been utterly sublime, so there's every reason to allow yourself some mounting excitement in the run up to Pendragon's release on Steam this summer.