30,000 Gotham City Impostors closed beta keys
Clown-fuelled fighting for both PSN and Xbox Live.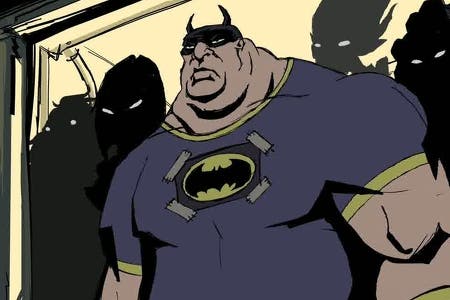 Go to the Gotham City Impostors PlayStation Network and Xbox Live giveaway pages to claim yours!
Eurogamer and Warner Bros. are delighted to offer 30,000 readers early access to upcoming online shooter Gotham City Impostors via an exclusive place in the game's closed beta.
Gotham City Impostors is the new Batman game from Monolith Productions. In a dark and war-ravaged version of Bat's home city, you play as a one of its citizens fighting in a bloody civil war.
Players can choose whether to dress as Batman and fight for the forces of order or exact bloody clown-fuelled vengeance battling for Joker and his criminal crew.
But there's a lot more to the game than masks and make-up. Gotham City Impostors features 1000 levels of character advancement overflowing with unlockables and upgrades, while weapons and gadgets are fully customisable.
So whether you want to be a hulking hero on rollerskates wielding a bow and arrow, or a badass clown with glider wings and a homebrew rocket launcher, Gotham City Impostors is for you.
The closed beta begins at 4pm on Thursday 15th December and runs until 20th December.
So hurry to the PSN and Xbox Live giveaway pages to claim a key - you'll be able to redeem your codes as soon as the beta begins!
Gotham City Impostors is TM and © DC Comics. Read the full legal stuff here.