More than 2 years after release, Lone Echo is still one of the finest VR experiences around
Hero gravity.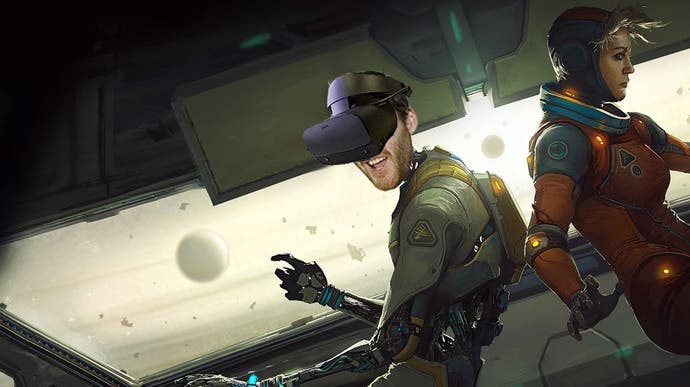 You can stop telling me off in the comments now, VR-friends because I've finally done it. At long last I've played Lone Echo and you were all completely right, it really is fantastic!
Press play on this week's episode of Ian's VR Corner (which you can find just below these words) to watch my jaw drop repeatedly over the first hour or so of Lone Echo on the Rift S.
It's been over two years since Lone Echo came out but even now it's still riding high in the Top Selling section of the Oculus store. There's good reason for this of course, the quality of this title is at times breathtaking, with the kind of AAA polish that easily makes this one of the best looking, most immersive VR games I've ever played.
It's a lot slower and much shorter in length than the epic Asgard's Wrath, which featured on last week's VR Corner, but the smaller size doesn't lessen the impact one bit. Clambering around the interior of the Kronos II mining station in zero-g feels magnificent. I played seated (there are standing and room scale options) and was easily able to propel myself around the detailed locations by physically grabbing onto the scenery.
Having such an effortless and immersive control scheme like this, where you're literally always interacting with the environment, made it so easy to lose myself in the experience. Combined with strength of the writing and voice acting, this made Lone Echo one of the most believable VR locations I've ever inhabited.
Subtle details like scuff marks on shiny metal or the way Captain Rhodes moves her head out of the way if you lean in too close to her really bring this game to life. You may not notice them fully, but it's this kind of attention to detail that tricks your brain into believing that you really are floating around a real, solid, tangible world.
I feel like I'm probably preaching to the choir at this point, but to those of you who don't have VR yet but are planning on picking up a PC VR headset for Christmas this year, it goes without saying that Lone Echo should be up there as one of your first purchases.
Thanks for the recommendation!
If you enjoyed this episode of Ian's VR Corner, you can catch up with my previous adventures over on YouTube in our VR playlist, where I've covered Valheim VR's motion controls mod, Doom 3 VR Edition and everything we know about PSVR 2 so far. You can also read our list of the best VR games.