Win SimCity and a DS Lite to play it on!
In the ciiiiiiiteeeeeeeh.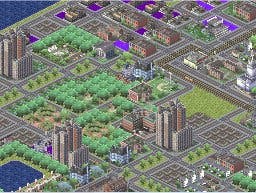 SimCity arrives on DS this month, looking to BUILD (he shoots he scores!) on the success of the PC originals. Like EA's recent Theme Hospital conversion, it takes advantage of the stylus to give you intimate control of your empire. You'll have to balance the budget as you try and squeeze expansion funds out of a fledgling township, ward off natural disasters and even put out fires by blowing into the microphone.
To celebrate the game's release, then, we've teamed up with Electronic Arts to offer one of our readers a brand new Nintendo DS Lite and a copy of SimCity to play on it. On top of that, we've got a couple of extra copies of the game for anybody scratching around hopefully in the dust while the winner pulls away in his imaginary victorymobile. As ever, all you have to do to be in with a claim is to answer the question below correctly and then sit patiently by your inbox. Good luck!
Which of the following is not a real 'Sim' game?
Friday 29th June
Prizes will not be exchanged for cash or other goods - if you don't want the prize, don't enter.
No employees of Eurogamer or Electronic Arts may enter this competition
If you don't give us a valid e-mail address we can't contact you if you win the competition, and you will be ignored and possibly ridiculed.
All entries must reach us by Friday 29th June, at which point the winners will be selected.
Multiple entries from the same email address will be ignored.
This competition is open to European residents only.
The judge's decision is final.