Win a Halo 3 Legendary Edition box!
Last chance.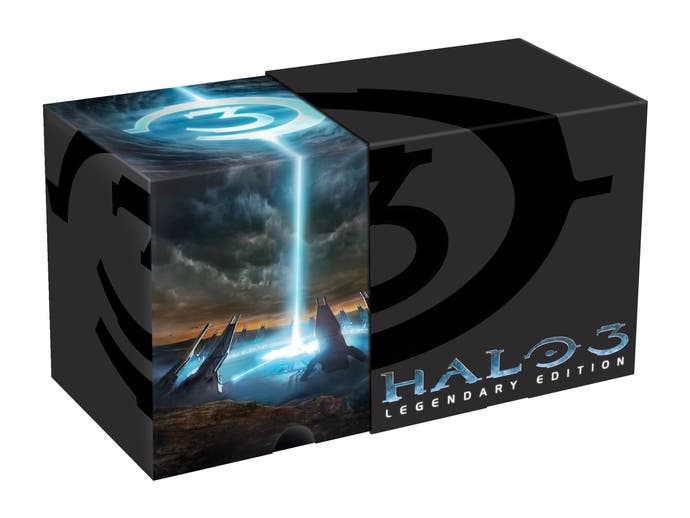 You're probably quite excited about Halo 3. You might even have a themed lunch box or a pack of stickers. Or perhaps you made your own merchandise. We won't inquire. It is the last game in the trilogy, after all, so the whole plot potato will finally be baked up for good. It also looks pretty fancy in general, with its four-player co-operative treats and trademark mulitplayer polish. Excitement city, then, and we're the mayor.
So, what better way to build up to its release on 26th September than with a Legendary Edition of the game? This comes in a Spartan helmet case with two full bonus disks of content. The first of these has a behind-the-scenes look at Halo 3, from drawing board to retail shelf, with the second made up of cinematic material from the first two games - so you can get up to speed on the series' twists and turns so far. You'll even be treated to special original storyboard material from artist Lee Wilson.
It is, like it sounds, a rather sought-after bundle. So much so that it's incredibly hard to come by in normal shops these days. Which is why we've teamed up with Microsoft to offer you lot five copies of the game. Think of us as your last chance, in a way.
All you have to do is answer our easy question below, which is based on the Halo 3 Museum trailer you can watch over on the official Xbox site.
Good luck, Chief.
When the ammunition was running low, how many grenades did they have left?
Monday, 24th September
Prizes will not be exchanged for cash or other goods - if you don't want the prize, don't enter.
No employees of Eurogamer or Microsoft may enter this competition
All entries must reach us by Monday, 24th September, at which point the winners will be selected.
This competition is open to European residents only.
The judge's decision is final.