What next for Minecraft on PlayStation?
Microsoft and Sony find themselves in a curious position.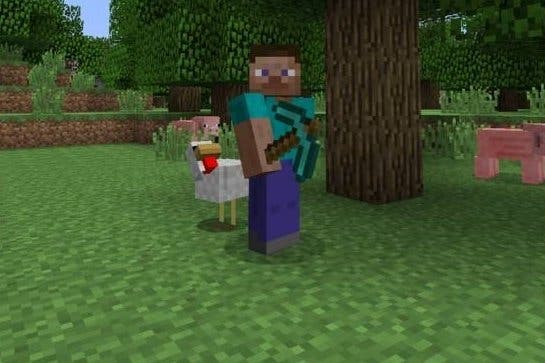 Now Xbox maker Microsoft owns the phenomenally successful block-placing sandbox Minecraft, what will happen to the game on PlayStation platforms?
Earlier this week Microsoft announced it had bought Mojang and Minecraft in a deal worth $2.5bn.
In a statement Xbox boss Phil Spencer vowed to continue to support Minecraft on a variety of platforms, including Xbox rival PlayStation. Let's look at his statement in detail.
Spencer's statement suggests Minecraft has a future on PlayStation, at least as far as Microsoft is concerned. But let's turn our attention to Minecraft maker Mojang, which issued a statement of its own following the announcement of the deal.
In a FAQ on Mojang's website, the following question was asked: "What about the other editions of Minecraft? Will they stop being developed?"
Here's Mojang's answer:
That last sentence is key: even if Microsoft continues to support Minecraft on competing platforms, such as PlayStation 3, PlayStation 4 and Vita, Sony may decide to pull the plug. After all, Sony is now in the curious position of selling a game wholly owned, developed and published by Microsoft.
But the first order of business is to tackle the PS Vita version, which still hasn't been released. In fact it still doesn't have a release date.
Back in August Sony released new footage of Minecraft's upcoming Vita Edition, which shrinks the game down for portable play. Minecraft on Vita is supposed to be a Cross-Buy title with the PS3 version, and you can then upgrade to the PS4 edition for a small fee (around £4). Check out footage in the video below.
It's clear how important Minecraft is to Sony. Sony UK boss Fergal Gara told Eurogamer in an interview conducted a week before Microsoft announced it had bought Mojang that Minecraft could be Vita's "most powerful release of the year". "That could be an extraordinary release for Vita," he added. And Minecraft for PS3 was the best-selling PlayStation 3 game on the PlayStation Store in August - as it was in July. And June. And so on.
So, is the Vita version still on? A Sony spokesperson told Eurogamer this week that, while the company couldn't comment on the acquisition, "there are no anticipated changes to the Minecraft lineup".
That suggests the Vita version is still on and the PS3 and PS4 versions are here to stay.
Microsoft has made its statement, but what will it do? Its keeping its cards close to its chest for now as it works to complete the Mojang deal before the end of the year, but analysts believe the gargantuan corporation will be keen to cash in on its new prize asset, as you'd expect.
Wedbush Morgan analyst Michael Pachter told Eurogamer he believes Microsoft will create Xbox-exclusive content rather than remove the game from sale on competing platforms.
"I'm sure that Microsoft will debut content on the Xbox platforms and release them later on other platforms," he said.
"I also expect Microsoft-owned characters like Master Chief or Marcus Fenix to end up in Minecraft exclusively on Xbox. I don't expect them to destroy the brand by pulling it off of other platforms."
Piers Harding-Rolls, analyst at IHS Technology, agrees. "Ideally, I think Microsoft would like to make its own devices the best place to play Minecraft and I can see some form of exclusivity on updates - probably timed - to promote its devices over other platforms."
Harding-Rolls sees the potential for certain services within Minecraft being console exclusive, such as multiplayer modes. But if Microsoft were to make Minecraft console exclusive anywhere, it's likely to be in specific territories, such as China.
But, generally, there's a feeling that Microsoft will be keen to keep Minecraft multiplatform. Indeed Microsoft may benefit from such a strategy.
"Minecraft's multiplatform success is a benefit to Microsoft and extends the company's reach overnight," Harding-Rolls said.
"It enables the company to reach and understand gamers not only on its own platforms but across the most popular third-party devices as well and that's commercially powerful."
Harding-Rolls added that Sony, not Microsoft, will be the company to watch when it comes to Minecraft's future on PlayStation.
"I'm not sure Sony will be keen to have Microsoft-owned content on its platforms and that puts Sony in a difficult position with a tough choice: supporting Microsoft content or winding down a popular title. Neither is particularly palatable."
Microsoft has already hinted at its long-term vision for Minecraft. Here's Spencer again, talking about the future.
In July Microsoft CEO Satya Nadella revealed his vision for Microsoft in a lengthy manifesto. Buried within it was a note about gaming, which he described as "the single biggest digital life category" in a "mobile-first world". That's a lot of corporate doublespeak, but the gist is Minecraft's future is not on a single platform, or even a couple, but many.
Expect Minecraft to pop up across Microsoft's family of platforms: Windows PC and Xbox, of course, as well as smartphones, Surface tablets and whatever else it has up its sleeve. But why stop there? Imagine a version of Minecraft with every copy of Windows. Imagine a virtual reality version of Minecraft exclusive to Microsoft's rumoured virtual reality offering.
For now, though, Minecraft on PlayStation seems safe. But the future is less certain. And if Microsoft ever gets around to making a Minecraft 2 - or whatever the next game or experience is called - PlayStation owners will no doubt be left out.