WayForward's retro, Metroidvania-style movie tie-in The Mummy Demastered is out this month
That's a wrap.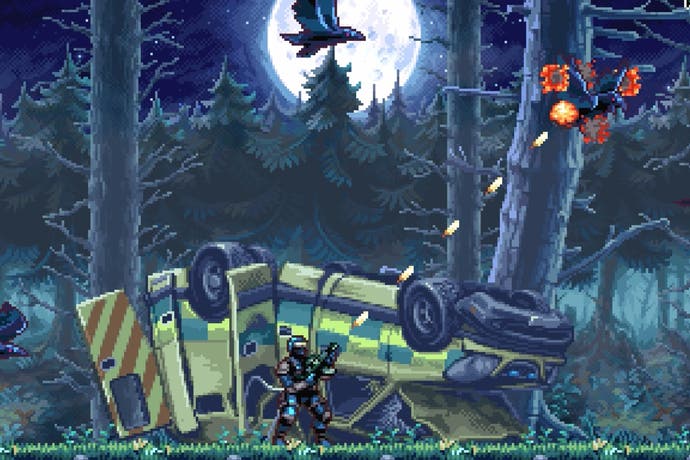 WayForward's retro, Metroidvania-style movie tie-in The Mummy Demastered will release on PC, PS4, Xbox One, and Switch on October 24th.
Although it's officially linked to this summer's not-exactly-blockbusting Tom Cruise vehicle The Mummy, WayForward's Demastered jettisons much of the movie's plot in favour of its own narrative path. You won't be playing as Cruise's character Sergeant Nick Morton, for instance; instead you'll control a succession of indistinguishable agents from the shadowy Prodigium organisation.
Speaking to Polygon earlier this year, The Mummy Demastered's director Austin Ivansmith described the game as a kind of spiritual successor to WayForward's excellent 2011 Nintendo DS outing Alien: Infestation. Both games utilise a 16-bit-style Metroidvania template, and both games feature key mechanics built around player death.
While Alien: Infestation cranked the tension by giving players a finite number of generic marines to burn though, The Mummy Demastered takes a different approach. Each time you die, the agent will be resurrected on the side of evil, equipped with all the upgrades, skills, and weapons you had at the point of death. To retrieve your weapons, you'll need to defeat your previous self, but the abilities you once had will now work against you.
"It's really fun to have the tables turn on you", explained Ivansmith, "Feeling like you're suddenly on the opposite end of your own weapon - being outgunned by your former self - is the essence of what makes it a fun challenge. It's jarring how vulnerable you feel to suddenly lose all of the gear you've been collecting throughout the game [...] but it's so rewarding when you kill your undead previous self and get your gear back."
The Mummy Demastered also sports a beautifully detailed pixel art aesthetic, intentionally blending elements of Castlevania's gothic grandeur and Metroid's futuristic sci-fi trappings.
It certainly looks promising, and has all the right ingredients to make for a satisfying retro-style romp; WayForward's output can be pretty variable in quality though, so hopefully this falls closer to Shantae and Mighty Switch Force than some of its other licensed games.