Watch: Johnny cooks stuffed grape leaves from The Elder Scrolls Online
Vine dining.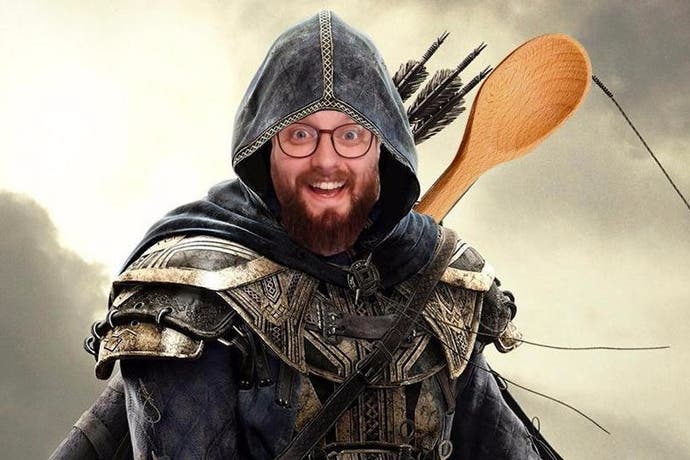 One of the consumable items on offer in The Elder Scrolls Online is the venison-stuffed grape leaf - a little parcel filled with meat and rice. One of our YouTube viewers asked me to recreate these tasty morsels for the latest episode of Chiodini's Kitchen, so I agreed - not because they're delicious (they are), but because there's something that really tickles me about the existence of these delicate morsels in the world of Tamriel.
I can speak from experience that making stuffed vine leaves is time-consuming and more than a little fiddly, so there's something about the image of a Nord or a Wood Elf or an Orc attempting to make dainty-looking parcels while wearing a full suit of armour that I quite enjoy. Anyway, you can see how I got on with the venison-stuffed grape leaves in the video below. If you fancy giving them a whirl yourself, you can find the recipe below that.
Venison stuffed grape leaves
Ingredients
250g long grain rice
1 onion
3 cloves of garlic
500g of minced venison (lamb mince will do)
1 jar of vine leaves
1 lemon
Fresh parsley
Fresh coriander
Fresh dill
Salt & Pepper
Method
Boil the rice, drain it then set it aside to cool.
Dice the onions and garlic and fry in a little olive oil until the onion is translucent.
Put the rice, onions and garlic in a mixing bowl, then add the venison mince.
Finely chop the herbs and add to the mix along with some salt, pepper and the juice of a lemon. Mix thoroughly.
Drain the vine leaves and separate each leaf carefully, forming a pile as you go. If you encounter any torn leaves, put these in the bottom of a baking tray - they will come in handy later.
Place a leaf on a cutting board with the smooth side facing down. Take some of the filling (the exact amount varies based on the size of the leaf) and place it in a sausage shape across the base of the leaf.
Fold the sides in, grip the base of the leaf and then roll over to form a neat parcel not unlike a small, leafy burrito. Repeat until the filling has been used up.
Place the stuffed vine leaves in neat rows in the baking tray lined with leaves. Add about two thirds of a pint of water to the baking tray to prevent the parcels from drying out, then bake in the oven at 180 degrees centigrade for about 35 minutes. Check on them periodically and add more water if needed.
Best served cold.