Uncovered: Final Fantasy 15 live report
Aoife's impressions live from Los Angeles.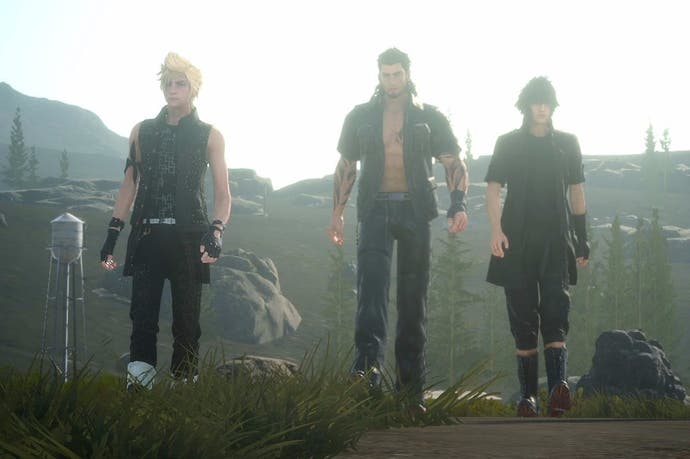 Hello! Aoife here. I'm in LA, where the people are all impossibly beautiful and the weather is currently doing a number on my pasty Irish complexion.
I'm here for Uncovered: Final Fantasy 15, which kicks off later this evening at 7pm PT, or 3am UK time. Square Enix has said it'll be making "a whole host of huge announcements", and it's expected that at the very least we'll see a release date confirmation and some new gameplay.
In fact, we've kind of had both of those things leaked already. Oops.
Anyway, if you're still awake at that ungodly hour and want to join me in hoping Square will tell us something we don't already know, head back here at around 2:30am (what time do people usually start livetexting before an event? [You haven't already started? -Ed]) and keep me company. We can discuss our favourite all-time summons. Remember when 13 had a motorbike made out of women?
Our live coverage of this event has finished.
Up since 4am LA time. This is going to be an interesting day.
Well the journalists have all gathered and are now awaiting a minibus to take us to the event venue. Please look forward to other scintillating updates, coming soon. Bet you're glad you stayed awake.
@sammoore Definitely XV only, apparently. We've been told it'd be pretty pointless asking questions on the VII remake as it's a different team here working on XV
Anyone up? Guests are filing in. Venue is appropriately fancy. Cosplayers are in attendance. All is as it should be.
@riz23 It's tough but I get through it. Somehow.
A new thing that I learned ten minutes ago is that my data abroad has an upper limit cap. So if I suddenly go dark, you all know why.
They're playing the chocobo theme as people are getting settled. Because of course they are.
Geoff Keighley is 2 seats behind me. Who dares me to go scream the chocobo theme in his ear?
Phil Spencer is here. Sadly not in cosplay though.
Phil Spencer is a fairly handsome man. Is it weird to think that?
Sorry guys. You're getting the unedited thoughts of a jetlagged person running on no sleep here.
@yadspi I'm about ten rows from the front, almost in the centre
Sakaguchi on stage like a boss
The father/child theme is an important one for XV, I feel.
Oh yes please. He wants to return the series to its roots
The summons in this game look so insane.
I actually love the road trip framing. It's adorable and so FF.
They should have hired me and Chris Bratt for this.
Uematsu too. He basically scored my childhood. Cosmo canyon theme 4 life <3
Florence & the Machine covered Stand By Me as FFXV's theme song
She looks as sleepy as I feel. And also look.
Are we here for Final Fantasy or these guys? Yawn.
We already know it honey.
Finally getting to the good stuff
God this world looks gorgeous. I like how you can almost forget its Final Fantasy and then see some wicked cool weird geographical stuff off in the distance.
Titan tho. XV gets scale. Imagine what Bahamut will look like.
Wine bars confirmed for XV. I'm never leaving.
The crowd is LOVING Gladio and Prompto.
A five episode animated series is coming. Elaborates on the team's history and relationships, by the looks of things.
Episode one available for free online now!
It's called Brotherhood and has no affiliation to Assassin's Creed, I assume.
Oh, Luna is Noctis' fiance? News to me.
A CG trailer or actual film?
I like hat man. Who is hat man?
Kingsglaive, a full length feature film, coming soon. Jeez, they are going all-out here.
Square are partnering with Audi and have made an actual custom car. Square has no chill.
Lena Headey is SUCH a babe.
Lena voices Luna. So the film takes place kind of simultaneously to the game and covers what's going on back home while Noct is on his road trip.
Sean Bean is playing King Regis. Which means he's definitely gonna die.
Sorry, that was low-hanging fruit.
He's playing Nyx, the sexy secret service-style badass.
Square has been working on Kingsglaive for the last 3 years, apparently.
Final Fantasy King fighting over a chunk over crystal meth. There's a mental image.
The film will be available to download and stream 'soon.' It'll be out before the game.
Justice Monsters Five. Mobile game and also in-game mini-game coming before the main game launches. Registration opens today.
This is the demo that leaked earlier today.
Platinum Demo. It's coming out....soon.
Demo is totally free, which is nice.
Carbuncle is a DLC summon for the main game that unlocks if you play the demo
It's out today. Get downloading guys.
Xbox One and PS4 only, I'm afraid.
Deluxe Edition announced. Looks swish, nice Amano artwork steel case and a couple of DLC items.
Ultimate Collector's edition is even more ridiculous. Comes with..well, everything. Only 30,000 are being released?
Tabata coming out to push the button. I feel kind of bad that we all already know, tbh.
@insomaniac to be fair, that's actually members of the public. Tickets were available online.
A piece just went down my bra. THANKS SQUARE.
I would play this for the summons alone, tbh.
Trust fund boating confirmed
Holy shit the car just flew
That was like the end of Grease, only sexier.
Thanks for staying up guys. I actually played the demo, will be posting some impressions as soon as I get back to the hotel.