UK top 40: FIFA denies Rage, Dark Souls
But newcomers debut strongly.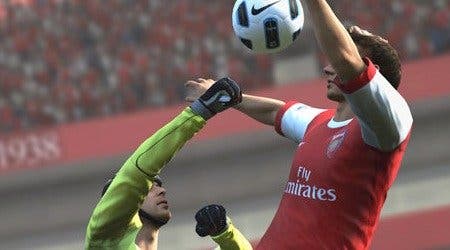 Phenomenally popular football game FIFA 12 has beaten strong opposition from newcomers Rage and Dark Souls this week to remain top of the UK all-formats software chart.
FIFA 12 sales dipped 68 per cent, but its weekly tally was still big enough to be crowned the 13th highest ever in the UK.
Rage entered second, with 58 per cent of sales on Xbox 360 and 32 per cent on PS3. PC numbers weren't disclosed, but digital sales aren't counted by Gfk Chart-Track anyway.
Dark Souls entered third, with 58 per cent of sales going to PS3 - the platform to which Demon's Souls belonged.
From fourth to 10th are: Gears of War 3, F1 2011, Zumba Fitness, Dead Island, Deus Ex, Lego Pirates and Resistance 3.
NBA 2K12 was the other newcomer this week, and finished 12th.
| This Week | Last Week | Title | Platform(s) |
| --- | --- | --- | --- |
| 1 | 1 | FIFA 12 | PS3, Xbox 360 |
| 2 | New entry | Rage | PC, PS3, Xbox 360 |
| 3 | New entry | Dark Souls | PS3, Xbox 360 |
| 4 | 2 | Gears of War 3 | Xbox 360 |
| 5 | 3 | F1 2011 | PC, PS3, Xbox 360 |
| 6 | 4 | Zumba Fitness: Join the Party | Wii, PS3, Xbox 360 |
| 7 | 5 | Dead Island | PC, PS3, Xbox 360 |
| 8 | 6 | Deus Ex: Human Revolution | PC, PS3, Xbox 360 |
| 9 | 9 | Lego Pirates of the Caribbean | 3DS, DS, PC, PS3, Wii, Xbox 360 |
| 10 | 13 | Resistance 3 | PS3 |
| 11 | 8 | Driver: San Francisco | PC, PS3, Xbox 360 |
| 12 | New entry | NBA 2K12 | PS3, Xbox 360 |
| 13 | 11 | Warhammer 40K: Space Marine | PC, PS3, Xbox 360 |
| 14 | 12 | Rugby World Cup 2011 | PS3, Xbox 360 |
| 15 | 10 | Call of Duty: Black Ops | DS, PC, PS3, Wii, Xbox 360 |
| 16 | 14 | Assassin's Creed: Brotherhood | PC, PS3, Xbox 360 |
| 17 | 7 | Ico & The Shadow of the Colossus Collection | PS3 |
| 18 | 15 | Cars 2 | DS, PC, PS3, Wii, Xbox 360 |
| 19 | 19 | Lego Harry Potter: Years 1-4 | DS, PC, PS3, PSP, Wii, Xbox 360 |
| 20 | 17 | The Sims 3 | DS, PC, PS3, Xbox 360 |
| 21 | 16 | Just Dance 2 | Wii |
| 22 | 27 | Mario Kart Wii | Wii |
| 23 | 33 | Phineas & Ferb: Across the 2nd Dimension | PS3, Wii |
| 24 | 20 | Wii Sports Resort | Wii |
| 25 | 30 | EA Sports Active 2 | PS3, Wii, Xbox 360 |
| 26 | 21 | Gran Turismo 5 | PS3 |
| 27 | 23 | Michael Jackson: The Experience | DS, PS3, PSP, Wii, Xbox 360 |
| 28 | 18 | X:Men Destiny | PC, PS3, Xbox 360 |
| 29 | 25 | Lego Star Wars III: The Clone Wars | 3DS, DS, PC, PS3, PSP, Wii, Xbox 360 |
| 30 | 22 | Red Faction: Armageddon | PC, PS3, Xbox 360 |
| 31 | 35 | L.A. Noire | PS3, Xbox 360 |
| 32 | 26 | Battlefield: Bad Company 2 | PC, PS3, Xbox 360 |
| 33 | 34 | GTA: Episodes from Liberty City | PS3, Xbox 360 |
| 34 | Re-entry | Kinect Joy Ride | Xbox 360 |
| 35 | 31 | Skate 3 | PS3, Xbox 360 |
| 36 | Re-entry | Modern Warfare 2 | PC, PS3, Xbox 360 |
| 37 | 37 | Sniper: Ghost Warrior | PC, PS3, Xbox 360 |
| 38 | 38 | Red Dead Redemption | PS3, Xbox 360 |
| 39 | Re-entry | El Shaddai | PS3, Xbox 360 |
| 40 | 32 | FIFA 11 | DS, PC, PS2, PS3, PSP, Wii, Xbox 360 |