Twitch Prime's games for May include Psychonauts, Gone Home
Plus Titan Souls, Cluster Truck, and more.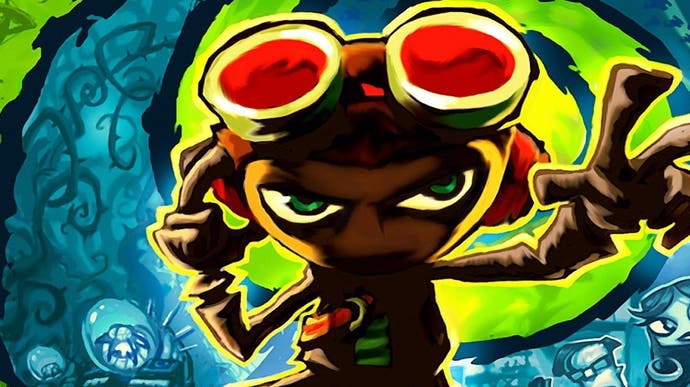 Twitch has revealed the line-up of games that Twitch Prime members will receive as part of their subscription in May, including Psychonauts and Gone Home.
Neither of those headliners likely need much introduction but, as a refresher, Psychonauts is Double Fine's inimitable brain-probing 3D action platformer - a classic that still hasn't lost its power to amuse and delight, some 13 years after it first released.
Gone Home, meanwhile, is developer Fullbright's fiercely atmospheric, but unquestionably divisive, exploration of family life and family strife - as told in walking simulator form. That one didn't resonate with Eurogamer editor Oli Welsh back in 2013 as much as it did for others.
Joining those familiar faces, are developer Landfall's chaotic physics platformer Cluster Truck - in which you're tasked with bounding from truck to truck while pure mayhem unfolds around you - and Acid Nerve's gorgeous, but tough-as-nails Titan Souls.
The latter offers an engaging mix of light exploration and inventive boss battling, and is absolutely not recommended for those of an easily enraged disposition.
Rounding things off for May on Twitch Prime are I, Hope and High Hell, both of which were part of Twitch Prime's indie awareness programme, Indie Amplifier.
The first is a "beautiful coming of age adventure story about a young girl named Hope, whose town has been taken over by Cancer", according to its developer Kenny Roy, and is designed to be "empowering" for children undergoing cancer treatment. High Hell, meanwhile, is a "neon-soaked, arcade-action first-person shooter" with a strikingly distinct art style.
All these games will be available to download as part of a Twitch Prime subscription (which you'll automatically have if you're an Amazon Prime member who's linked their Twitch account) between May 1st and May 31st. Games can be claimed on the Twitch website whenever you're logged in, but you'll need the desktop app in order to download them.