The SNK artist in the director's chair
Eisuke Ogura on bringing his 90s experience to The King of Fighters 15.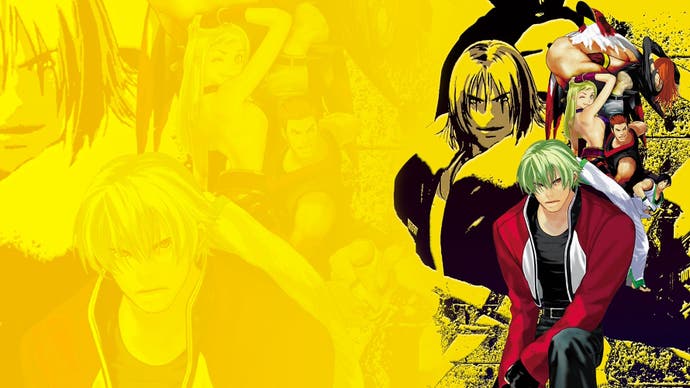 There's something truly special about SNK games. I've spent hours transfixed by the likes of The Last Blade, Metal Slug and The King of Fighters '98, my face almost pushed against an Astro City's 29-inch monitor drinking in their beauty - it's that boldness, that style and all that colour served up in chunky 2D that ensures these things are timeless in their beauty.
So it's something of a privilege to talk to a pivotal part of all that: Eisuke Ogura, an artist who's been with SNK - on and off, given the somewhat turbulent history of the company in the early 00s - for over 25 years, and who's at the forefront of their recent revival. He's been a key part of the fighting games that have defined the company - and it's the fighting games that first drew him there.
"When I was in high school Street Fighter came out and was quite popular," Ogura says, speaking from his home where he's been working remotely through the pandemic. "You know, I couldn't help but feel really inspired by the way it was drawn - we had these big moving characters on screen and it was really interesting to me." He was in luck, as a recent graduate had gone onto work on Street Fighter icon Ryu's palette animation and a path had been established from the school to the vibrant game development scene in Osaka.
"Fighting games were super popular and so companies like Capcom and SNK were immensely adored, and they were filled with people that really wanted to work on fighting games," says Ogura. When he joined in 1996 the 3D revolution was beginning to take hold with the likes of Sega's Virtua Fighter and Namco's Tekken, but SNK's commitment to a more traditional style helped attract Ogura.
"As an artist, first and foremost my main focus was on 2D fighting games," he says, and within his first two years he was put to work on legendary games such as Fatal Fury, Samurai Shodown and The King of Fighters '98. "It was basically fighting game mania."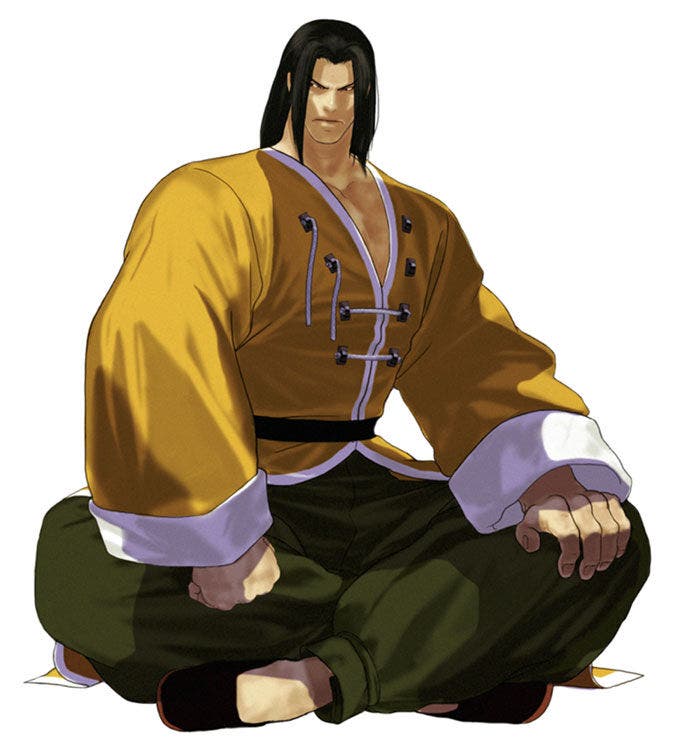 SNK's output at the time was astounding, and what's even more remarkable is how so much of it still stands strong today; the boldness of those games, with their high contrast 90s aesthetic providing the foundation of much of the company's aesthetic to this day. What was it, I ask Ogura, that made SNK's games stand out?
"First and foremost there's a lot of emphasis and a lot of effort in the storytelling and characters," he says. A lot of the SNK characters and their fighting games pop. They're very vibrant, they pop out, they stand out - especially the way that they wear their clothes, right? Take an example like Terry Bogard - they don't look like your average fighter. With Capcom at the time, with Street Fighter, these are like traditional fighters right? The way that they're wearing clothes, they're like traditional garments.
"In SNK's case the people are more casual the way that their clothing is, right. And that's one of the, that's one of the things that really sets them apart. And even now, it's the same thing and nothing really has changed. But that's because back then that was something unique. Back then when you had like a fighting game that was like actual people, traditionally fighters, but SNK kind of was like, No, we're gonna actually have people wearing actual clothes and kind of different here. But now that's more mainstream."
The SNK style is one of simple everyday swagger, then, and there's perhaps no finer example of it than in Garou: Mark of the Wolves, the 1999 fighting game that marked the end of an era for the company. Bold, brash and with a striking colour palette, it's arguably one of SNK's best looking titles - and as an extension, one of the best looking 2D games to date.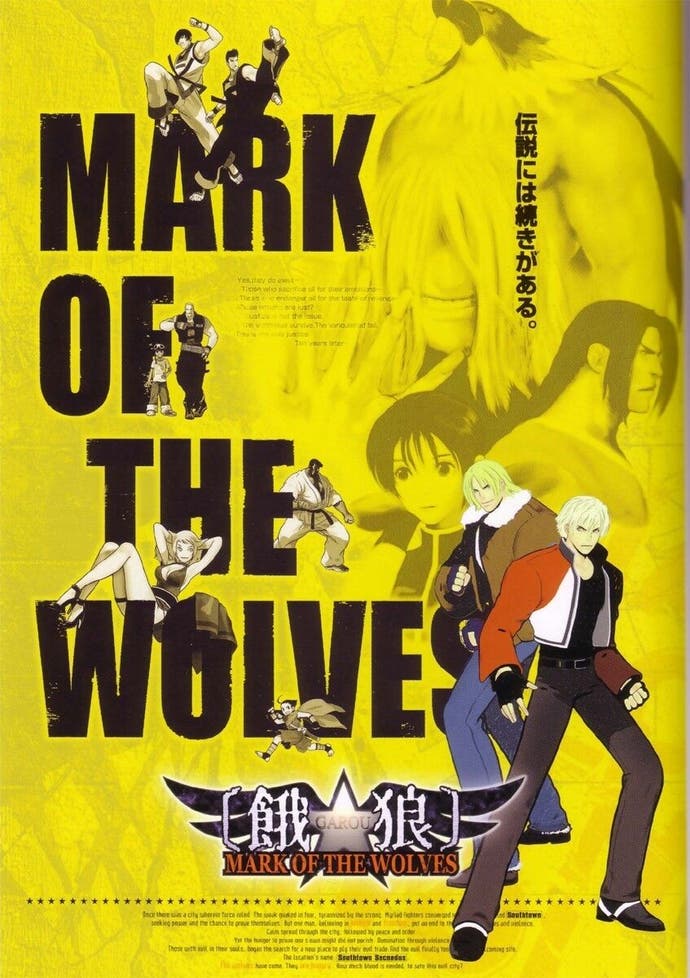 Ogura worked on the flashy opening animation, as well as animations for hulking characters Gato and Grant besides many more character designs, and has some insight into what made Mark of the Wolves so distinctive. "When you look at the way the fights play out, and with the characters, there's a big contrast between how it looks and games before it, like Fatal Fury, look. The reason for this is that the characters look more anime.
"The older games were limited with the amount of colours in their palette. And so you would have this bleeding, you know - if someone's skin colour was white, and their shirt was white, it would bleed into each other and there was really nothing you could do about it. With Mark of the Wolves, though, we were able to add gradients. So even for the colour white, you'd have four different gradients, so we were able to really make everything look fleshed out. It just looked a lot better!"
Ogura downplays his part in it all, which is typical of developers yet something that's also part of his work - as an artist at SNK, his output has never been as distinctive as the iconic Shinkiro or the flair of Hiroaki, something that's a deliberate part of his own style. "So, this is interesting," he says. "Honestly, when I'm drawing artwork for SNK it's less about me putting my own style and twist onto it. My job, at the end of the day, is to draw right for the company. If I'm trying to compare myself to other people, I consider my style of his work as a little bit more subdued than other artists out there."
After SNK's bankruptcy and collapse in 2001 Ogura joined Eikichi Kawasaki's BrezzaSoft before finding his way back once that company was brought back into the fold. "Those times I was working at SNK when I first joined, they were really special to me," he says. "It was a special time as a developer and an artist, and being able to work again with Kuroki-san and everyone I knew back then - I'm extremely happy! I'm really glad to have that experience again."
It's Ogura's experience that earned him a place in the director's chair for The King of Fighters 15, which continues SNK's revival in convincing fashion. It's a challenge he's enjoyed, pouring all of that experience into the game. "I've been working at the company for a very long time! I know a lot of the ins and outs of the games, how the game is supposed to look, how it's supposed to feel. And so I'm able to approach things like using my artistic senses, you know, because I've been here for so long I know what it's like! I'm able to bring a lot of the skills that I learned from working here for so long, and that exposure alone, I'm able to get a long way with that. That helps a lot!
"One of the difficult things about being a creative director, though, is now having to manage people and resources. Before if it was a drawing that needed doing I would just do it! But now we have to work as a team, you have to break up things and make sure people are working on their tasks. And that's honestly kind of difficult, but I will say that it's also extremely fun that I'm able to make the game that I've always wanted to."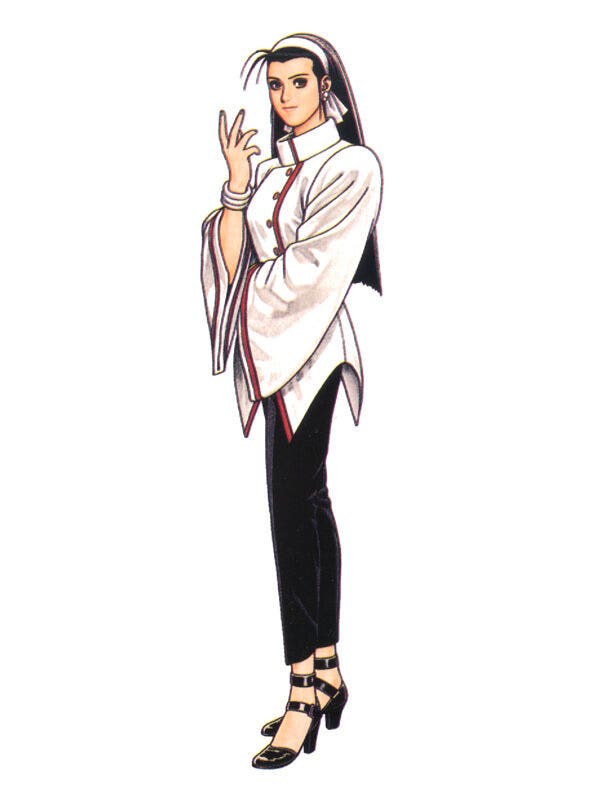 Perhaps unsurprisingly for someone as modest and understated as Ogura, The King of Fighters 15 isn't a flashy revolution for the series - rather it's a considered follow-on from the well-received The King of Fighters 14, folding in new features like the Shatter Strike into the three-on-three team fighting formula as well as some new characters to boot. It's not show-stopping, but it is highly effective - a stylish, smart and extremely satisfying fighting game that lives up to the proud SNK legacy.
With Ogura at the helm, it's a nice excuse for some classic characters to make their return - even if that does present its own challenges. "So, you know, the mechanics behind how 3D and 2D characters work are completely different," he says. "When you're modelling characters, it's not going to look exactly like how it does in 2D for the simple fact that it's a completely different dimension. Take for example Chizuru - she's one of the characters returning in King of Fighters 15, and she's never been 3D. We weren't sure if we could even put her in because of the way that she has this mirroring effect where she splits up into two or three versions of herself - we weren't sure if that's even possible!
"That was kind of difficult to work our way around, to have that in 3D space. So you have an issue where there are some effects that just aren't possible to achieve. But at the end of the day, we have a model for these characters. You know, they have been done in 2D. Working completely from scratch could be a nightmare, but we actually have a reference that we could work off of, so it's not as bad as it sounds."
The end result is a triumph, as is the rest of The King of Fighters 15 - a muscular, deeply enjoyable thing that continues the SNK revival in convincing fashion. Indeed, it does it all so well that it's only natural to think of what's next for the team, whether that's a new Metal Slug that's winked at in one of The King of Fighters 15's backdrops or something else in SNK's considerable back catalogue.
"There are things kind of tinkering in the back of my mind," says Ogura. "You know, I'd love to bring back Garou, Art of Fighting, The Last Blade - these are IPs that are constantly there, I'm thinking about them. But it comes down to the timing. When the time is right we'll start working on it, but for now there's nothing I can say."