Star Citizen and Kingdom Come devs share tech secrets in "unofficial partnership"
"Star Citizen doesn't need peasants and knights... but it does need a robust character creation system."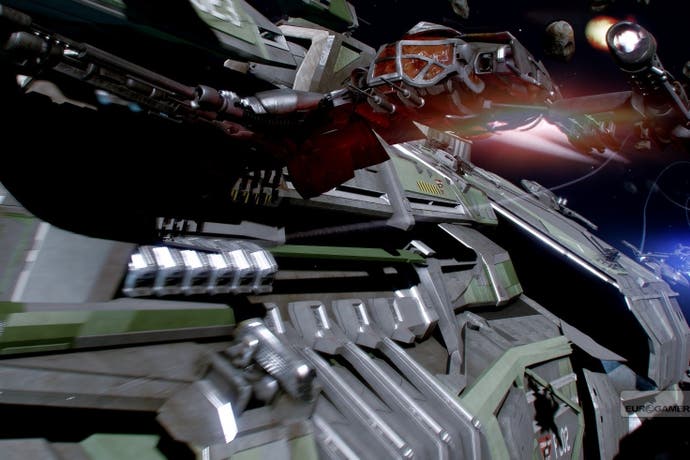 Space trading and combat game Star Citizen and no-fantasy medieval role-playing game Kingdom Come are world's apart when it comes to genre and setting - but under the hood they will have lots in common.
Both were successfully crowd-funded and both are built using Crytek's CryEngine, and now, the developers behind both games plan to get together in an "unofficial partnership" to share tech secrets.
Star Citizen developer Chris Roberts said he got in touch with Warhorse, the developer of Kingdom Come, after seeing its eye-catching debut trailer.
"The characters and outfits I saw working in-engine in the trailer impressed me so much that I contacted the team to talk about what was going on under the hood," he wrote on the Roberts Space Industries website.
Roberts said he wanted to know how Warhorse was building its character creation system to help with his own for Star Citizen. Luckily, Warhorse was happy to let him in on trade secrets.
"Star Citizen doesn't need peasants and knights... but it does need a robust character creation system for the persistent universe," Roberts said. "And that technology is exactly what Warhorse is building for the CryEngine."
Now, the plan is for both developers to share the CryEngine tricks each has learnt over the course of the games' creation. Roberts called it an "unofficial partnership".
"I've always said that independent developers should stick together, and the potential good for both games that can come from this unofficial partnership is proof positive!"
In an update on the Kingdom Come Kickstarter page, creative director Dan Vavra - a fan of Roberts' Wing Commander games - echoed the sentiment.
"So it was logical that one year later, when we were preparing our own Kickstarter campaign, Star Citizen was our role model," he said.
"You learn from the best. So you can imagine how happy we were when Chris Roberts appeared on the list of our backers, and you can't even imagine how it felt when we received an email from Chris himself. He was telling us that he likes our stuff and since his team is using CryEngine as well, they would like to cooperate with us and share some technology! Who would have thought about this 23 years ago when playing Wing Commander?"
Warhorse will share some of its tools with Cloud Imperium Games and Kingdom Come will "most likely" feature tech from Star Citizen.
Speaking of Kingdom Come, Warhorse released a video of an hour long live stream of the game. It's below.