Someone has made a Gabe Newell shopkeeper for Dota 2
But will Valve give it the greenlight?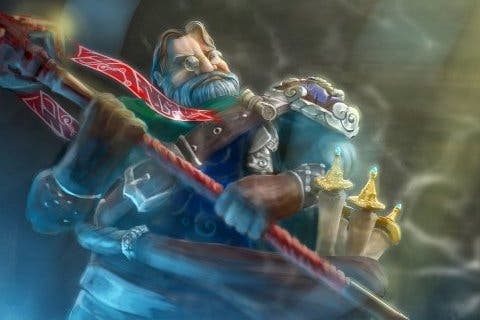 An intrepid Dota 2 tinkerer has reimagined the game's shopkeeper as Valve boss Gabe Newell himself.
"The past year has brought with it a huge leap in the development of eSports and in particular Dota 2," writes Down Limit, creator of the Gabe Newell shopkeeper skin (thanks, PCGamesN).
"In gratitude to the development team, I created this model of the shopkeeper."
Down Limit created the Gabe Newell version of Dota 2's shopkeeper, which you can inspect in the video below, as part of the hugely popular MOBA's New Bloom Festival. The idea is items submitted should have a Chinese New Year theme, which this obviously does not have, but still.
"Many have told me that the developers won't notice this work and I understand that the chances of success are negligible," Down Limit continues.
"However, with the support of the community, do not rule out the possibility that the developers will notice my custom shopkeeper and add it for the New Bloom event time."
Would you like to see this item in Dota 2? If enough people say yes, perhaps Valve will give it the greenlight despite it not being, well, in universe.