Shinji Mikami's classic cover shooter Vanquish is now backward compatible on Xbox One
As is Lara Croft and the Guardian of Light.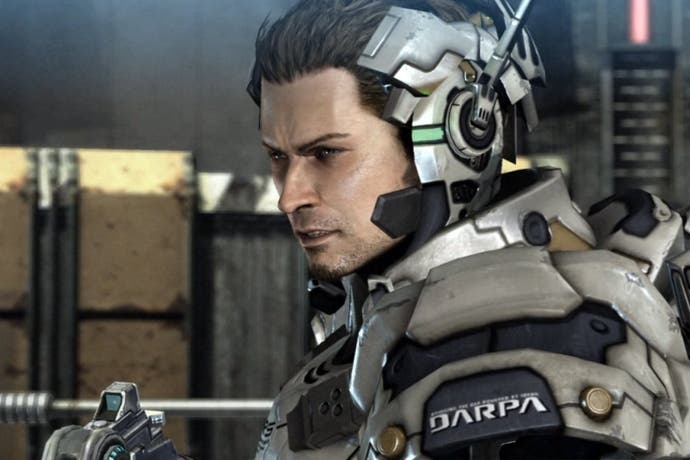 Microsoft has announced that Platinum Games' blistering third-person cover shooter Vanquish is the latest game to receive backward compatibility support on Xbox One, alongside Lara Croft and the Guardian of Light.
Vanquish, for those that haven't yet had the pleasure, released back in 2010, one year after the studio's seminal hack-and-slasher Bayonetta. And while everybody's favourite hair-witch might be the more recognisable franchise these days, Vanquish is no less enjoyable.
Directed by Resident Evil supremo Shinji Mikami, Vanquish offers a rather idiosyncratic take on the usual third-person cover shooter formula. It's a game of muted colour palettes, giant stompy robots, and lots and lots of sliding about the place on your knees.
"Vanquish is a trailblazer", said Simon Parkin in his 9/10 Eurogamer review, "It is a game of astounding creativity and polish, exhilarating on the ground in the moment-to-moment thrills of high-speed-to-slow-motion combat, as well as in its wider, twisting trajectory. Doubtless the best third-person shooter ever to come out of Japan, Vanquish builds on Western developers' triumphs to push the genre in new, interesting directions".
Microsoft's second new backward compatible offering, co-operative Tomb Raider spin-off Lara Croft and the Guardian of Light, is another winner. It's part isometric dungeon crawler, part twin-stick shooter, but still captures the archaeological thrills of the main series.
It features some wonderfully creative, surprisingly elaborate two-player puzzling, frequently exhilarating set-pieces, not to mention an extensive objective-based reward system that makes for a supremely re-playable experience.
"There are few download games that offer this kind of value for money, and few that are as clever or effortlessly exciting," said Keza MacDonald when she reviewed Guardian of Light back in 2010, "Lara Croft and the Guardian of Light might be a move away from the Tomb Raider name, but it's a tremendous homage to its spirit".
If you already own the Xbox 360 versions of either game on disc, you can just slip them into your Xbox One and away you go. Otherwise, you can purchase Vanquish for £14.99 / $19.99 USD on the Xbox Store, and pick up Guardian of Light for $14.99 USD / £9.99.