Scribblenauts
If you spell it, it will come.
There are two different types of level, Puzzle and Action. The former is endlessly simple, templates like asking you to help a duck reach its mother, but without hurting the wolf. Or figure out how to use a switch to open a door to reach a goal. Action levels are tougher and tend to require quicker thinking, or even fighting. You might be asked to stop a boat from reaching a pirate, using any means you desire. Each level begins with a quick tour of what's to see, and a hint explaining your goal. Then you're let loose to try anything you can spell.
Complete a level and you'll be awarded Ollars, the in-game currency, which can be used to buy access to more collections of puzzles (there's a mighty 110 of each type), or silly extras like costumes and music tracks. (Talking of the music, there's no damned way to switch it off, and its upbeat repetitiveness has just about driven me crazy.)
You'll also be awarded daft achievements based on the techniques you used to solve a level. You can then replay any of the 120 levels to complete it at the Advanced level, which requires completing it three times in a row without using the same objects twice. While doing the same thing three times in a row isn't exactly great fun, it does demonstrate the vast diversity available.
You can find a few ways to game it. Giving Maxwell wings gets you around all sorts of problems, and the lasso tends to offer a solution for all manner of issues. Lasso an object, then drag it behind you, tie it to a car, attach it to a helicopter. But then, that any of this is possible is pretty incredible.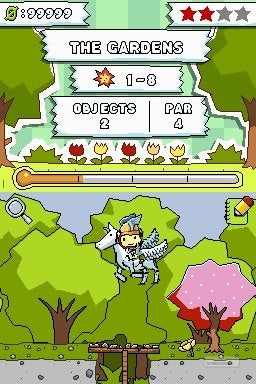 There's also the option to create your own levels, again with only the distant limits of its and your vocabulary. You can decide the behaviours of conscious creations, and attempt to make the trickiest routes possible. This is done simply and well.
This is a game in which I killed a bee with a blue whale. It's one where jetpacks stop working if they get wet, and just blow out bubbles. Hippies are present to stop you killing ants. Reindeer can fly. When a rock, gun then rocket launcher won't work, it's time to pull out a black hole. You can create handcuffs and cuff yourself to another character. You can create a colossal squid and make it fight a bear. You can type in "portal" and an alien will jump through.
Scribblenauts is unquestionably a thing of wonder. But it's also a clumsily made game, with clumsy text (every level ends with the words "MERIT GET!", and then there's the gibberish sometimes contained in the clues), clumsy level design, and beyond clumsy controls. Oh, and an agonising tutorial that seems intent on denying anything the game is about.
I find it hard to believe anyone could play for more than six or seven levels before just typing in random things to see if they're there and whether they can beat Cthulhu in a fight. But then, doing that is utterly brilliant. It's like trying to wash the car and ending up having a water fight. The water fight is tons more fun than the car washing, but then you're wet and tired and it's time for tea.
Will you support Eurogamer?
We want to make Eurogamer better, and that means better for our readers - not for algorithms. You can help! Become a supporter of Eurogamer and you can view the site completely ad-free, as well as gaining exclusive access to articles, podcasts and conversations that will bring you closer to the team, the stories, and the games we all love. Subscriptions start at £3.99 / $4.99 per month.