Relentless reveals non-Buzz! venture
An episodic murder mystery for PSN.
Buzz! developer Relentless Software has revealed a brand new episodic series for PSN titled Blue Toad Murder Files.
Just like an Agatha Christie creation or Midsomer Murders, the new whodunnit will aim to leave us hanging between each murderous segment - the first of which arrives in December.
Before that, however, the Eurogamer Expo 2009 will host a playable version for all to try. That takes place in October in both Leeds and London, remember.
"What I like about a murder mystery game is that when you stick someone in front of it, everyone knows how that game works because they've seen it a thousand times on the telly," David Amor, golden-haired creative kingpin of Relentless Software, told GamesIndustry.biz.
"People know all about alibis and motives and all this stuff. We don't have to explain it. And I think that's one of the things that made Buzz popular - it was based on the quiz show that people have seen on TV a thousand times too. I hope the same works for us in a murder mystery title.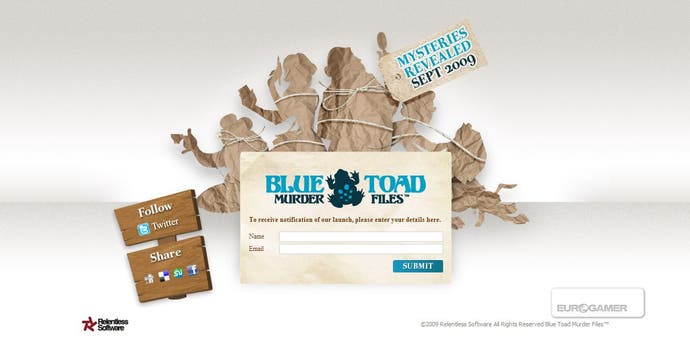 "If you speak to a non-gamer, as I have done, and they ask what you're working on and you say 'it's a murder mystery game' then I've just summed it up in two words," he added. "It's like 'karaoke', or 'air guitar', or 'quiz game', or 'keep fit'."
For Relentless, not only does this represent a creative departure from Buzz!, but also a financial leap-of-faith away from the hefty, traditional backing of Sony, and into a self-publishing model.
That freedom means Brighton-based Relentless can begin looking further afield and move nimbly to pursue other ventures like iPhone, for example - a platform Amor finds "very interesting". But don't hold your breath about Xbox 360 and Wii support, as Relentless has 80 staff who know how to work on PlayStation 3 as well as a long-standing and prosperous relationship with Sony. "I wouldn't want to do something that jeopardises a good thing," added Amor.
Blue Toad Murder Files has no price, yet. Keep an eye on the Blue Toad Murder Files website for more.
Head over to GamesIndustry.biz for the full interview with Relentless founders and executive directors David Amor and Andrew Eades.