Official: Natal is called Kinect
Slim 360 leaked by ad?
Update: Check out Ellie's report on Kinect's unveiling for more details.
Original story: Microsoft has confirmed that Project Natal is called Kinect.
The controller-free camera peripheral still has no price or release date, but following Sunday's "premiere" event at the Galen Center in Los Angeles we also know what a number of its games will look like.
Software shown at the event included racing title Joy Ride (originally announced as a microtransaction-driven Xbox Live Arcade title a year ago), Kinectimals (a pet game), Kinect Sports (Boxing! Bowling! Table tennis!), Kinect Adventures (including the river rafting game that's been seen), Dance Central (developed by MTV Games), and Star Wars and Disney titles.
The showcase, which featured a super-expensive elephant and meteor-inspired Cirque de Soleil performance as its centrepiece and involved dressing up, also revealed that there will be a gesture-based "Video Chat" application.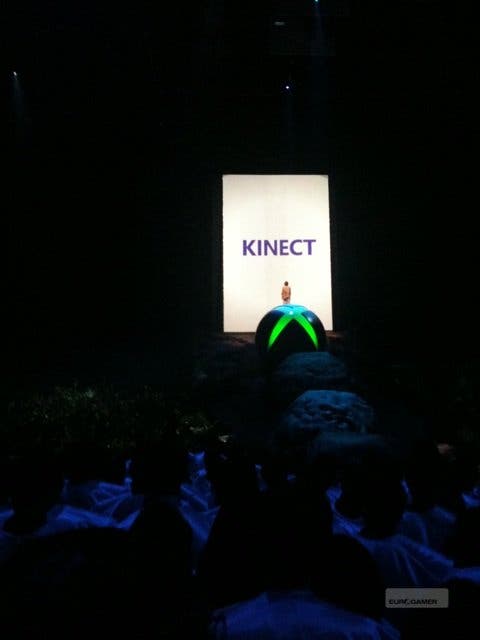 Earlier in the day we heard via an Italian web advert that Microsoft also plans to announce a slim Xbox 360 with a 250GB hard disk with built-in Wi-Fi. That remains unconfirmed, but was a pretty good bet anyway after motherboard images leaked in March.
Microsoft is expected to announce that, plus pricing and release dates for Natal - sorry, Kinect - at its official press conference today, 14th June. That kicks off at 10.30am PST / 6.30pm BST and you can catch it all live on Eurogamer.
We'll also be getting our hands on Kinect immediately after the premiere, so you won't have to wait too long for impressions. We thought we'd send the blacksmith of the future along to make sure it all works out from a technical perspective, too. Watch out, Kudo!