My Little Pony inspired fighter Them's Fightin' Herds leaves Steam early access next month
Includes Episode 1 of new top-down Story Mode.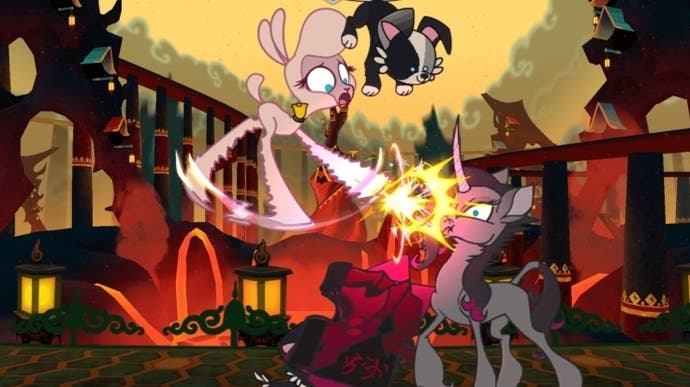 Them's Fightin' Herds, the My Little Pony inspired 2D fighter with a surprisingly eventful history, will be leaving early access and launching on Steam next month, on 2nd April.
As you might recall, Them's Fightin' Herds started life as an unofficial fan-made title pitting characters from the animated TV show My Little Pony: Friendship is Magic against one another. Unfortunately, if perhaps not surprisingly, series rights holder Hasbro eventually slapped developer Mane6 with a cease and desist order, at which point the team opted to continue work on the game, retaining its four-legged fighting theme but with brand-new characters.
It's here that Friendship is Magic creative director and producer Lauren Faust stepped in; having heard of Hasbro's cease and desist order, Faust offered to lend her talents and design an entirely new animal roster for the fighter, incorporating everything from alpaca to reindeer.
Shortly after, Mane6, with assistance from its community, managed to wrangle free use of developer Lab Zero's bespoke Skullgirls engine and, eventually, the entire project reemerged as four-button fighter Them's Fightin' Herds.
It's been available in Steam early access since February 2018, but is now ready to graduate to its version 1.0 release on 2nd April. It'll include a six-strong fighting roster and a variety of modes split across local and online play, offering the likes of a 1v1 battles, target challenge, and training. There's online matchmaking, and even a lobby system enabling players to socialise, search for matches, and unlock avatar cosmetics as they roam a pixel-based overworld.
The big new addition for version 1.0, however, is Story Mode, which sounds like an ambitious beast, taking the form of a sort of top-down exploration adventure through settlements and dungeons, featuring conversations, battling, mini-games, challenges, and boss fights.
Launch day will bring the first Story Mode episode, themed around heifer Arizona, and additional episodes are set to follow, each focussing on a different member of the cast. Mane6 says it has a "huge list" of improvements it plans to work on after Them's Fightin' Herds' 1.0 release, alongside new features, new characters, and porting to other platforms.