Minecraft Xbox One release date confirmed
UPDATE: Available now on PlayStation 4 - and on Xbox One for £115!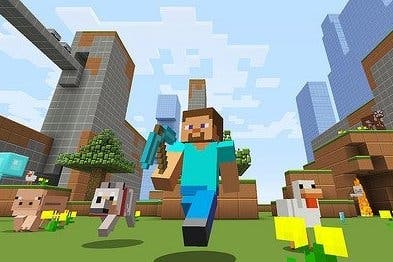 UPDATE #2 4/9/14 10.20am: Minecraft's Xbox One edition has popped up on Microsoft's Xbox Games Store a day early, priced £114.95.
The listing, presumably a mistake, allows you to click "purchase" and select a payment option.
We're checking what's going on with Microsoft now, rather than breaking out the Eurogamer credit card to download it ourselves.
UPDATE 4/9/14 9.30am: Minecraft is now available to download on PlayStation 4 in the UK, Sony has confirmed.
The upgrade plan and cross-platform DLC offer remains identical to that of the Xbox One edition, which launches tomorrow.
You can upgrade from the PS3 to PS4 version for £3.69 or buy the PS4 version by itself for £12.99. Saved worlds can be ported over and all previously-bought DLC will be compatible.
There's still no sign of Minecraft's PlayStation Vita version (which is a Cross-Buy title with the game on PS3). That will still need more time, developer 4J Studios has said.
ORIGINAL STORY 3/9/14 8.20am: Minecraft: Xbox One Edition will finally launch this Friday, 5th September, Microsoft has announced.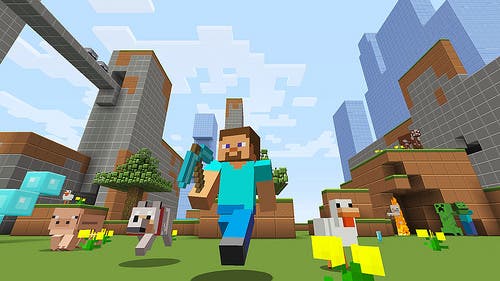 Owners of the Xbox 360 Edition can upgrade for £3.99, or you can buy the game fresh for £15.99.
All DLC has now been confirmed to transfer over from the game's Xbox 360 Edition - a feature previously uncertain for all add-on packs as some were said to be "trapped in licensing deals".
And, as previously announced, all Xbox 360 maps can also be transferred over.
The new Xbox One version of Minecraft will offer all the game features of the existing Xbox 360 build, but also boasts an expanded draw distance and the capacity for far bigger world sizes - up to 36 times larger.
It is the first of the game's new console versions to get a release date - PlayStation 4 and Vita builds are expected to follow shortly. All three were originally due to arrive during August but suffered delays due to extended bug-fixing.