Minecraft: PS3 Edition getting disc-based launch next month
UPDATE: PlayStation 4, Vita box art also spotted.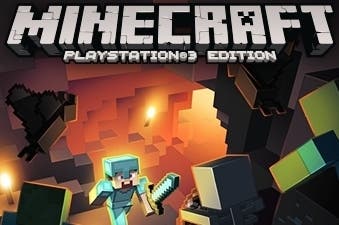 UPDATE 13.15PM: Mojang has now confirmed the physical version of Minecraft: PS3 Edition and teased the game's box art for PlayStation Vita and PlayStation 4. More than 1.5 million copies of the PS3 Edition have been downloaded so far, the EU PlayStation blog reports.
We've known that the game will come to both PS4 and PS Vita for some time, but the existence of box art suggests that both of these platforms will see the game as a physical release, too.
ORIGINAL STORY 11.13AM The PlayStation 3 version of Minecraft will get a disc-based release next month, a new report suggests.
PlayStation App users were emailed today with an advert for the release, which will arrive in shops on 14th May (thanks, NeoGAF).
We've asked Sony for confirmation.
A physical version of Minecraft's PS3 build will come as no surprise - the Xbox 360 Edition has been a constant presence in the UK charts since it launched last year.
Console developer 4J Studios has now synchronised development for the Xbox 360 and PS3 versions. PlayStation 4 and Xbox One editions are also in the works.
Sales of Minecraft's mega-hit Xbox 360 Edition topped 12m copies this month, making the game's combined sales tally across all platforms now around 40m.