Leisure Suit Larry creator Al Lowe puts his source code collection on eBay
"This game is so out of touch it should be wearing a leisure suit!"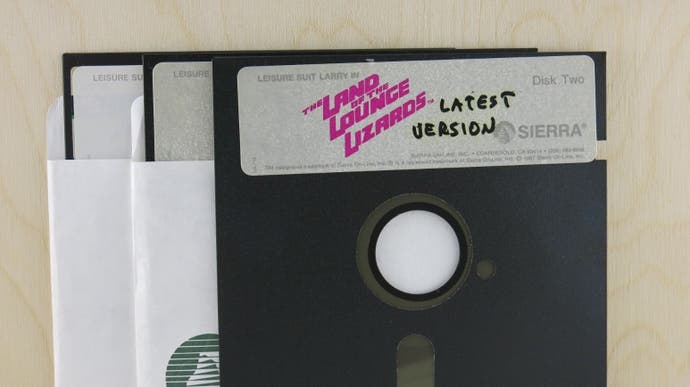 The original creator of the Leisure Suit Larry games, Al Lowe, has listed his entire source code collection on eBay.
"I'm 72 years old, and none of my kids want this junk! Does anybody?" Lowe told YouTuber MetalJesusRocks (thanks, ArsTechnica), explaining why he's put his collection up for auction. "Back then, programmers like me had to keep track of their own resources. Sierra never kept any archives. If I didn't keep everything, it would have been lost."
"You're looking at a one-of-a-kind opportunity to own a piece of computer game history: my archives of LSL1: Leisure Suit Larry in the Land of the Lounge Lizards," states the auction description of the original game files. "When I finished creating Larry 1, I thought I should keep a clean archive of everything needed to recreate the game, so I copied all the source code, text, animation, background art, music, sound effect... everything I could to these floppies."
Amongst the items Lowe currently has listed are a number of classic/retro Sierra games - "I backed everything up because I knew Sierra didn't" - including a copy of Softporn on floppy disk - pre-owned with no box - which "inspired Lowe to create Leisure Suit Larry". In the auction description, Lowe explains how the idea for Leisure Suit Larry came to be.
"In 1986, I was looking for a new project and asked Ken Williams what he wanted from me next. He mused about how Softporn had been a huge hit in the early days of Sierra. At a time when Apple had only sold 100,000 Apples, Ken had sold 25,000 copies of Softporn. And everyone I knew had a pirated version! It's safe to say it was the most popular game of the period. Heck, when Time Magazine began to cover home computers, half of their first section was about Softporn. It was a big deal.
"Ken wondered if I could 'bring it up to date' by using Sierra's new AGI engine. I said that, while I had played it back in its day, I couldn't remember much about it. He gave me this disk and sent me home to play it. I did. I reported back to him that 'this game is so out of touch it should be wearing a leisure suit!' and got a big laugh from everyone in the room. I continued, 'The only way I could do this game is if I could make fun of it. Make it a comedy.' Since I was going to create the new game on spec, with no advances, he agreed.
"That's how Leisure Suit Larry was born. And now you have the opportunity to own the disk that made Larry possible. This is that disk, the one Ken gave me, the one I played and didn't think could be remade, the one that birthed Larry Laffer. Sure, there's no box - because I didn't get a box. But you get a unique piece of video game history!"
Interested? You're not alone. There's been significant interest already, and the source code auctions have already surpassed $7,000 and are still rising, despite Lowe's admission that he hasn't recently tested the disks. He does, however, remind bidders that owning the source code is not the same as owning the intellectual properties themselves.