Lego Jurassic World is coming to Switch this September
Prehistoric.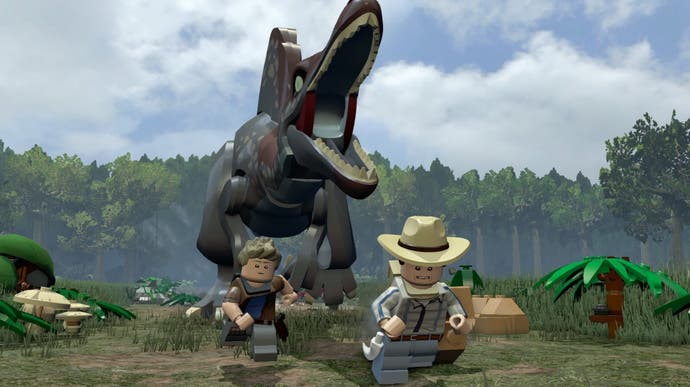 Way back in the mists of 2015, there was general quiver of nostalgic excitement as Universal Pictures prepared to resurrect Stephen Spielberg's beloved Jurassic Park series, in the form of Jurassic World. Four years, and two reasonably adequate movies later, Warner Bros is dusting off developer TT Games' ageing movie tie-in, Lego Jurassic World, and bringing it to Switch.
Lego Jurassic World heads to Nintendo's console on 20th September - a date that does not, as far as I can tell, coincide with any particular movie-based occasions or anniversaries that might explain its sudden revival. The good news, though, is that Lego Jurassic World is another solidly enjoyable entry in TT Games' long-running Lego series, drawing not only from its namesake but from the original Jurassic Park trilogy.
It's all reimagined and retold with TT Games' usual wit and mastery of slapstick humour, with the game's 20 levels adhering to the series' reliably entertaining platform and puzzle formula as they play out across Isla Nublar and Isla Sorna. Adding a bit of an appropriately prehistoric twist to the otherwise familiar action is the option to create your own dinosaurs - by selecting colours, abilities, and body parts - and then play as them in-game.
Lego Jurassic World on Switch will include all three DLC content expansions released on other platforms: the Jurassic World DLC Pack and two Jurassic Park Trilogy Packs. These add a total of four vehicles and 12 new characters, should the core experience's 100+ unlockable characters not be sufficient for your needs.
Lego Jurassic World will be available as a digital download on Switch's eShop and in physical form when it launches on 20th September.