Lego 2K Drive is a fun mix of Forza Horizon and Mario Kart
And the first building block in a major new partnership.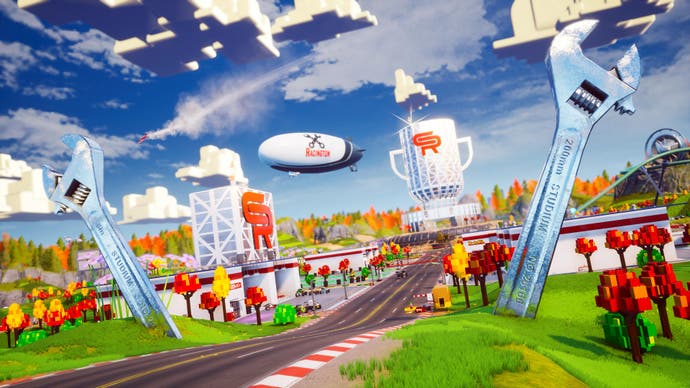 From the days of dodging giant pizzas on Lego Island, to Forza Horizon 4's full-on Lego-themed expansion, racing has long felt a part of the Lego video game brand. And why not? Some of the simplest Lego sets feature cars and truck parts as core components. Lego itself, famously, holds the world record for being the biggest toy tyre manufacturer on the planet. It's almost surprising there hasn't been a proper full-on Lego racing game for so long.
But that's one of the interesting things about Lego 2K Drive, a seemingly polished and suitably colourful racing game which has been smartly constructed using building instructions borrowed from other top titles in its genre. This isn't just the first Lego racing game in decades, but also the first Lego game from publisher 2K ever, and the beginning of a big new partnership. Its imminent arrival - set for 19th May on PC, PlayStation 4, PS5, Nintendo Switch, Xbox One and Xbox Series X/S - follows years of Lego games largely limited to those based on big franchises, as Lego now looks to broaden its scope and work with a wider pool of developers.
Lego 2K Drive is being developed by Visual Concepts, the team behind 2K's NBA and WWE titles, but in a presentation to press attended by Eurogamer, the studio mentioned this title as only the first in a series of Lego collaborations being published by 2K. There are some partially outdated rumours as to what some of these other games might be - but for now, 2K itself is officially staying schtum.
When Lego 2K Drive does arrive, it will join a busy racing genre already filled with excellent entries doing the types of things it also aspires to. Its main mode is an open world driving game akin to Forza Horizon, for example, with urban and rural areas to explore at your own pace, unlocking new side-missions and hunting for collectables. There's a story, too, with a Lego Movie-style brand of humour and characters who look and act like they have leapt off the big screen, although the vague tale it tells likely won't stick long in the memory. It's funny, though, and there's plenty of Lego brick puns.
The game's open world is actually a set of separate, individual biomes, with a grassy first area as something of a tutorial. Here, I was able to learn the controls of the game and go on my first few races, and witness how my vehicle smoothly transformed from kart to off-road buggy to boat as I changed terrain and crossed water. It's a nice touch, with some cool customisation implications I'll get to later. Later biomes are themed around a Wild West-like desert, and a spooky area filled with haunted houses and ghosts. Activities here extend to various mini-missions where you must play tower defence against alien invaders, or clear up Lego tumbleweed from a farm.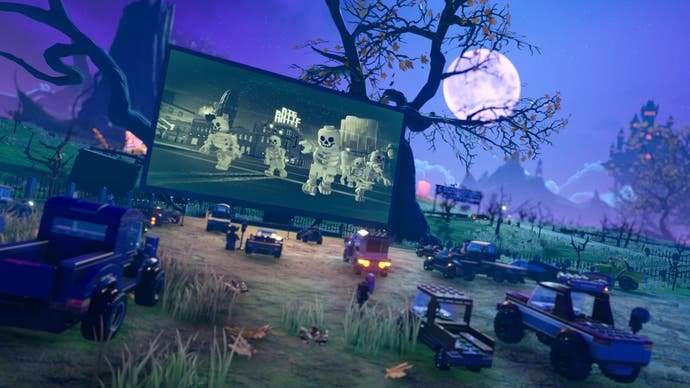 Races take the form of Mario Kart-style courses across portions of the landscape, clearly marked off to be used as circuits or point-to-point races. It's here you'll get access to a set of familiar-feeling power-ups, such as a ghost item for avoiding opponents, homing missiles, and a Lego spider which gets stuck to your opponents' screen. The game's Bullet Bill item is shaped like a small galaxy, and can warp you closer to the front of the pack.
Lego 2K Drive is fully playable in co-op, with up to six players in any session able to zoom about together. When exploring the open world, there's no limit to where you can all be at any time in one of the game's biomes, though if one player activates a race activity, everyone is pulled in to compete together. The game's multiplayer extends to a wholly separate (and even more Mario Kart-esque) tournament mode, where you can pick a four-race cup to play in without fussing about with any open world bits, with tracks akin to Moo Moo Meadows and Bowser's Castle.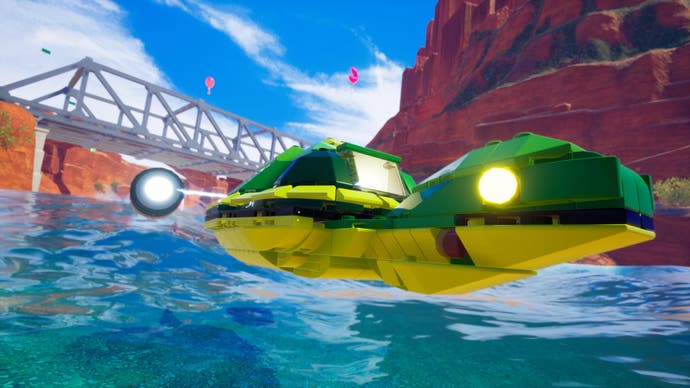 The game's final major offering is a car creator - and it's here the game's Lego branding is finally put to use as more than simple theming. Your progress through the game's campaign unlocks cars for you to drive around in, and it's here in your garage that you can pull them apart brick by brick and then build them anew. Oh, and the car transformation effect I mentioned earlier, where you actually have three vehicles based on whether you're on/off-road or on water? It's here you can edit each one of those in turn. So, for example, you can mod your car to have a pink Lego pig on the front and flashing fuschia lights while on-road, then switch to a lunar-style dune buggy while on rougher terrain. And then a boat shaped like a shark on water. You get the picture. There are even a couple of licenced vehicles, including the McLaren Solus GT and McLaren F1 LM.
Everything with Lego 2K Drive seemed fun and fine, though I'd be remiss not to note the tingling sense of caution prompted by 2K's plans to sell further Lego customisation options down the road. There's around 1000 bricks available at launch, but further Lego kits will be made available to purchase. The game even has a sequence which introduces you to the cute monkey characters who will help you buy this stuff - and who are located all over the map, via a shop at each in-game garage (which are also, conveniently, the game's fast travel points). This may all end up perfectly fine, but I was warned off looking at the game's item shop to see for myself as it was apparently still under construction.
A press release I received after playing revealed more of the game's monetisation, which will include a season pass model via a "Drive Pass" which adds four season's worth of parts and themes - plus an additional biome - over the course of the game's "Year 1". The game will also be sold in several versions, with its £60 standard version (£50 on PC, Switch, PS4 and Xbox One) available alongside an Awesome Edition (£85) with the Year 1 Drive Pass included, alongside a new vehicle, flair and in-game minifigure. There's also the Awesome Rivals Edition (£100) which has all that and "multiple new vehicles" and minifigures.
It's been over 25 years since those giant Lego pizzas first rolled across the road on Lego Island's racetrack and, in the years since, Lego has established itself as a major video game brand as well as a world-conquering toy company. Lego 2K Drive may not reinvent the wheel, but it's shaping up to be a slickly-made successor to the non-licensed Lego games of old.