Gods Will Be Watching braves Indiegogo
UPDATE: Hits its goal, adds permadeath New Game+ mode.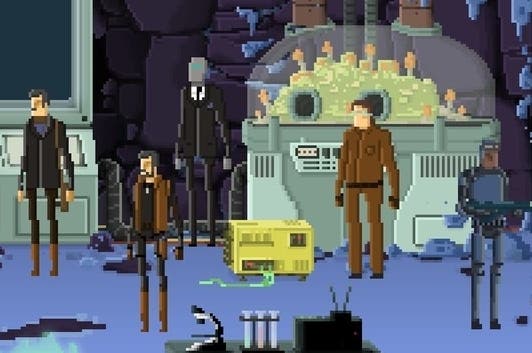 UPDATE: Gods Will Be Watching has shot past its €8000 Indiegogo goal over the weekend in less than 78 hours.
It's also recently passed the €10K mark, allowing developer Deconstructeam to add in an extra challenging New Game+ mode with permadeath that unlocks upon completing the game. "Try to complete the whole game with just one attempt... sacrifice the engineer, and it's done, no restart, no way back. A challenge for true survivors," the developer said in an update.
Original Story: Impressive Ludum Dare entry Gods Will Be Watching is being expanded into a fully fledged commercial product, pending funding on Indiegogo.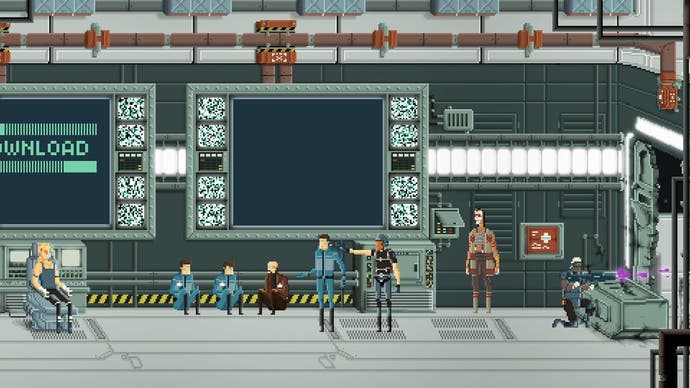 I wrote about Gods Will Be Watching a couple of months back where I called the single-screen survival sim "one of the most expansive Ludum Dare entries ever." For an entry made in under 72 hours at a game jam, it was certainly impressive, leading one to wonder what Spanish developer Deconstructeam could do with more time and money.
The remake will expand the game's scope to include six scenarios, rather than the mini-game's one. "The remake won't be just about surviving on a hostile planet, but to overcome several difficult situations that will expand both the storyline and universe of sergeant Burden and his crew, and will offer new moral dilemmas in order to stay alive," read the developer's description. It noted that one such new predicament would be a hostage situation where you assume the role of a terrorist and need to manage everyone's resources and nerves, lest they overthrow you.
This will be a more dynamic project than the original, too, as NPCs will now react to situations a lot more via a new "empathy system." Kick a teammate on the floor and someone's reaction to you may change, making it a bit more like The Walking Dead than impersonal stat puzzler Oregon Trail.
Deconstructeam has already raised €2,953 towards its €8,000 goal with 29 days to go before its 15th August deadline.
Beyond its initial goal, there are stretch goals for a New Game Plus Mode, extra cutscenes, voice-acting, and DLC.
Donations of €8 will receive a DRM-free digital copy of Gods Will be Watching for PC, Mac and Linux upon its estimated release in February 2014, while pledges of €15 will receive the iOS and Android versions.
To get a better feel for Gods Will be Watching, you can always play the original game jam entry at Deconstructeam's official site.