Ghost Recon Breakpoint brings more survival and neck-stabbing to the Wildlands formula
I Clancy you.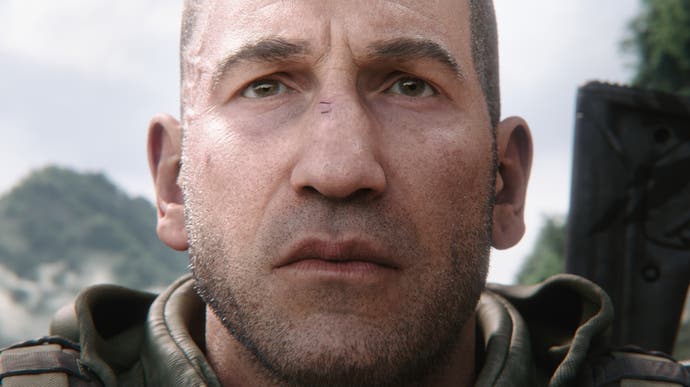 Following the leak earlier today, Ubisoft has officially revealed Ghost Recon Breakpoint, the forthcoming follow-up to 2017's massively popular, somewhat generic open world shooter Wildlands.
I played Wildlands for a short while back when it launched in 2017, and it was fine - a step away from the tactical action I loved in the older Ghost Recon games, sure, but a perfectly enjoyable romp if played with friends, if entirely forgettable. It turns out I had forgotten most of it, too - the protagonist of the single-player campaign, Nomad, is back, though in truth I had no recollection of him, with his gruff beard and steely eyes, last time around. Maybe it's because he's wearing his cap back-to-front now.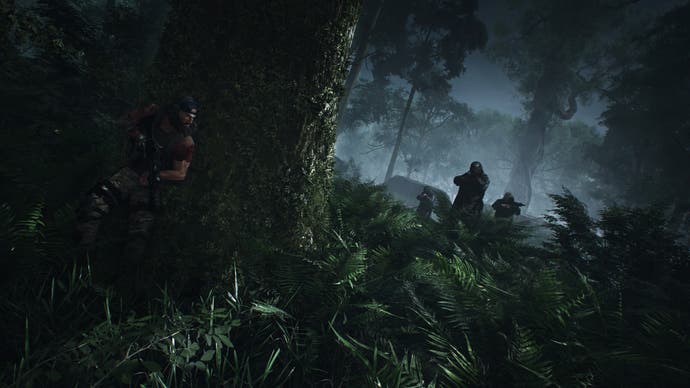 This time out, the action's moved on from Bolivia to the island of Auroa, a fictional backdrop set in the Pacific seas that promises diverse biomes, from wintry peaks to humid jungles. In an interview after a pre-brief for Breakpoint, I asked whether the weather would play a part in the systems of Breakpoint, only to be told that's not something the team is currently talking about.
You can camouflage yourself using the environment, smearing yourself in mud to hide from enemies just like Arnold Schwarzenegger in Predator. How exactly does that mechanic work? That's not something the team is talking publicly about at the moment either.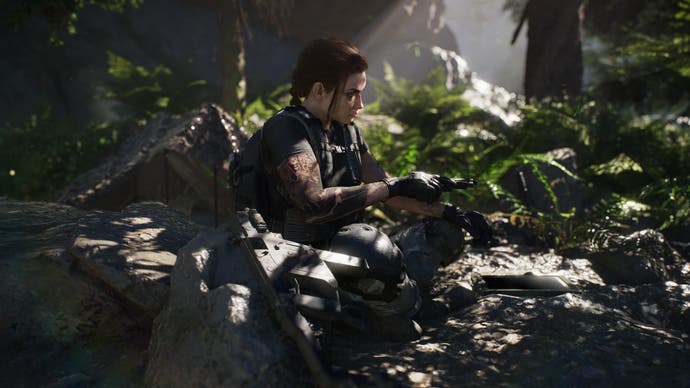 So let's stick with what's in the press release, and with what was in tonight's livestream. Auroa Island is home to the Skell Technology facility, where the drones that have risen to a key role in the near future setting are manufactured. A rogue group of Ghosts called The Wolves, however, led by Lt. Colonel D. Walker, has taken control of the island and reprogrammed the drones. You've crashed on that same island, fighting to survive as you're hunted down by The Wolves.
Which leads us to the survival tint to Breakpoint. You can receive serious injuries, limping your way through encounters before escaping to set up camp with a bivouac to heal, respec or change between one of the four character classes available at launch. You can carry bodies - your enemies, or your teammates - to hide your prey or drag your comrades away from danger. You can customise your characters, with progression shared between the main campaign and the PvP that is also launching alongside the game. One of the new enemies is a man in lots of body armour sporting a chaingun. You can tuck your trousers into your boots now.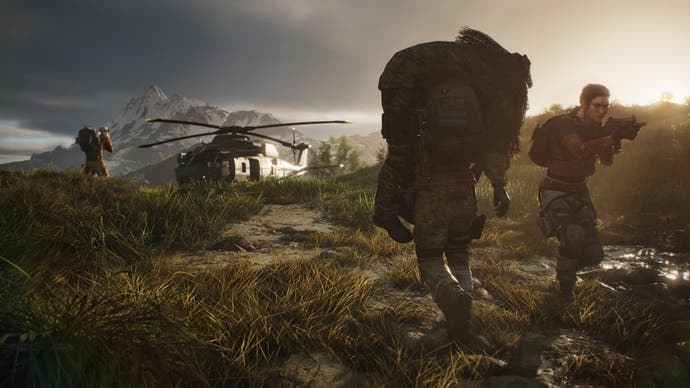 You can also stab enemies in the neck. Sometimes repeatedly.
At some point after Ghost Recon Breakpoint's launch, you'll also be able to take part in raids.
Ghost Recon Breakpoint is a video game. It is out on October 4th.