Gears of War 3
The sum of all Gears.
Visually, of all the general improvements to the engine, it's the lighting that works the real magic, at times creating a sense of something I've never previously experienced in a Gears game: beauty. And I struggle to think of a more gloriously convincing riposte to the persistent jibes about Gears of War's colour palette than the setting for Act V.
Elsewhere, however, there's evidence that we are reaching the limits of the hardware, such as those moments when Fenix is arbitrarily required to chainsaw through wood - which result in some horrible clipping as his tree-trunk arms clumsily disappear through it. At times pre-rendered cut-scenes kick in, and slightly dodgy compression sees to it that they lack the razor sharpness of their real-time counterparts.
The game also supports stereoscopic 3D. As with others in the currently shallow pool of compatible 360 titles, this uses side-by-side mode, so the resolution of the resultant image is effectively halved. Nevertheless, for a game so reliant on cover-based shooting, the sense of depth the 3D provides can be an impressively pleasing, immersive bonus.
The multiplayer side is feature-packed and extremely comprehensive, with four-player co-op and Beast Mode the headline additions to an already substantial suite of co-op and competitive entertainment.
The delicious novelty of Beast Mode makes it an instant attraction. Offering the opposite perspective to Horde Mode, players control Locust enemy types from the scurrying Ticker all the way to the rampaging Berserker, with teams of up to five players tasked with clearing waves of humans against the clock. It's great fun.
Horde Mode has also been tweaked, with teams now selecting a 'Command Post' around which they can purchase defences in the lull before a wave begins to bolster their position against the onslaught.
In regular Versus mode, after several days of thoroughly enjoyable scrapping with the lucky few already online, whilst forecasting is a dangerous business, it's hard to see anyone getting bored in a hurry with the content that's included.
Of the ten maps on offer here, personal favourites are Drydock, its caged central section a blood-and-guts magnet; the absorbing interior/exterior cat-and-mouse of Hotel; and, for plain out-and-out chaos, Thrashball, set in the ruins of Cole Train's home football stadium.
The overhauled rewards system deserves a special mention. It's a real boon whatever your skill level, often giving you all kinds of ego-salving props even after a total mauling. Whatever and however well you're doing (including Campaign co-op), there's a constant and satisfying sense of progress.
The general sense, then, is evolution rather than revolution, with the team set on delivering the most complete Gears multiplayer experience in the final instalment of the trilogy. While there's nothing game-changing here, it's hard to find real fault with what there is. Certainly, no aspect of the game better represents that clichéd but well-meant "love letter to the fans" mentality.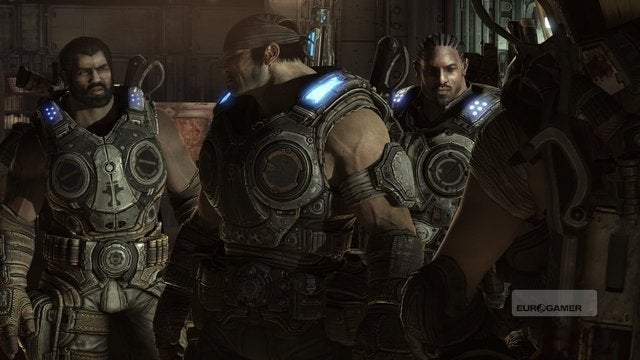 In its pursuit of the ultimate "wow!" moment, Gears of War 3 can occasionally forget that the player's experience should always have primacy - as one beautiful but bizarrely disconnecting level around three-quarters of the way through underscores.
The script is chock-full of the kind of cheesy one-liners it would by now be churlish to complain about in view of the series. Writer Karen Traviss, faced with the daunting prospect of supplying a solid conclusion, does so while providing enough twists and turns along the way to sate the die-hards.
While the performances are a far cry from Uncharted's standards, we get to see a side to Marcus Fenix in particular that does at last breathe convincing humanity into this elephant-skinned hard man. As thickly as some scenes layer it on for emotional impact, the moment I found most affecting is over before its impact has fully registered. There's probably a lesson in there.
Gears of War 3, then. In its multiplayer, all you could have reasonably asked for; in its visuals, new heights reached, while cracks of old age are papered over; in its story, a fitting conclusion; and in its campaign, though short of the consistent brilliance of its predecessor, a mostly rousing and memorable spectacle.
So where do you go after "bigger, better and more badass?" You go to your fans and give them that which they crave. But now Epic has surely exhausted the formula in its current form - and, probably, on current-gen - the really exciting question is: where next?
Become a Eurogamer subscriber and get your first month for £1
Get your first month for £1 (normally £3.99) when you buy a Standard Eurogamer subscription. Enjoy ad-free browsing, merch discounts, our monthly letter from the editor, and show your support with a supporter-exclusive comment flair!