Games of 2010: Mass Effect 2
Survivor.
It was on one of these mini adventures that I had my saddest experience in Mass Effect 2. For me it wasn't you-know-what, but finding the corpse of a tortured Cerberus operative and being forced to contemplate dying slowly, billions of miles from home with no hope of rescue.
Perhaps I'm a bit soft like that (most people's reaction was probably to shrug, pick up the nearby Palladium and then dust off). I was certainly a bit soft on the planet-scanning aspect of the game and the streamlined inventory in my review, or so some of you noted (screamed, whatever), but then I like it when games give me a bit of time to calm down and meditate between the heavy lifting, which the hypnotic, slow-paced scanning provided, and I like it when games weed out unnecessary maintenance and labour, as the pared-back weapon and upgrade systems seemed apt to do. (You may never agree with me on this, incidentally - but then I loved the Mako, and I don't care who knows that either.)
With a few notable exceptions (Heavy Rain, for one), we've had 12 months of safe sequels since I started Mass Effect 2, and the year's left me relatively cold. I adored Assassin's Creed: Brotherhood, and I had no trouble letting myself be swept along by Call of Duty: Black Ops and Halo: Reach. And even though I thought it was disappointingly staid, I still play FIFA 11 every day. But while advances have been stark in many areas of the games industry in 2010, especially motion control, I don't think they have among our core blockbusters, which have played it so safe that we predicted the five best-selling games for Christmas weeks in advance.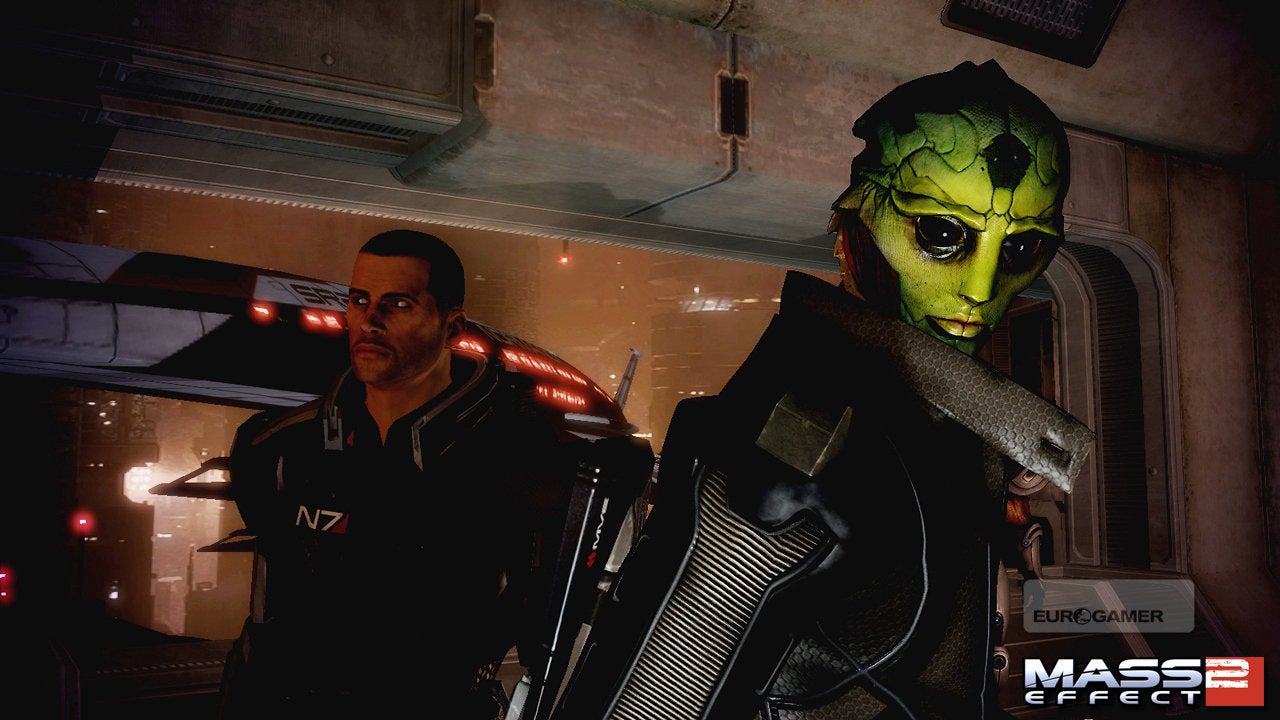 Mass Effect 2 is probably as guilty as anything else released this year of playing it safe. The things it changed may be bold in the context of its overly complicated predecessor, but it sticks doggedly to the BioWare funnel of RPG design: big thing happens, go find some dudes, big thing happens, maybe go shopping occasionally. And you're still exploring those conversation trees because eventually you might get to see the chick from Chuck grinding herself against your body armour in spectacularly unerotic fashion.
But still it turns out my favourite game of the year was also my first game of the year - and rather like Fable III, which I also enjoyed more than it perhaps deserved - it's the universe that won me over. Looking back on what I said when I gave Mass Effect 2 a whopping 10/10 in January, I'm drawn to one particular pretentiously written comment above all others: "Space is every bit as mythological and diverse as the old worlds of high fantasy to which RPGs are so frequently and unimaginatively confined, but in space it's rather more difficult to predict what you will encounter." Bring on the Reapers.
Will you support Eurogamer?
We want to make Eurogamer better, and that means better for our readers - not for algorithms. You can help! Become a supporter of Eurogamer and you can view the site completely ad-free, as well as gaining exclusive access to articles, podcasts and conversations that will bring you closer to the team, the stories, and the games we all love. Subscriptions start at £3.99 / $4.99 per month.