Frostpunk's final expansion is called On The Edge and it's out this summer
Features a new story scenario, map, and more.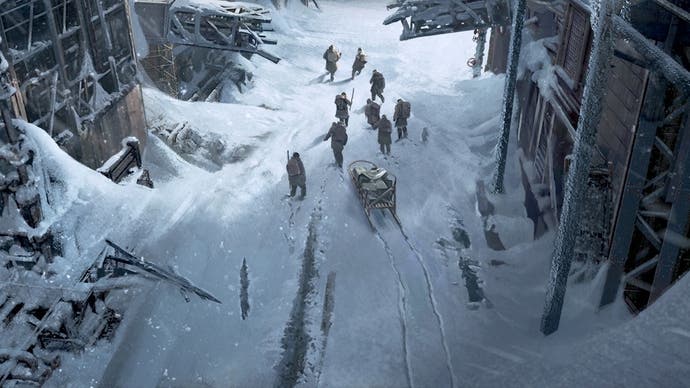 Developer 11 Bit Studios has pulled back the veil on its mysterious third and final bit of paid DLC for superb post-apocalyptic city builder Frostpunk. What was once known only as Project TVADGYCGJR has now been renamed On The Edge, and it'll be out on Steam this summer.
On The Edge - which follows on from Frostpunk's pre-freeze prequel expansion The Last Autumn and its smaller-scale The Rifts DLC - resumes the grimly gripping city-building survival action some time after the Great Storm that caps the base game's main story.
It'll feature a brand-new story scenario - charting the tribulations of an expedition sent out from New London to explore after the Great Storm - as well as new mechanics for the Frostlands view, and new challenges associated with the expansion's "desolate" new map.
"The Edge symbolises a cross between what has been the past and what's new to come," says 11 Bit Studios of the new expansion, "Although the society of New London - the city believed to be the last one on Earth - has survived, it doesn't mean the struggle is over. The people face new challenges that are catalysts to spark up divisions, new problems, and conflicts based on the fact that people might have different points of view, different perspectives. This is the Edge that you will face as the leader of the society that survived the great snowstorm of Frostpunk".
On The Edge will be available to purchase individually when it launches on Steam this summer or as part of Frostpunk's Season Pass, which also includes The Rifts and The Last Autumn. 11 Bit says it'll share more details of its third and final expansion closer to release.