Forza Horizon 3: still the only racing game for everyone
The wizard of Oz.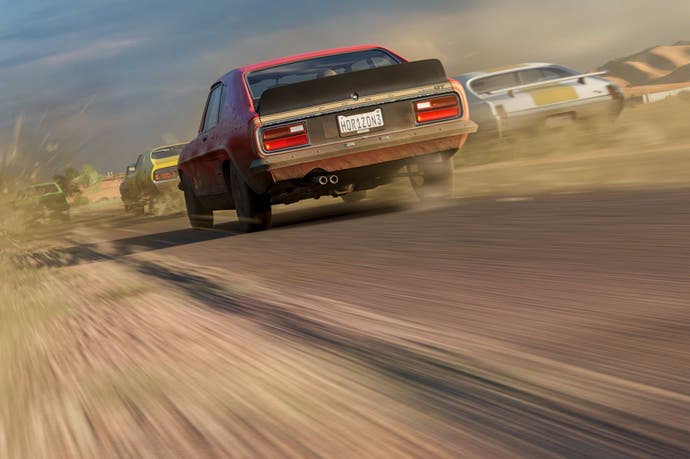 I had a chance to play Forza Horizon 3 a short while ago, and can report that the third open-world racer from Playground Games is an awful lot like the first two. That is to say, it's gorgeous, slick, cheerful and free-wheeling; it's realistic enough for a car nerd like me to take seriously, but loose enough for anyone to enjoy. Best of all, it's not structured around competitive grind but around the enduring and universal joy of exploring a large and beautiful landscape. It's a racing game for everyone.
There are precious few, if any, of those left. The simulation and motorsport scenes are healthier than ever, thanks to the likes of Assetto Corsa, Dirt Rally and Project Cars, but also more specialist than ever in their appeal. Horizon's big brother, Forza Motorsport, and Gran Turismo package this experience up for the mainstream, but never fully escape the accusation from everyday thrillseekers that they can be dry and repetitive. Burnout's gone, Driver's gone, Project Gotham's gone, Wipeout's gone. Need for Speed is off the pace. You can make a case for Ubisoft's 'World of Carcraft' alternative, The Crew, though perhaps it's a little bit on the wacky side for most people. Mario Kart is pretty much the only pure arcade racer left standing. We need a game like Forza Horizon 3: a game which makes the simple act of driving a car romantic and exhilarating and fun, which channels the spirits of OutRun, Project Gotham and Test Drive.
This isn't news to Xbox owners, of course, and for them, Horizon 3 will admittedly be as unsurprising as it is welcome. The first game established the single-player blueprint and the second made open-world multiplayer work, so Horizon 3 settles into the comfortable routine of refinement, adding features that mostly belong in the column marked "nice to have". Here's a quick rundown of those that stood out for me: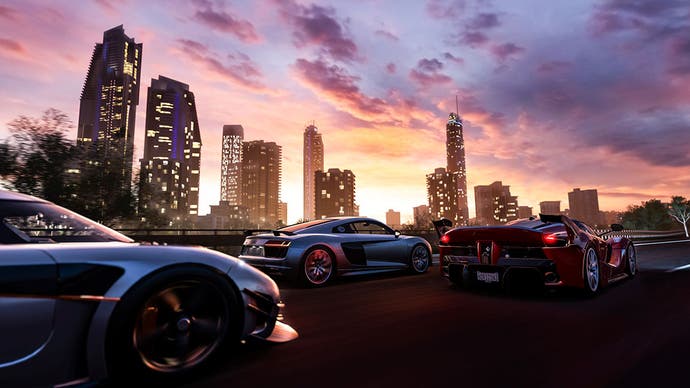 Campaign mode can be played in four-player, drop-in-drop-out co-op, with the races using a team battle format similar to Forza Horizon 2's multiplayer
A 'blueprint' mode allows you to create your own race events from preset routes
You're now the director of the travelling Horizon festival, rather than a mere competitor; you get to recruit Drivatars to the line-up, sign radio stations and expand festival sites
Multiplayer now allows you to filter by event styles - so you can request playlists which don't include the knockabout Playground modes, for example
The game will be updated with weekly Forzathon themed events, with prize cars
Honk your customisable horn at AI drivers to get them to join you in a convoy to your current destination
You can unlock a 'drone mode' free camera that allows you to explore the landscape from above (useful for video shoots and hunting for barn finds)
The auction house for selling cars to other players is making a return to the Forza series for the first time since Motorsport 4
You can choose from a diverse range of avatars - and names and nicknames for the voiceover, too The satnav can now make suggestions for which event to do next
With the possible exception of co-op, it's not really game-changing stuff, but by the same token I'm glad that Playground isn't spending its time fixing the unbroken. Beyond these features lies the new car list, which now adds buggies for an even greater emphasis on off-road and all-terrain vehicles. And there's the map, set in Australia, which is more varied, more condensed, and more fictionalised than either Horizon 1's Colorado or Horizon 2's Mediterranean coast. What it might lack in specific local atmosphere and motoring heritage, it makes up for in sheer spectacle and variety. You get the wide desert of the Outback, lush jungle to race off-roaders through, glamorous sun-kissed coastline, and glassy modern cities. And you get to drive on the left side of the road, which is a first for open-world racers and takes a surprising length of time to get used to. (Take a gander at it in the gameplay video below, captured by yours truly and soundtracked by myself and Martin nerding out.)
The real story, of course, is that Horizon 3 is an Xbox Play Anywhere game, which means it's coming to Windows 10 PCs as well as Xbox One. Microsoft Game Studios' adventures in cross-platform publishing didn't get off to a great start with Quantum Break, but Horizon game director Ralph Fulton tells me that the Playground team knew from day one they would be developing for PC, and that the PC version has been engineered from the ground up alongside the Xbox One game, in-house at the studio. Despite some rather intimidating recommended specs, it could bring Horizon 3 to a much wider audience. More importantly, it will treat PC gamers to a racing game that can't be beat on production values, on accessibility, and on sheer entertainment value. Since this is the racing game for everyone, it's only right that everyone - well, almost everyone - should get to play it.