Games of the Decade: Forza Horizon transcends racing games
Highway to heaven.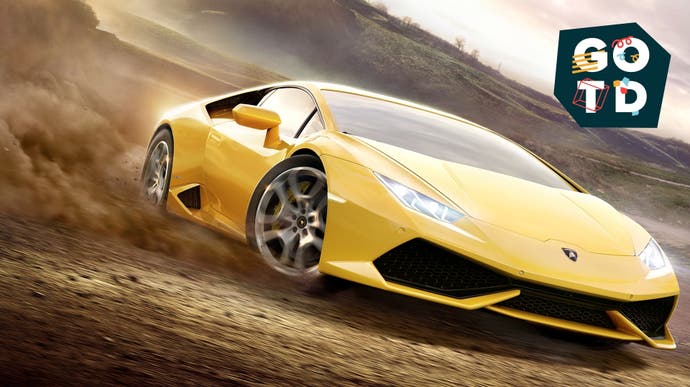 To mark the end of the 2010s, we're celebrating 30 games that defined the last 10 years. You can find all the articles as they're published in the Games of the Decade archive, and read about our thinking about it in an editor's blog.
---
In the world of racing games, this decade started with a death knell. In the first months of 2010, two excellent arcade racers were released: Bizarre Creations' Blur and Split/Second by Black Rock Studio (formerly Climax). They both flopped, miserably, and as a direct consequence both studios were soon shuttered. The arcade racer was dead.
This death knell was heard particularly loud in the UK, where both those studios were based and where racing games, just like real motorsport, run in the blood. This is the land of Project Gotham Racing, of Wipeout, of Burnout. It was a bleak time for that particular development community. Evolution Studios struggled on, but wouldn't last the decade. Criterion relinquished Burnout and accepted the life-raft of the Need for Speed franchise, but soon even that was gone and it was making vehicles for Star Wars and Battlefield games. Codemasters survived thanks to the Formula One licence and a hard pivot to the safer ground of sim racing, with its dedicated community. But where was the racing game for everyone? The racing game for people who don't play racing games?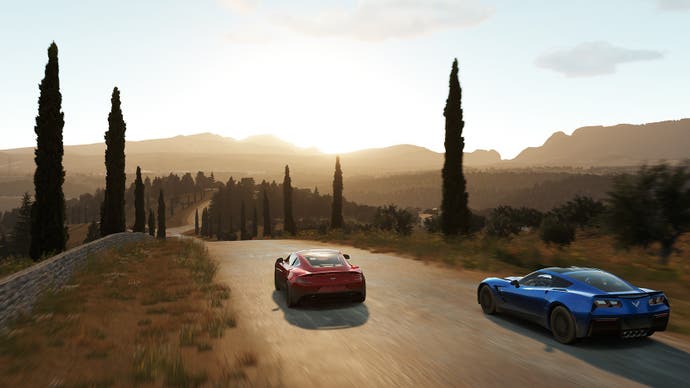 By 2012 we had our answer. It came from many of the same developers, now gathered at a new outfit called Playground Games. Forza Horizon was a surprising spin-off from Microsoft's Forza Motorsport series that took its beautiful, realistic car models and set them loose on an open-world map, with racing events organised around a cheesy but uplifting music festival theme. Six years and four iterations later, the spin-off has become the main attraction. Forza Horizon is now the more popular of the two sub-series and one of Xbox's biggest draws. It is also, perhaps, the first racing game series since the early days of Gran Turismo to transcend its genre. You can enjoy it if you love car culture or if you love great video games - without having to love both.
Forza Horizon isn't strictly an arcade racer, and it isn't really a sim racer either. It has the fierce focus of neither (which is not to say the racing experience is unrefined). But it embraces the fantasies of both. It's Gran Turismo, where you weigh authenticity by the pound, tweaking tyre pressure and suspension torsion in the tuning menu if you want, feeling the car move beneath you, obsessing over the realism of the gleaming bodywork. But it's also Out Run, where you drift forever through the sunlit vistas of a perfect fantasy road trip, winding your car through traffic like a slalom skier. And it's also something neither of those games are, something few racing games have ever been (shout out to Test Drive Unlimited and a couple of the better Need for Speeds): a world that invites and rewards exploration. The series' thrilling open-world maps deserve to be mentioned in the same breath as any of the greats of the last 10 years, from Los Santos to Skyrim, Velen to Hyrule.
You'll notice that I haven't focused this article on a single game in the Forza Horizon series. Perhaps that's cheating, but the truth is you can take your pick. It's rare for a series to be so consistent, especially one locked to a biennial schedule. The debut game nailed the formula at the first attempt and was a revelation on Xbox 360, with a beautiful Colorado map. The second, set on a hazy Mediterranean coast, was the most romantic. The third, which sprawled across a gaudy, luscious Australia, was the most exotic. The fourth felt personal, Playground bringing it on home to a wonderfully moody evocation of Britain. Over time, the games acquired weather, seasons, off-roading, weekly and monthly updates, greater integration with Forza Motosport's excellent community features - all that good stuff. But the thing that mattered, the soul, was there at the start and has shone undimmed throughout.
I love cars. I love that I have a 1970 Triumph TR6 - just a few body panels' removed from my dad's '68 TR5 - in my Forza Horizon 4 garage. I love that it sounds just right and that I can drive it through the Cotswolds or Edinburgh's New Town.
But the reason Forza Horizon stands out - not just among the racing games of the last 10 years, but among the very finest video games of the decade - has nothing to do with cars. It is its relentless and inspiring positivity, its generosity of spirit. From its globe-trotting views to its heart-pounding soundtrack, Forza Horizon is all about finding excitement, happiness and beauty wherever you look. This is a video game about joy. What better legacy than that?