Eurogamer.net Podcast #78
QuakeCon! Scrollsgate! gamescom!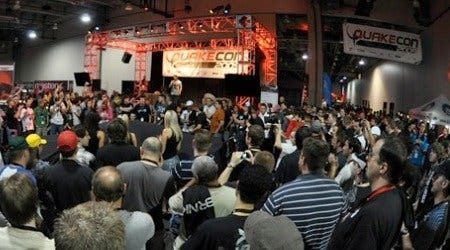 Good evening and welcome to your weekly dose of Eurogamer.net Podcast! Take it like a good boy or girl, and don't make a face.
This week Tom Bramwell swaps the host's chair with Oli Welsh (hello!) so he can talk more. Specifically, about QuakeCon in Dallas, Texas, since he's just back from id Software's annual event.
Martin Robinson's also in the house (office) to give us a preview of next week's big event - the gamescom show in Cologne, Germany.
We talk about what QuakeCon's like, whether it's changed since Bethesda bought the famous developer, what John Carmack had to say in his annual keynote address, and what Tom saw there, including Rage and Arkane's fascinating new steampunk Thief-alike Dishonored.
We pass briefly over the potential legal spat between Bethesda and Minecraft creators Mojang over the name of its next game, Scrolls. Does Bethesda have a point that this infringes its Elder Scrolls trademark? Is Notch right to invoke the ugly spectre of Tim Langdell?
Finally we look ahead to next week's gamescom in Cologne - what games are going to be there, what announcements to expect, how it's different from E3 and why Wesley interviewing Gabe Newell is going to be a Frost/Nixon for the 21st Century.
Background reading!
The Eurogamer.net Podcast goes out every Tuesday at 5pm UK time.