E3 2021: Nintendo Direct live report
Here's the big one. Join us live from 5pm!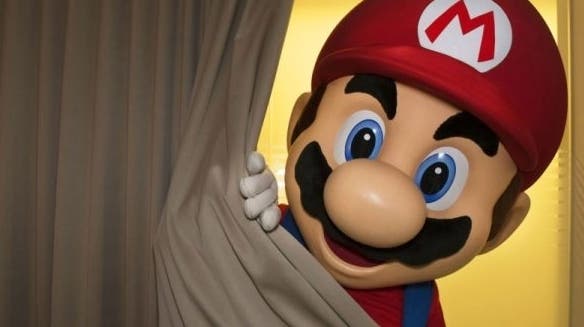 Happy Nintendo day! Not to get your hopes up too much, but this promises to be a half decent Direct, with news on this year's big releases from Nintendo and room for a surprise or two. Join us from 5pm BST!
Our live coverage of this event has finished.
Who's stupidly, almost impossibly excited?
The same person who's no doubt going to be deeply disappointed in about an hour's time.
There should be at least *something* interesting in this Nintendo Direct.
*cue 40 minute deep dive into the finer mechanics of Mario Golf: Super Rush*
Actually you know what, I'd take that over some of the shite some publishers have tried to pull this E3.
Anyway, I'm hoping we might get slightly more than that.
Is it reasonable to expect some Breath of the Wild 2 news?
That would be enough for me.
I'm so glad I decided to skip that one!
Maybe slightly less reasonable expectations: the heavily rumoured new Donkey Kong game from the Mario Odyssey team; the new game from the Arms team (which'll probably be Mario Kart 9); a new 2D Metroid; the overdue Xenoblade X port.
Any one of them would make me happy!
I'm asking for too much already aren't I?
Whatever happens, I'm sure it'll be slick as anything.
Oh, and one last thing - wouldn't it be nice to know if there is indeed a revised Switch coming this year?
I've had mine since launch day and it's falling apart a bit - the fan cover's broken off, it's got all sorts of bumps and bruises.
I've never played Eterntal Darkness...
So I'd jump at the opportunity to play it.
Under five minutes to go and honestly my heart is racing so much I might just burst.
(You might have picked up over the past few years that I'm a bit keen on Nintendo stuff sometimes).
We don't even know much of what Nintendo has planned for the back half of 2021, so there should be at least some news.
I'm thinking wistfully of past magical Nintendo E3 moments - the Twilight Princess reveal, the first glimpse at the 3DS.
What will today add to that pantheon?
This is probably the more sane approach than downing your second pot of coffee, holding on tight to your Donkey Kong plushie and crying sweet tears of anticipation.
There might be swears and nudes!
Koizumi and Takahashi are here to take us through the show - nothing other than the big guns here.
Koizumi seems to be going for a more agreesive side parting these days - perhaps his lockdown style?
He still looks handsome as mind.
And the first game is!!!!
Well, that's Ganon so it must be Zelda-related - but it doesn't look like Breath of the Wild.
Oh, it's a new Smash character - and it's Tekken's Kazuya.
Which makes a lot of sense seeing as Bandai Namco help with so much of the dev of Smash Bros - I sort of wonder why it's taken so long for Tekken to make an appearance.
It's not quite the scene setter I imagined...
Indeed, it's almost troll-like opening up with Ganon when the expectations are set so high.
But you know what, I'll take it.
And I'll take any opportunity to see Sakurai do his thing.
What a man! What a legacy!
What a very neat and tidy desk.
Maybe this will be a 40 minute deep dive into Kazuya in Smash tho...
We are getting reports in that that's a ponytail palm he has as well.
It looks a little undernourished to me, but I'm new to this houseplant thing so I won't be casting aspersions.
I'd trust Sakurai with my asparagus fern any day.
And that's Smash, which makes a fairly brief appearance before we move on to Life is Strange - like, all of it - coming to Switch.
The remastered collection of the original is coming later this year, with the new True Colours coming in October.
Other surprising third party games! Eidos Montreal's recently revealed Guardians of the Galaxy is also coming to Switch.
Yes, I know there's a lot of Worms about - but something about this one tickles my fancy.
Guardians of the Galaxy, by the way, looks to be a Cloud Version for Switch - as with the likes of Hitman 3.
Two Point Campus also gets confirmed for an apperance on Switch for 2022.
And now onto a proper reveal - it's the new Monkey Ball.
And more importantly - it's the return of Monkey Target proper.
(though to be perfectly honest, I'd just take a proper re-release of the original Monkey Ball. Oh, and a new Joy-Con with the same octagonal joystick of the GameCube. How else to get that 0.1 string?)
Super Monkey Ball Banana Mania is coming October 5th.
Oh, I wasn't paying attention.
This is a remake of Deluxe, so it's pretty much asll I wanted.
Still want that octopad Joy-Con, mind.
And now something something Mario Party.
I know so little about Mario Party Im not even sure if this is a new one or not.
It's out in October anyway.
But now! It's a new Metroid.
With confirmation that development on Metroid Prime 4 carries on apace.
Or Metroid Dread, as it was sometimes known.
I am beyond excited for this.
I wonder whether it's MercurySteam again, as with Samus Returns?
Anyway, after literally decades waiting, Metroid Dread comes out in October.
October 8th, to be precise.
YOU READ THE DATE THE WRONG WAY ROUND!
(I do that all the time).
Now the real big guns - Just Dance 2022!
Ha, wow - and now a new Cruisin'.
Cruisin' Blast is coming this Autumn.
Dragon Ball Z Kakarot makes a belated appearance on Switch later this year.
Now the remaining 20 minutes of the show will be taken up with a deep dive on Mario Golf.
I quite liked the slight Dreamcast aesthetic of Mighty No. 9!
As ever, I have the worst taste in video games.
And another update on an imminent game - Monster Hunter Stories 2, which is also weeks away.
A quick PSA also while this plays - don't watch the Monster Hunter movie which finally comes out in the UK this week.
It's absolutely dreadful.
It's been a while since a proper WarioWare, right? The Wii U one seemed like a curious offshoot.
This one introduces proper two player.
WarioWare Get It Together comes September.
Here's Koizumi taking over the reins!
Shin Megami Tensei 5, this'll be.
Moody, slightly impenetrable RPG lols for those of you who like things a bit darker.
I've got SMT3 sitting on my Switch atm, alongside the desire to bone up on the series.
It's just sometimes hard to get in the mood for a gloomy 80 hour JRPG, so I haven't started yet. Sorry!
It does! It looks very much in keeping with Atlus stuff from the turn of the century, which I love.
It's most certainly a mood.
A Danganronpa collection next, which expands upon the head-twisting visual novel series. It's coming to Swich latert this year as a compilation - and all four games within will also be avaialble seperately.
And one of the last Wii U games we haven't seen on Switch yet! Project Zero: Maiden of Black Water.
Doom Eternal's campaign expansion will be available later today.
Tony Hawks remaster, which we knew plenty about, is also due soon - the 25th of this month to be precise.
Ah, Strange Brigade is coming out today.
I can't say I was a huge fan of this when it originally came out.
Anyway, onwards to the Mario + Rabbids game Ubi lifted the lid on on Saturday.
Well, Nintendo lifted the lid on it slightly before then, but let's not get bogged down in details.
It's a remake of Advance Wars!
And a remake of the second one!
That'll do nicely - it's out on December 3rd.
A Hyrule Warriors Age of Calamity expansion?
The trolling is incredibly strong with this Direct.
As someone who liked the base game - I echo your sentiments.
Ah, it's a Zelda section - there's hope yet everyone!
First an update on Skyward Sword HD, which is due next month.
There's another five minutes left. So I really hope so.
(It'll just be the remakes of the Capcom GameBoy games lol).
Well, before that even here's a special Game & Watch that comes with the first two NES Zelda games plus Link's Awakening.
Excuse me while I go silent and stare wistfully at this.
Skydiving, Skyward Sword style, Talus with entire enemy camps on their back, whole landmasses that ascent into the sky.
And it's not coming out this year.
Nothing on the new Switch - which may well be postponed to next year at this point to avoid supply issues.
And I've got to say, a fairly underwhelming showing.
Albeit understandably so given the impact of Covid on developers.
Still, a new Advance Wars!
Or a remake of the first two, at least.
And we do get a new Metroid - that's two bits of very welcome news.
And that was that - and I believe that is E3 2021 pretty much done and dusted.
As expected it was a slight year for big new announces.
But I'm still happy with the selection of games we've got to take us through to the end of the year. It's not as if there aren't enough games around to play.
Thank you, as ever, for joining us here!
It's been... interesting?
There is a Treehouse coming later which should give us some more details on these games (I'm certainly curious to see if it is Intelligent Systems on those Advance Wars remakes - something about the way they look makes me suspect not).
Kami: Cheers Martin, do this again when Sony has its event in what, a month or two?
I look forward to it - always lovely to see you here!
We'll have news from the Treehouse event as it happens, but for now I'm signing off.
And possibly pouring myself a big gin and tonic.