Get Samsung's incredible Odyssey G9 for £999 this Cyber Monday with this 22% discount
Wide(r) screen - at a historic low price.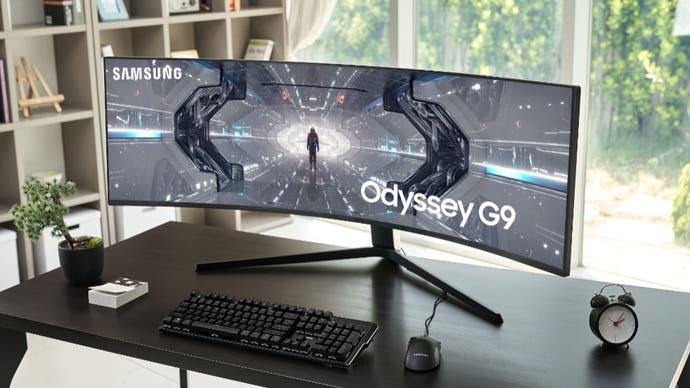 The Samsung Odyssey G9 is Samsung's flagship gaming monitor. This state of the art display is a stunning 49 inches across with a 32:9 aspect ratio - that's like having two standard monitors side-by-side but with no gap in the middle. Now, thanks to the magic of Cyber Monday discounts, you can have this incredible display for 22 percent off.
The Odyssey G9 normally retails for £1280, but with the aforementioned discount you're looking at a price of £999 instead. That still sounds like a lot - and it is! - but you have to remember that you're getting a 49-inch screen that's two perfectly joined 27-inch monitors.
The specifications here are incredible too. The total resolution is 5120x1440, with a buttery-smooth refresh rate of 240Hz and DisplayHDR 1000 certification. Even the cheapest 2560x1440 240Hz monitors cost more than £600 each, and none of them support such bright HDR highlights either - so getting the equivalent of two high-end monitors for less than £1000 is pretty good value. All things considered, this sizable canvas is a fantastic place to play games.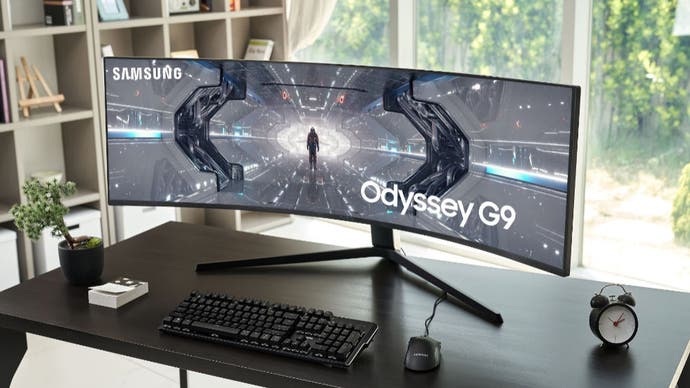 Being a flagship monitor, the G9 has all the bells and whistles you can imagine, and then a few more. You get HDR10+ support with full array local dimming. The display can hit 1000 nits of peak brightness and 420 nits of sustained brightness, which is brighter than many 4K TVs and delivers an impactful HDR experience. As well as having deep black and super bright highlights, the VA panel also has full coverage of the sRGB and DCI-P3 color space, making it suitable for content creation as well as consumption. Lastly, there's also FreeSync and G-Sync support so you can enable variable refresh rates with AMD and Nvidia cards. This helps smooth out uneven frame-rates and removes judder, making for a much visually smoother image.
You'll also have noticed that the G9's display has a 1000R curvature. This is necessary due to the size of the display, as without sitting a considerable distance away the edges won't be easily visible. The curve makes the display fill your peripheral vision, and take it from me - it makes for a super immersive gaming experience. The idea of a curved screen might seem a bit weird, but it's something that you immediately see the benefit of when playing on, and after a while you don't even see the curve. Having this wide of a display also means that you can use this monitor for more than one input source at the same time - so you can have your game console and your PC side-by-side, for instance.
So: two 27-inch 2560x1440 240Hz DisplayHDR 1000 displays, perfectly joined into one mammoth 49-inch screen. It makes for an incredible gaming monitor, and at 22 percent off - and a historic low price - this is the perfect time to take one home. After all, you know what they say - after you go super-ultra-wide, you never go back.
If you want to check out the G9's smaller sibling, read our post on the Samsung G7. And follow us @dealsfoundry for more such great deals this Cyber Monday.