Intel Ghost Canyon NUC review: meet the performance PC that's smaller than Xbox Series X
And it's fully upgradable too.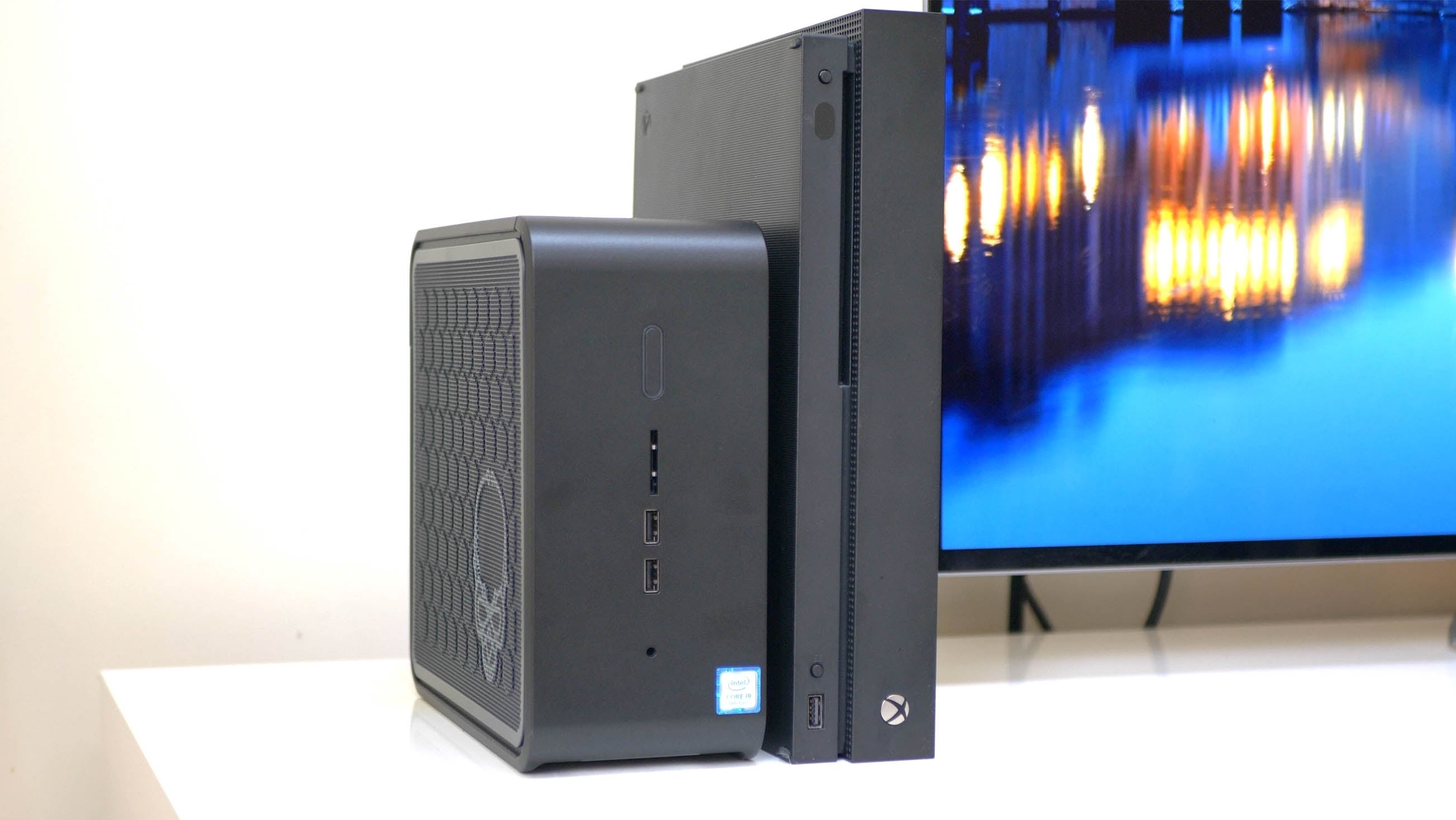 The PC is the ultimate evolving platform - available in all shapes and sizes, with a vast array of components designed to offer ultimate flexibility. As a consequence, PCs are everywhere, but somehow the living room continues to be the domain of the console. Plug and play ease of use is likely a primary reason for this but form factor is a crucial factor too. With its latest Ghost Canyon NUC, Intel sets its sights high. The aim is to deliver a high-end gaming experience in a case with a volume of just five litres - significantly smaller than Xbox Series X. In the process, we're looking at a potential revolution for the PC form factor and crucially, it's possible to upgrade all components within the unit.
At the basic level, there are four major internal components to the NUC. Graphics processing is provided courtesy of a special, miniature version of the Nvidia GeForce RTX 2070, crafted by Asus. Alongside that sits the NUC compute element which is to all intents and purposes a complete PC built into a PCIe expansion card. This is remarkable stuff: at the rear of the element is the USB Type-A, USB Type-C/Thunderbolt and display outputs you'd find on a motherboard, while internally, there are two laptop SODIMM memory slots and two NVMe slots. Crucially, it also houses the main CPU - and in the case of this review unit, it's a Core i9 9980HK - an eight-core, 16 thread processor that's basically identical at the silicon level to the flagship i9 9900K - simply operating with a more constricted power budget. All of this is mounted inside the PCIe expansion card casing, cooled with 80mm fan.
So that's two different PC components then, and they're connected via the third major element - the PCIe bridge into which both compute element and GPU slot. There are actually three slots in total, one of which is covered up by the GPU, but there's nothing stopping you removing the RTX card totally and using the slots purely for expansion, relying on the i9's integrated graphics. The bridge also includes a further NVMe slot. The final component is a flex-ATX power supply, capable of providing a maximum of 485W - easily enough for the system here. In typical gaming scenarios, I noted a maximum of around 280W of total power draw, rising to around 300W when overclocking the RTX 2070.
All of this is contained in a high quality, well-designed chassis. The NUC is primarily designed to be situated vertically, with the top of the unit housing a pair of 80mm fans to expel heat. The sides of the machine consist of mesh panels, which aid further with heat dissipation - and these actually do a good job of keeping the GPU cool. The RTX 2070 typically operates with temperatures in the high 60s Celsius, while overclocking the card only seems to add an extra degree or two of heat. Just don't rest the NUC horizontally as this blocks air flow and the GPU rapidly hits its thermal limits and downclocks.
So much power and heat in such a small area sounds like a recipe for disaster but the NUC doesn't overheat and it's reasonably quiet too. It's not as discreet as Xbox One X, but as quiet or more so than PS4 Pro. Acoustically, the biggest issue with it is that the ramp up in fan noise can be really sudden, sometimes from the simplest of tasks unfolding on the desktop. It's not so much the fan noise that is the issue as such (gaming is actually OK in this regard), it's actually the change in fan speed that seems most aggressive and most noticeable. Overall though, this is impressive stuff, and certainly an improvement over the old Hades Canyon NUC we looked at previously (you'll remember that one - it was the quad-core NUC with companion AMD Vega graphics).
On paper at least, the component choices are sound and the quality in design is excellent. The question is how much performance you're actually going to get from the unit, particularly from the Core i9 9980HK. As mentioned, it's identical to the desktop part in terms of silicon, but as it's operating with a much lower power budget, performance will inevitably be lower. Benchmarks only tend to go so far here because sustained load can see heat build-up that brings frequencies tumbling down, but only over time. We're going to kick off by putting the NUC through its paces using a couple of benchmarks that stress the system in different ways - and making life more difficult for the new machine is that we're benching against desktop parts with far more robust cooling, effectively removing thermal limitations.
| | Core i9 9980HK | Ryzen 7 4800H | Ryzen 7 3700X | Ryzen 5 3600X | Core i9 9900K | Core i7 9700K | Core i5 9600K |
| --- | --- | --- | --- | --- | --- | --- | --- |
| Cinebench R20 1T | 478 | 478 | 494 | 490 | 520 | 486 | 450 |
| Cinebench R20 MT | 3452 | 4102 | 4730 | 3705 | 5090 | 3759 | 2603 |
| Handbrake h.264 | 25.27fps | 24.85fps | 35.05fps | 27.54fps | 37.87fps | 28.77fps | 20.70fps |
| Handbrake HEVC | 10.71fps | 7.08fps | 14.67fps | 11.81fps | 16.22fps | 13.12fps | 9.46fps |
Cinebench R20 is a reasonable benchmark for judging relative performance and its operations tend to complete before a mobile processor can reach its thermal limits. Single core performance is identical to the mobile-orientated Ryzen 7 4800H, which also features eight cores and 16 threads. You'll note, however, that multi-core performance is much, much lower. Stacked up against Intel desktop parts, the Core i9 9980HK offers 92 per cent of the 9900K's single thread power, but only 67 per cent of multi-core performance. In this respect, it sits between Core i5 9600K and Core i7 9700K, although clearly, it's much closer to i7 levels of throughput.
Video encoding in Handbrake is a much bigger challenge. All cores are stressed, but they're also pushed to their limits for much longer and this hits clocks hard initially, with frequencies gradually reducing still further over time. However, in the NUC, the Core i9 9980HK maintains the same kind of differential with the desktop parts as it did in Cinebench. CPU temperatures top out at around 80 degrees Celsius and there is no thermal throttling. Clock speeds reduce to around 3.0GHz to 3.1GHz under this extreme load.
So with these benchmarks, we get a view of the NUC's single core and multi-thread performance in both brief and sustained stress tests, but what we'll see in gaming performance is very different indeed. Game engines use the CPU in a very different way - they don't seek to soak all cores and some threads will be used more heavily than others. With less of a sustained load, the cores can clock up to higher frequencies, potentially closing the gap with the desktop parts - and testing this is our next port of call.
Intel Ghost Canyon NUC analysis:
Will you support the Digital Foundry team?
Digital Foundry specialises in technical analysis of gaming hardware and software, using state-of-the-art capture systems and bespoke software to show you how well games and hardware run, visualising precisely what they're capable of. In order to show you what 4K gaming actually looks like we needed to build our own platform to supply high quality 4K video for offline viewing. So we did.
Our videos are multi-gigabyte files and we've chosen a high quality provider to ensure fast downloads. However, that bandwidth isn't free and so we charge a small monthly subscription fee of £4.50. We think it's a small price to pay for unlimited access to top-tier quality encodes of our content. Thank you.
Support Digital Foundry