AMD Ryzen 7 3700X review: can gaming performance compete with Intel?
Team Red's best value eight-core chip takes on the Core i7 9700K.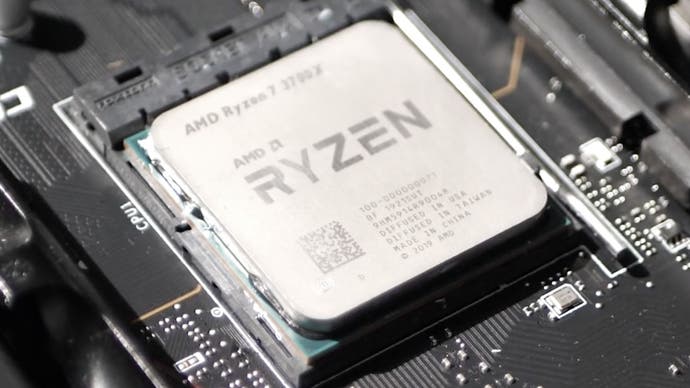 The buzz surrounding the third generation Ryzen has been extraordinary, with AMD's new range of processors taking the fight to Intel's incumbent CPU champions in seemingly spectacular style. The basic AMD formula remains the same - more cores, more threads and more performance for less money - but a range of architectural improvements and a massive increase in cache size sees Team Red attempting to address Ryzen's weaknesses in single thread performance. At the same time, the firm has moved to 7nm chip fabrication, meaning that AMD actually has a process advantage over Intel for the first time, meaning smaller, cooler, more power-efficient products than the Intel competitors.
Meanwhile, AMD hasn't been sitting still outside of the chip, either. The Ryzen 7 3700X ships with a really good cooler in the box (something Intel doesn't do on its higher end products) while the new line of processors supports PCI Express 4.0 bandwidth when paired with a new X570 chipset motherboard. Socket AM4 remains the primary interface between CPU and board and as long as you update the BIOS, the vast majority of older boards should be able to handle the new chips. AMD also gets bonus points here for allowing overclockable memory to run on both mid-range and high-end boards, meaning you should still get good performance from third-gen Ryzen even with older motherboards using the B350 chipset.
AMD has launched a full product stack for Ryzen 3000, but unfortunately, owing to a pile-up in GPU releases, this review is somewhat late. We have both the 12-core Ryzen 9 3900X and the six-core Ryzen 5 3600X waiting in the wings, but the focus of this review is on the eight-core/16-thread Ryzen 7 3700X. The last-gen Ryzen offerings failed to convince in gaming up against Intel equivalents including the quad-core i7 7700K, the hexa-core i7 8700K and of course, Intel's own octo-core 9900K. However, the architectural advancements here should blunt some of Intel's inherent advantages.
Prior Ryzen chips used two quad-core CCXs in a single chip, the disadvantage being that communication between the two clusters was defined by the speed of your DDR4 memory. That meant that tasks which crossed over between CCXs could be hindered by excessive latency, creating a reliance on fast RAM in a market where prices for performance modules were very, very high. Ryzen 3000 addresses this issue firstly by leveraging 7nm technology - a CCX now consists of just one octo-core cluster. Secondly, L3 cache is essentially doubled, which AMD says addresses latency issues comprehensively.
There have been improvements in the actual core design too, with a new, much more efficient branch predictor. Another key Ryzen weakness has also been addressed with better handling of AVX instructions. This doesn't have too much - if any - impact on gaming applications, but the first iteration of the Zen core had a clear performance disadvantage against Intel here. As we shall see, Ryzen is massively improved this time around.
| | Ryzen 7 3700X | Ryzen 7 2700X | Core i7 9700K |
| --- | --- | --- | --- |
| Cores/Threads | 8/16 | 8/16 | 8/8 |
| Single-Core Turbo | 4.4GHz | 4.3GHz | 4.9GHz |
| Max All-Core Turbo | 4.3GHz | 4.1GHz | 4.6GHz |
| Cache | 36MB | 20MB | 12MB |
| TDP | 65W | 105W | 95W |
First up, a quick word on system set-up. Everything was tested on a clean Windows 10 installation which includes the latest patches that aid thread scheduling on Ryzen processors. The OS and games were installed on a 2TB Gigabyte Aorus m.2 NVMe drive that AMD supplied (PCIe 4.0 compatible no less!) while the same 3600MHz CL16 Gskill Trident Z Royal memory was used on all systems (again supplied by AMD). The Ryzen 7 2700X was tested on an Asus ROG Crosshair 8 motherboard (thanks again to AMD for this one) while the Core i7 9700K was run on an MSI Z370 Gaming Pro Carbon.
The new Ryzen 7 3700X was tested on a board as close to the Gaming Pro Carbon as we could manage, with MSI supplying an X570 MPG Gaming Plus board. At around £180, it's cheaper than the top-end x570 boards by quite some margin, but still pretty pricey. It's a good board though, as you would expect from this brand: the chipset is actively cooled, there's PCIe 4.0 support, twin m.2 with RAID support, m.2 heat sinks, and fast RAM support up to 4400MHz. Audio is supplied with the Realtek ALC1220 codec, with the firm also supplying the onboard 811H gigabit Ethernet support. With the 3700X, the board performed brilliantly - the only issue we had was trying to run the GSkill 3600MHz memory with the older Ryzen 7 2700X. This resulted in random blue screens, while the ROG Crosshair 8 worked without issue.
The Ryzen chips were both tested using the supplied Wraith Prism cooler, which is the most impressive heatsink/fans we've seen bundled with a CPU. All Ryzen 7 and Ryzen 9 processors in the line-up get this RGB-infused beast, and some might even suggest that it's overkill for the 65W TDP Ryzen 7 3700X. Yes, you can overclock with it, but what you lose in efficiency you gain with only slightly higher performance. AMD's Precision Boost technology really is rather impressive - single-core tasks take you to up a max of 4.4GHz, but with the Wraith Prism, gaming sticks at 4.2GHz to 4.275GHz. Our Intel system used a Corsair all-in-one liquid cooler, but it's important to point out that turbo enhancement features were disabled - in gaming, the 9700K runs all cores at 4.6GHz.
Let's crack on with some very basic benchmarks to set the scene. The new Cinebench R20 benchmark only represents one very limited kind of workload, and while hardly representative of full system performance, the results it kicks out are considered by many to be a good 'scene setter' for judging the relative capabilities of the chips in single and multithreaded performance. From our perspective, however, it does seem to overstate single-core performance somewhat - certainly when stacked up against single-core gaming throughput. That said, however, even if comparisons against the 9700K here may not be fully reflective of real-life performance, the improvements gen-on-gen are marked. Clearly there is a significant boost to single-core performance, while the 22 per cent uplift in multi-core scores can't be explained by the frequency bump alone.
Video encoding is very much a real-life workload though, and here we're using Handbrake's x264 and x265 cores to measure h.264 and HEVC encoding speeds using variations of the Production Quality preset set to CRF 18. Ryzen 7 3700X presents a commanding lead over the Core i7 9700K, and again, the gen-on-gen increase over the Ryzen 7 2700X is remarkable, with a stunning 28 per cent boost to encoding speed. However, it's in HEVC encoding where things look especially impressive: there's a 46 per cent speed improvement over the 2700X and what has been a traditionally weak benchmark for AMD sees it pull ahead of Intel.
The icing on the cake here for AMD comes from power consumption, which we tested here during the HEVC encoding phase - a heavy, power-draining workload. Thanks to the transition to a 7nm process, Ryzen 7 3700X isn't just the most performant processor out of the bunch, it is also the most power efficient. Intel is clearly doing well for a 14nm processor, but once again, the improvement from 2700X to 3700X is quite astonishing. On this particular task, power consumption is down 38 per cent, while performance is up by 46 per cent.
| | Ryzen 7 3700X | Ryzen 7 2700X | Core i7 9700K |
| --- | --- | --- | --- |
| CineBench R20 1T | 494 | 408 | 498 |
| CineBench R20 MT | 4730 | 3865 | 3922 |
| Handbrake h.264 | 35.05fps | 27.31fps | 28.77fps |
| Handbrake HEVC | 14.67fps | 10.04fps | 13.12fps |
| HEVC Power Consumption | 152W | 224W | 171W |
The evidence so far looks exceptionally compelling for AMD, but this is primarily a gaming performance review and it's here where AMD has everything to prove. The architectural improvements and larger L3 cache are all designed to mitigate Ryzen's memory latency disadvantages up against Intel, and AMD's own benchmarks suggest that Ryzen is now on par with Core i7 - winning some benchmarks, losing others, but always in the same ballpark. Our conclusions are somewhat different - as you'll see - but what's clear is that AMD is closing the gap.
But actually getting meaningful CPU benchmarks for gaming is challenging to say the least, because the processor is presented with many and varied challenges depending on what's happening in-game and I actually found that in the same game, you can find AMD pull ahead of Intel or vice-versa. If you watch the video at the top of the page, you'll see some practical examples of the struggles I had and the attempts I made in amassing enough data to come to my conclusions. This data is represented by bar charts across the next few pages, but I'd recommend watching the video to get an idea of what is actually happening in the benchmarks and how CPU performance can change drastically from one moment to the next. I've also identified specific stress points in games that can see frame-rates dip beneath 60fps - yes, even when using the most powerful gaming CPUs on the market paired with an RTX 2080 Ti.
I benched all games at 1080p, 1440p and 4K resolution with Nvidia's consumer-level GPU king. Consider the 1080p benchmarks the kind of experience you'll get if you're aiming to direct as much power as possible at the highest possible frame-rates - perhaps for a 1080p 240Hz monitor. I don't recommend this as you're CPU-bound for almost all of the duration, often resulting in ugly stutter. The 1440p results? Well, an awful lot of RTX 2080 Tis are run at this resolution, but from my perspective, this represents a system where GPU power isn't balanced with CPU power. Think of this as a system which could use a CPU upgrade. Finally, the 4K results are a pretty good representation of what I'd consider a balanced gaming PC - you're limited by GPU for the most part, but there's still plenty of CPU overhead for most gaming scenarios.
AMD Ryzen 7 3700X analysis