Face-Off: Dark Souls 2 PC
Has From Software learned its lesson?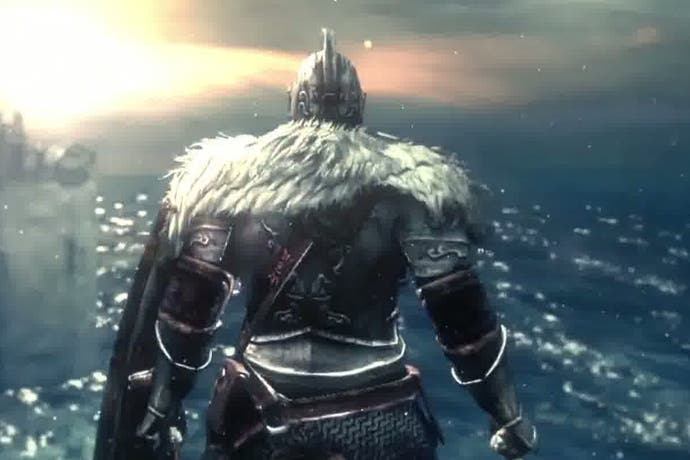 The original Dark Souls on PC was undoubtedly a disappointment out of the box, with a 1024x720 native resolution and a 30fps cap that stuck agonisingly close to its console counterparts. Dark Souls 2 is certainly a big improvement on that, offering a generous range of visual options, but does that make for a dramatic improvement over the PS3 and Xbox 360 versions? And are there any catches?
The original game had a toggle for anti-aliasing (a simple blur filter) and another for motion blur, leading to a flood of complaints, but the sequel nips a lot of problems in the bud immediately by adding proper support for resolutions and refresh rates, going as high as your monitor allows - right up to 4K if you're so inclined. For the purposes of our testing, we run the game on patch 1.01 at 1920x1080, which immediately gives the game a marked leap in visual quality compared with the 720p image on consoles.
There's no sign of From Software reverting the PC version's lighting model and textures back to its alluring alpha build, but we do get a hefty graphics menu. Among the choices we have are quality options for textures, shadows, effects, anisotropic filtering, water shaders and character model detail. On top of that, we get toggles for motion blur, screen-space ambient occlusion (SSAO) and depth of field. The anti-aliasing method of choice is FXAA, with no official means of enabling more taxing post-process techniques like SMAA in-game.
Running Dark Souls 2 at its high preset, with all effects enabled, we see very obvious differences to the console releases in some areas and less obvious changes in others. To see the breadth of the visual spectrum here, we add the lowest PC preset into the image zoomer comparisons far below - showing us where the two consoles fall in-between - but first we match up the PC, PS3 and Xbox 360 versions in head-to-head videos, and also produce a lengthy 66-shot Dark Souls 2 comparison gallery.
"Even on low settings the PC version holds up admirably against both consoles, while high settings adds significant pop to textures."
Alternative comparisons:
Let's start with texture quality on PC, the biggest improvement by far. For the Forest of Fallen Giants area in particular, we see a complete overhaul in asset quality for the leafy floors and a big reworking of normal maps on rocky outcrops. Even with the lowest texture setting engaged on PC - which in this case curiously bottoms out at "medium" - the look of this area is a clear upgrade over the simplified PS3 and 360 assets. It's also impossible to revert the PC release back to this console-grade appearance, which may well have once stood for the absent "low" quality setting.
But this upgrade doesn't apply across the entirety of Drangleic. Facing the larger Majula area shows only minor bumps in texture quality, using familiar console assets running at a higher resolution. In the end, anisotropic texture filtering has a bigger impact here, lifting a veil that blurs over the floors on PS3 at near distance, and more so for the 360 version, which lacks anisotropic filtering entirely. The PC's highest filtering setting aces both consoles, with floor details still popping out on the horizon, while the lowest, blurriest implementation is a direct match for that used on Sony's console. Removing filtering altogether, meanwhile, generates results that are identical to 360, causing unwanted noise artefacts across textures just a few steps ahead.
Even on the most basic settings though, the PC version holds up admirably against both consoles. Low shadow quality, for example, produces the exact same degree of aliasing as PS3 and 360, while the highest option entirely smooths out the outlines of fireside silhouettes, addressing one of the console version's rougher visual quirks. Unfortunately the PC game's ambient occlusion toggle applies the flickering, approximated method used on consoles, although it's slightly bolder indoors.
Looking to effects, the PS3's shortcoming - the lowering of alpha resolution for bonfires - is impossible to replicate using the PC menus. At its worst setting, these elements still run at a full resolution to match the 360, with extra particle effects when the quality slider is moved upwards.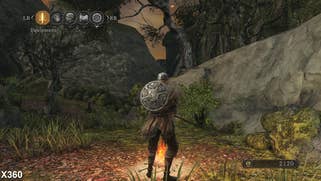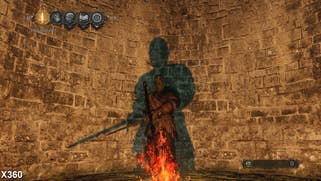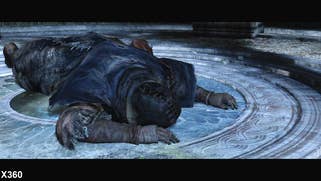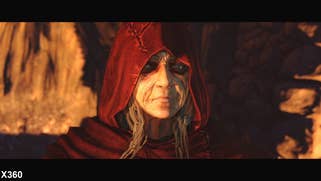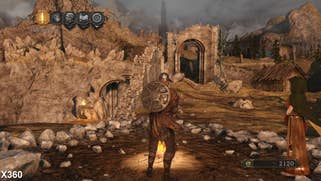 While shadows and textures are much improved, there are some missed opportunities in this porting effort. 2D skyboxes are the same resolution as on console, for example, sticking out like a sore thumb at 1920x1080 or more. There's also minor pop-in for terrain in the distance of the Majula hub area - if only slight. Fortunately the threshold for switching geometry quality is now much farther away, making it harder to spot than on console. Oddly enough, despite setting character model rendering to maximum, the PC game still also uses half-frame-rate animations on enemies far away. It's an odd technical concession given how noticeable it can be.
This all links through to performance in Dark Souls 2, which across the board is brilliantly handled even while maxed out. It's an easy ride for most PC setups, for which our Intel i7 3770K CPU clocked at 4.3GHZ, GTX 770 and 16GB of RAM is clearly overqualified for the task of holding 60fps. We can't push this GPU to drop below that figure, but given the £220 price-tag of the card we'd hope this to be the case.
PC optimisations for £100 cards though, such as AMD's HD 7790 or the HD 7850 (each configured with 1GB RAM) are also very impressive. We again achieve a perfect 60fps throughout, but this time Dark Souls 2 takes exception to alpha effects such as resting at the bonfire or enduring multiple bombs. Here we see drops to the 42fps and 56fps marks on the 7850 and 7790 respectively - both momentary, but smoothed out by tucking the effects quality setting down to medium. The difference in image quality isn't appreciable as a result, and with everything else set to maximum, the entire game is playable at full frame-rates on even budget GPUs.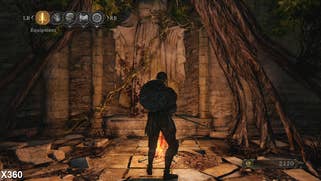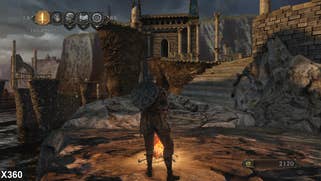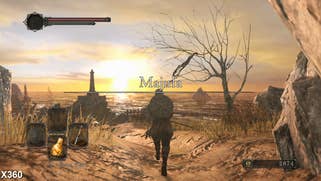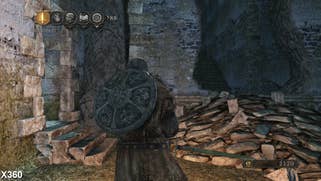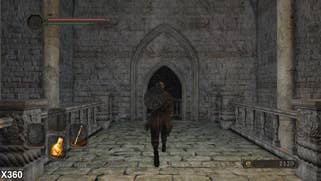 This performance overhead shows a massive leap forward from the original Dark Souls' 30fps lock on PC. It also suggests there's room to experiment with settings above and beyond those provided officially. While there is no .txt file to edit settings, modding legend Durante (of Dark Souls' "DSFix" fame) has plumbed the depths of Dark Souls 2's code to produce his own advanced settings menu. It's early days, being in an alpha 0.1 state, but is already very effective in allowing users to downsample from much higher resolutions. For example, we can avoid the in-game FXAA, and instead super-sample the image by rendering at 3840x2160 (also known as 4K) before outputting the image at our monitor's native 1080p.
The return is an impeccably smooth, crisp image that's well worth checking out. It's demanding though, cutting performance down on the HD 7790 to around 30fps in most outdoors areas. This is where a higher-end card like the GTX 770 comes in use with its wider 256-bit memory bus, reliably carrying this super-sampled experience at 60fps.
Other options include a bespoke ambient occlusion setting, SweetFX-style post-processing to saturate colours, and also a taxing bokeh depth-of-field effect. Unfortunately, overlays such as Steam achievements or FRAPS cause this to malfunction and over-brighten the image, while minimising the window causes the game to crash altogether. As a day-one unofficial fix though, this is very impressive, and we look forward to seeing what other tweaks lie in wait.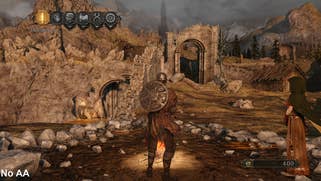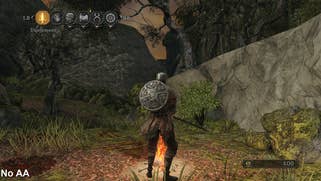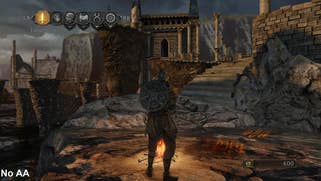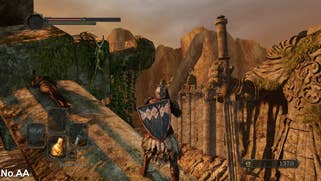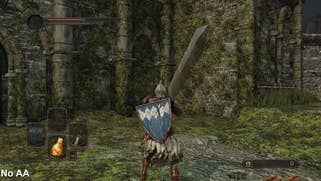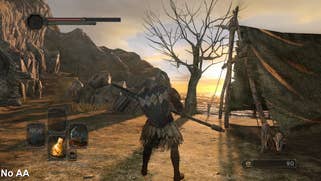 Dark Souls 2 PC: the Digital Foundry verdict
From Software is no longer dipping its toe in the PC pool as it was with the original Dark Souls port - it's swimming with confident strokes. The visual distinction from 360 and PS3 isn't always massive in terms of core asset-work, and sadly the aesthetic is still no closer to the alpha footage seen at last year's E3. But that's fine. What we do have is a bevy of graphics settings, opening the gates to smoother shadows, slightly higher-res textures, as well as overhauled normal maps not seen on the console versions - plus a reduction in LOD pop-in. On top of that, unleashing the game at 1080p or more lets many of these visual augments stand out as they should.
Such refinements help position the PC version as the definitive release, but none are more crucial than its ability to hit a stable 60fps. Coming from the sub-30fps playback on console, the PC release is a breath of fresh air when played on anything from a lower-end AMD HD 7790 to the high-flying Nvidia GTX 770. Optimisation across a range of GPUs is much more on-point this time, and the accuracy of controls when parrying, or cuing a timely defensive roll, makes the game much more satisfying in action.
However, certain technical hiccups do overshadow this port job. While no stability issues affect our play-through, lock-ups are reportedly a widespread frustration for those booting the game while outputting through HDMI or using control inputs besides an Xbox 360 pad. Glitches such as these urgently need addressing, though fortunately Namco Bandai confirms that each case is being investigated. It's a tedious hurdle before an otherwise-appealing PC port then, but if you can work around it until a patch arrives, Dark Souls 2 has never looked or played better.