Dead or Alive 6 has a pirate ship stage with a kraken who picks you up with its tentacles
Sucker.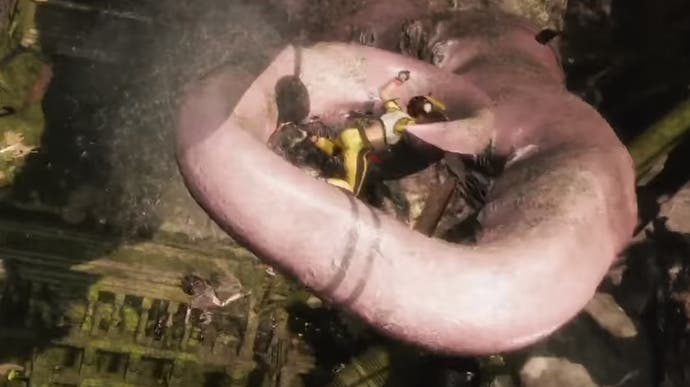 Dead or Alive 6 has a new dynamic stage set on an old pirate ship that has a kraken who can pick you up with its tentacles.
The stage, called Forbidden Fortune, has two levels. On the top deck are shattered bones, and below is the gold. You can smash through the hull as you knock lumps out of each other to find the hidden treasure, but there are also hidden traps and breakables to think about.
And then there's the kraken, which is guarding the stolen loot. As the kraken gets more and more angry, the ship rocks and shudders. As the damage spreads to the armoury, gunpowder catches fire and flames engulf the fighters. You can see it all in action in the video below.
Based on the footage, it looks like the kraken tentacle grab is a quickfire cutscene that plays when you transition from top to below deck (in the example shown, this is triggered by punching your opponent onto exploding barrels). So, a cool aesthetic effect, rather than a random annoyance.
The video also contains the gameplay reveal for two long-standing Dead or Alive characters: Leifang and Hitomi. T'ai Chi Ch'uan expert Leifang is big on counters and parries. Karate expert Hitomi is a balanced fighter with a long reach.
Dead or Alive 6 is due out on PC via Steam, PlayStation 4 and Xbox One early 2019. For more, check out our Dead or Alive 6 interview from E3 2018.