Dark Souls 2 heading to PS4 and Xbox One
New version also on PC/PS3/360. Free patch adds some extras for existing owners.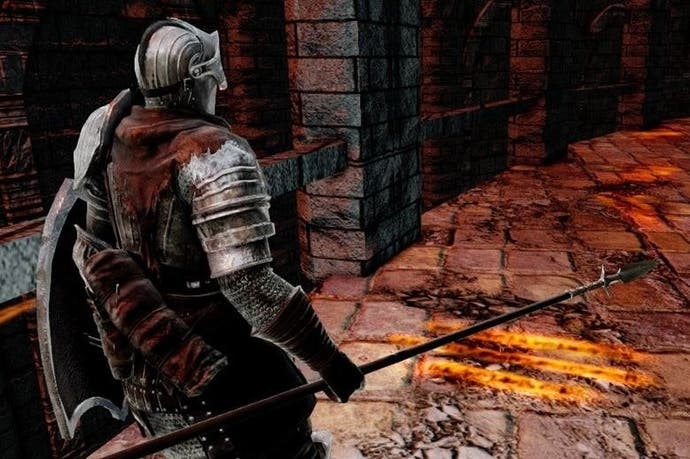 Namco Bandai - or Bandai Namco if you're feeling saucy - has announced that From Software's Dark Souls 2 is heading to new-gen consoles next year.
A new edition of the game called Dark Souls 2: Scholar of the First Sin will be released for PC, PS3, PS4, Xbox 360 and Xbox One on 7th April.
All five versions will include the original game as well as the three downloadable add-ons released earlier this year, and From Software has made some alterations along the way.
The PC, PS4 and Xbox One versions will feature updated visuals, rebalanced gameplay, a higher maximum number of players in online games, additional and more challenging enemies, a new NPC to locate, 'expanded lore' and new in-game events.
The PS3 and Xbox 360 versions won't have updated visuals and higher player counts online, by the sound of it, but everything else is in there, including the DLC packs and tweaked matchmaking.
Existing owners - you know, those of us who bought it earlier this year and then forked out another big whack for all the DLC - can console ourselves with a free patch that rebalances the game and matchmaking and introduces the expanded story content.
There's no immediate word on whether you can transfer your save progress between console generations, so why not just throw that 80-hour file in the bin and buy it again?
Some guy who reviewed Dark Souls 2 for us earlier this year felt it fell a bit short of its illustrious predecessor but was still one of the best RPGs in a long time, thanks in large part to its intriguing and beautiful environments, fantastic combat and intricate systems.
The three DLC packs were also rather good. Crown of the Sunken King sent you into the depths of a claustrophobic underground pyramid, before Crown of the Old Iron King scaled dizzying peaks and Crown of the Ivory King transported you to a frozen kingdom.
Put together, then, Scholar of the First Sin is an unmistakably vast and impressive package, albeit another retro remake for a game that came out barely eight months ago.