Console Accessories Roundup
Getting you accessorised for Christmas.
One weekend left before Christmas. [Note to readers: This is no longer true. Do not be alarmed.] One last mad dash, one last vicious Oxford Circus scrum, one last chance to be elbowed in the face by an angry, red-faced slapper in your local shopping centre as you reach for that last bottle of perfume the missus has been dropping unsubtle hints about since September.
Since long before the thieving Christians nicked the festival wholesale from our pagan ancestors, the middle of winter has been a time of celebration, of glorious excess, and even of generosity. To us gamers, of course, that boils down to one very important thing - the true meaning of Christmas, if you like. Lots of new consoles and games, that's what.
Pop into any game store, though, and you'll also spot shelf after shelf of console accessories - moulded plastic and LEDs crying out for your pennies and demanding to be tagged on to that epic credit card bill for a new console and a stack of games. It's not usually something we write about here on Eurogamer, to be honest, not least because there's a lot of dross out there - but there's no doubt that some accessories make life a hell of a lot easier for new console owners, while others make superb stocking fillers.
So with that in mind, and a mince pie in one hand (not kidding - crumbs in keyboard right now), we've taken it upon ourselves to pick out a handful of the best, most interesting and most useful accessories to chuck into your basket this Christmas.
Xbox 360 Arcade GameStick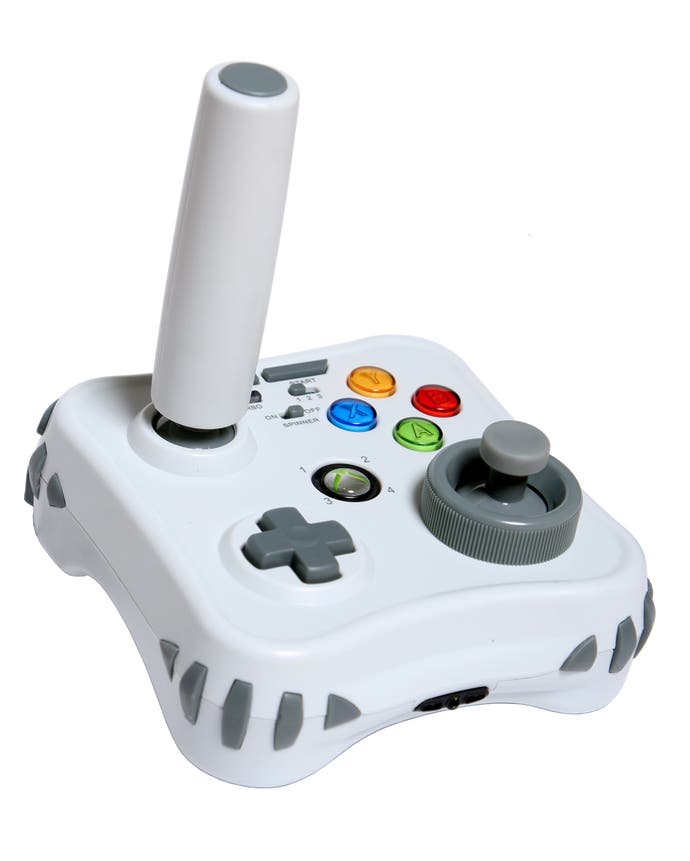 For a little while after picking up this cunning piece of kit, we forgot just how annoying it is that Xbox Live Arcade is stuffed to the gills with creaky old retro games. Mad Catz' arcade stick is a blast from the past in its own right - although it replicates all the functions of an Xbox 360 pad (you could play Halo 3 on it if you wanted, and we're probably going to get drunk and bored this Christmas and try just that), it's designed like an old-school joystick.
For controlling retro games, it works stunningly well - and it's not half bad for a host of more recent Xbox Live Arcade games, either. It's even got a Turbo button on it, just to really make you feel like you're back in the era of the C64 and penny sweets that actually cost a penny and weren't rubbish, and a spinner style control because... Well, because they could, we suppose.
It's a surprisingly solid and well-made piece of kit, and to top off the deal, it comes with a trio of (very) retro games for Xbox Live Arcade in the box - Frogger, Time Pilot and Astro Pop. The downside? It's a wired controller, so no wireless goodness for you - although it does come with a pretty generously lengthy cable.
360 Intercooler EX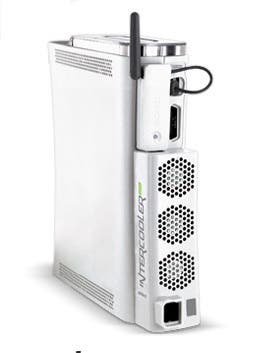 This is probably the most techy of all the things we're including in this roundup - and it's far from the only bolt-on cooling product for the Xbox 360. 4Gamers do one called the Cooler King (GBP 24.99), which covers the whole rear of the console and includes a USB hub and break-outs for VGA, Component, S-video and optical audio on the back, which looks great. Mad Catz, meanwhile, do a GBP 19.99 base for the 360 with fans in it, which holds the media remote and recharges a controller battery as well as cooling the console, but requires an external power source.
For those who simply want something to stop their Xbox 360 overheating, however, Nyko's 360 Intercooler EX is a very good start - it's cheap, simple, and will give you a good idea of whether additional cooling is actually going to help your ailing machine. The fans are a little noisy, but even a very unscientific measurement involving wetted fingers showed that airflow through the console had increased significantly.
The real test, though, was hooking it up to a 360 which overheats consistently - and lo and behold, with Nyko's fans attached, the system managed to play for a couple of hours, compared to an average of 20 minutes beforehand. This won't be true of every system, of course - but if you have regular crashes after playing for a while on your 360, there are worse ways you could spend 15 quid.
Xbox 360 Control Center 540C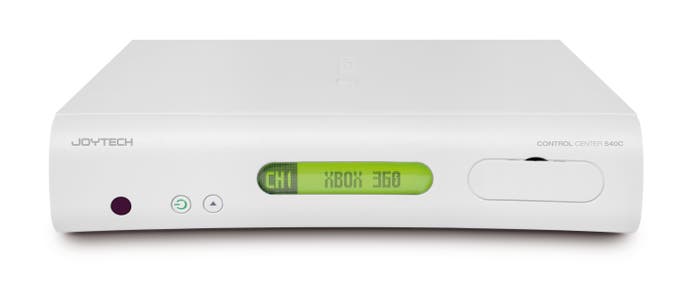 Our initial brief for this article was to look at stocking fillers - and at fifty quid, the 540C Control Center is a bit large for most stockings. We had to include it, though, because it may be one of the best bits of kit you'll ever find on the shelves at your local game emporium - and for those whose households are adding a new console this Christmas, it'll be a godsend.
Basically, this is a slim box styled similarly to the Xbox 360 which is designed as a hub for all of your consoles. It has six inputs - one direct input from a 360, one composite or S-video input on the front for cameras, and four on the back with Component, Composite, S-Video, Phono and Optical Audio inputs. It has one output, squirting out any combination of the above into your television - and it has a handy and simple remote control that selects between them.
In itself, that's enough to make it worthwhile for anyone whose television doesn't boast more AV inputs than your tree has fairy lights. As an extra bonus, though, it's also got a six port network hub on the back - perfect for the increasingly large number of devices which sit under your telly and need to talk to a network. Ten minutes of fiddling about, and you need never mess with cables in order to play a game or watch a video again. Bliss.