Coming Attractions: Shooters
Part 1: What's in store for 2008.
No more excuses. The next-gen console cycle is fully underway and developers have had years to get to the grips with the new hardware. In fact it should probably just be called hardware these days. The point is, 2008 ought to be a bumper year for videogames.
There are certainly plenty on the release schedule. Over the following week or so we'll be presenting Eurogamer's guide to the highlights of the next 12 months. Due to the high volume of multi-platform titles on the way, we'll be dividing them by genre.
Whether you like guns, war, cars, fighting, films, football, music or gurning, there's something for everyone. Especially if you like guns and war. So what better place to start than with shooting games? Here, in part one, we focus on first-person shooters such as Haze, Frontlines and Killzone 2.
Haze
Free Radical gave shooters a new twist with TimeSplitters and now the studio is hoping to do the same with Haze. It's set in 2048, at a time when governments have started outsourcing military operations to private military corporations.
These corporations include Mantel Global Industries, which specialises in producing a chemical stimulant called Nectar. It gives users faster reactions, unique abilities and five pounds off AA membership if you go to Sainsbury's eight hundred thousand times.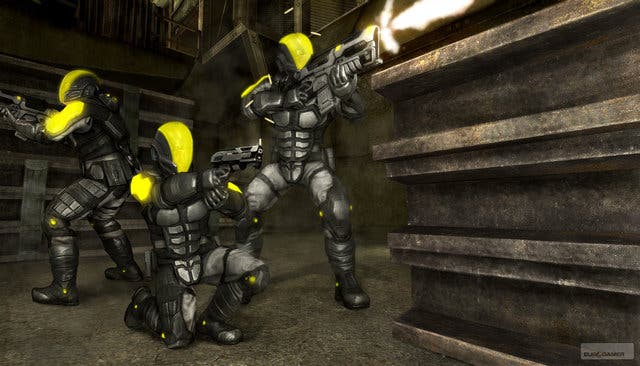 You play as Shane Carpenter, a newly-enlisted soldier who can't stop necking Nectar. However, he soon discovers it also ups aggression and arrogance levels like some kind of Stella of the future.
After learning more about what Mantel's really up to Shane switches sides, where he gets to see things from a different perspective. In short, Haze is being billed as the thinking person's first-person shooter, a game which forces the player to consider the morality and ambiguity of war. Also it's got four-player co-op.
Haze was originally supposed to be out this time last year but following a series of delays, the PS3 version is now due to arrive by the end of March. Free Radical has yet to confirm release dates for other platforms, or indeed which other platforms.
Telly addicts: You can see Free Radical's Dave Doak talking about why Haze is good over on Eurogamer TV right now.
Tom Clancy's Rainbow Six: Vegas 2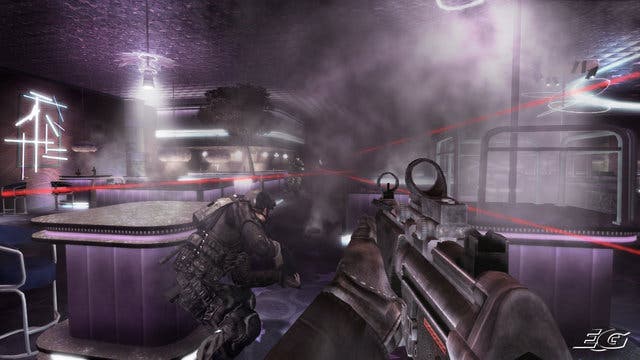 As Kristan reported, the original Rainbow Six Vegas marked a return to form for the series. Now Tom Clancy is working on new lighting effects for the sequel, due to arrive on PC, PS3 and Xbox 360 this March.
It'll feature two new adversarial multiplayer modes, and better matchmaking is promised along with more rewards. The single-player game will have a drop-in co-op option and you can expect plenty of character customisation options.
Enemies will be tougher to bring down as they now have shields, thermal and night-vision gear and more sense. But to balance things out you'll get 11 new weapons, plus extra camo, clothing and equipment. The storyline is something about terrorists.
Expect a bigger Vegas than ever, with plenty of "new hot spots" and "gritty back streets" to explore. And box with a man wearing goggles on the cover.
Happy birthday: Vegas 2 is being released to coincide with the tenth anniversary of the Rainbow Six series. More than 16 million games have been sold to date. However, Tom Clancy has sold five times that number of novels - turns out books aren't dead after all! Yet.
Frontlines: Fuel of War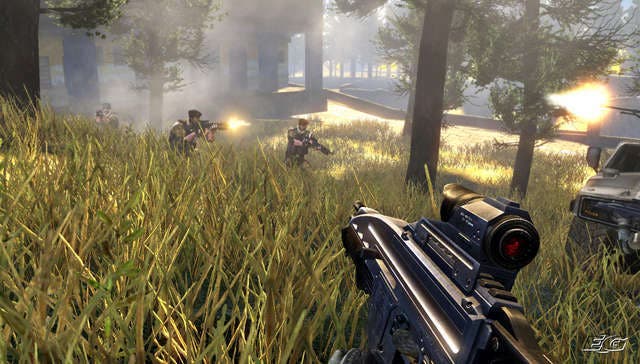 This openworld first-person shooter is in development at Kaos Studios. The company was formed by veterans of Trauma Studios, which created the Battlefield Desert Combat mod and was later bought out by DICE. In other words, pay attention, Battlefield fans.
Frontlines: Fuel of War takes place in the year 2024. The world's oil reserves are almost exhausted and warring nations scramble for the last remaining stores of petrol and Mazola. In the red corner it's Russia and China, facing off against America and Europe. After picking a side, your mission is to take down the other one using more than 60 futuristic weapons and vehicles.
Kristan reckons Frontlines could be "the first game of its kind to successfully combine the immediacy of a scripted, cinematic FPS with the multiplayer depth of the Battlefield series", which sounds nice. There's already a demo on Xbox Live if you fancy having a go yourself.
Or you could just hang on a bit longer for the finished product - the 360 and PC versions are due out on 15th February, with the PS3 game to follow in April.
Kaos theory: each time a buttefly flaps its wings in Brazil, a fight breaks out outside Lewisham Wetherspoons.
Unreal Tournament 3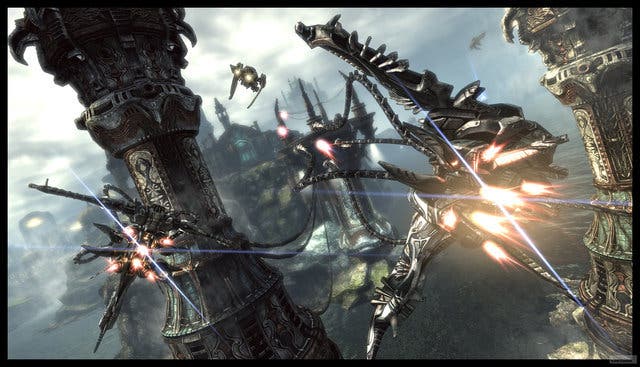 The PC version of Unreal Tournament 3 proved the series "pretty much remains the Daddy", according to our review. New vehicles, strategic elements and an enjoyable story-based single-player campaign all helped make it a hit. Not to mention the visuals - Epic clearly saw UT3 as an opportunity to show just what Unreal Engine 3 can do.
But what of the console versions? The PS3 game's already out in the US but a European release date has yet to be confirmed. Goodness, or rather Mark Rein, only knows when UT3 will arrive on Xbox 360. He recently confirmed they've taken a break from working on it to get the PS3 and PC games done, with features like Xbox Live still to be implemented. A while to go then, but likely to be worth the wait.
Keeping it unreal: Epic has yet to confirm whether we can expect a sequel to their other hit, Gears of War. In other news, no one knows whether it will be dark later.
Turok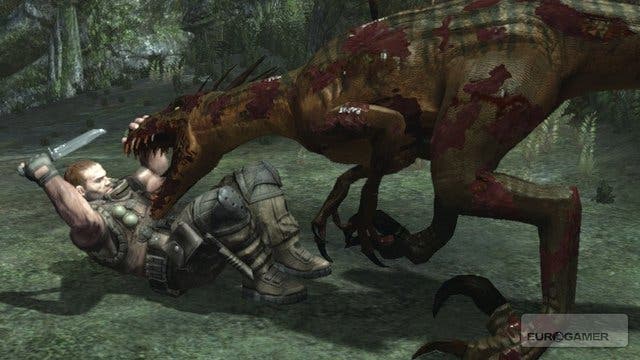 According to Propaganda's Josh Holmes, the new instalment in the Turok series "offers a truly unique experience, blending elements of action and stealth in a prehistoric world". The short version: it's got dinosaurs and guns and space and it might not be rubbish.
No, really, even if the main character is called Joseph Turok. He's a former Black Ops commando on a mission to bring down a war criminal. Unhelpfully, the war criminal has fled to an alien planet inhabited by carnivorous dinosaurs. Switzerland must have been full.
The game is in development for PC, PS3 and Xbox 360 and is due out on all formats this spring. It's looking "workmanlike, polished and pacey", according to our recent preview. None of those words could be applied to the previous game at any stage of its Evolution, so here's hoping.
Hooray for Hollywood: Voiceover talent for Turok includes Timothy Olyphant (currently starring as Agent 47 in the Hitman film) and William Fichtner (the thinking woman's Christopher Walken).