Battlefield 1943 is now backward-compatible on Xbox One
DICE's other other WW2 shooter.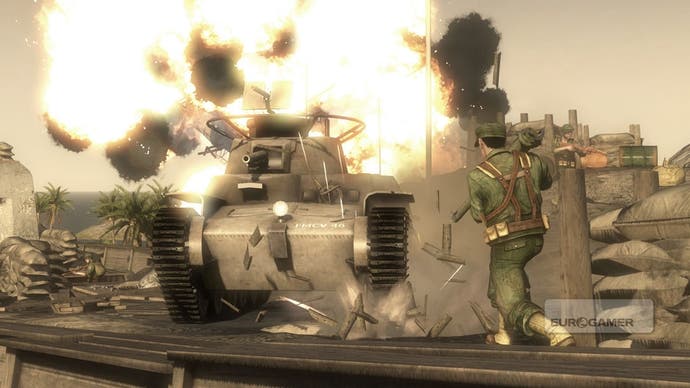 Microsoft has announced that DICE's multiplayer WW2 shooter Battlefield 1943 is the latest title to join its heaving backward-compatibility list on Xbox One.
Battlefield 1943 was a console-only, digital-only effort and launched on Xbox 360 and PlayStation 3 in 2009. It was DICE's second stab at a WW2 shooter, arriving seven years after the original Battlefield 1942, and offered an economically designed, laser-focussed take on the series' classic multiplayer action.
Set during WW2's Pacific Theatre of Operations, Battlefield 1943 cast players as either United States Marine Corps or the Imperial Japanese Navy.
1943's streamlined first-person skirmishes enabled up to 24 participants, playing as either Rifleman, Infantryman, or Scout, to fight it out across four possible maps: Wake Island, Guadalcanal, Iwo Jima, and (eventually, after 43 million successful community kills) Coral Sea. Four vehicles types - fighter, tank, car and landing craft - added some buttocks-on-seat spice.
"It's an incredibly immersive dip into familiar waters", said Dan Whitehead in his 8/10 review, "with the Bad Company's Frostbite engine offering up a satisfying destructible world, where buildings can crumble and walls collapse under the treads of a rampaging tank."
"While the gameplay benefits from the no-frills approach, rendering the action accessible to all in concept if not always in practice," Dan concluded, "there is a lingering danger that the game's undeniable appeal will dim pretty quickly with so few variables to play with". Despite these limitations though, "in the first flushes of infatuation it's an easy game to love, and one that will easily provide hours of ferocious enjoyment."
If you've already got a copy of Battlefield 1943 tethered to your Xbox Live account, you can download and play it on Xbox One right now. If you don't, and fancy getting stuck into some exhilarating, if comparatively old-school, WW2 action prior to Battlefield V's release this October, you can pick it up on the Xbox Store for £9.99.